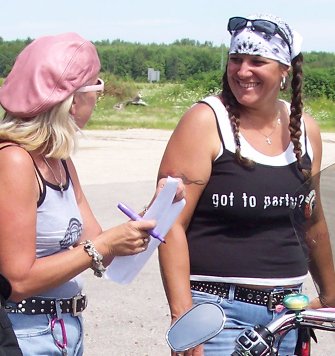 Upon arriving at Big Barn HD for their open house event today, I learned that my friend Theresa – from the Estrogen Ride and other events, shown on the right in this photo – had been in a serious accident on her bike last night. She was southbound, and a drunk driver in the northbound lane made a sudden left turn in front of her, causing her to t-bone the car. I'm familiar with the intersection where this happened, so I'm guessing she probably hit the car going 30-35 mph. She is alive, with multiple serious injuries, and tonight is still in the ICU. Her beautiful HD Wide Glide has been totaled – folks, I saw the photos, and it is chilling: the forks are pushed back into the engine and the front wheel is twisted into nearly the shape of an 8. 
"T" has a loving family and many, many friends, and I believe that ultimately she will be okay. But, she has a very long road of recovery ahead of her. 
I am begging you all to please please PLEASE ride safe. Know that others do NOT see you, and that their judgment may be impaired, and that ANY car could be the one that makes the move that changes your life. I am also begging you – don't drive drunk. When you drink, your judgment becomes impaired whether you think it is or not, and you could easily change/ruin/end the lives of innocent people – including your own and those of your loved ones.
Meet some California lady riders in the news! Nanci Rogers and the Siskiyou Lady Riders of Siskiyou County, California are featured in this piece from the May 7 issue of the Siskiyou Daily News. The group works with former California Highway Patrol motor officer Jerry Schumacher to improve their safe riding skills.
I've recently been lucky to receive several new photos from biker gals who have received their motorcycle license endorsement in the first quarter of 2007. If you have any big bike news to report (got your license? bought a new bike? take a big trip?) be sure to send me your info and a photo or two! I'd love to feature you in the Biker Chick Buzz!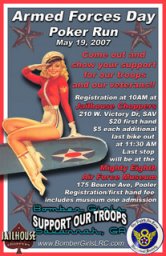 The Bomber Girls will be having their first run on May 19th, Armed Forces Day. The Girls are a group of riders working to benefit the USO, in support of U.S. military troops all over the world. Their May 19 run takes place in Savannah, Georgia, where they'll have servicemen working the stops along with the riders, so head on in to Savannah and support our troops and veterans – tell one thank you!Registration begins at 10 AM at Jailhouse Choppers' new location at the corner of Victory and Barnard in Savannah. (Thanks guys!!! www.MySpace.com/JailhouseChoppersINC), last bike out at 11:30 A.M.
The run will end up at the Mighty 8th Air Force Museum, and the $20 first hand/registration fee includes one admission to the museum.
Come out and help The Bomber Girls make this first run a success!!!
In the Hey, We Could've Told You That Department, here's a syndicated article making the rounds of internet news sites. Here are some interesting demographics, then a link to the full article: "…women make up nearly 10 percent of motorcycle owners — a 36-percent jump in the number of overall owners since the council's previous survey in 1998. The median age for female motorcyclists is 42 — 60 percent are married, 28 percent have a college or post-graduate degree and 35 percent are in a technical or professional career."
Really wanted to share this link with you about Jocelyn Dorsey, an Atlanta television station executive who is riding her Harley from Alaska to Florida this year. You can read about her background as a motrocyclist and her initial thoughts about getting the trip underway in the online edition of the Atlanta Daily World, with more installments to come as the trip unfolds. Here's Jocelyn's story!
And just in case these types of stories inspire you as much as they inspire me, here are a couple others you'll want to read:
Six women, three countries, 31 days, 31 states… it's Old Bags On Bikes!
One woman, 48 states, 1 year… Donna Y. honors the legacy of her husband by riding across the US on an amazing solo tour.
Got a story to share about the "journey of a lifetime"? Send me the link or the info so those of us who are still dreaming can dream a little bigger!
Nice article in the Oshkosh, WI Northwestern about new co-owners of Open Road Harley Davidson. Read the story here.