Bomber Girls ride for the USO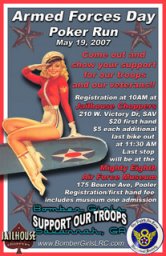 The Bomber Girls will be having their first run on May 19th, Armed Forces Day. The Girls are a group of riders working to benefit the USO, in support of U.S. military troops all over the world. Their May 19 run takes place in Savannah, Georgia, where they'll have servicemen working the stops along with the riders, so head on in to Savannah and support our troops and veterans – tell one thank you!Registration begins at 10 AM at Jailhouse Choppers' new location at the corner of Victory and Barnard in Savannah. (Thanks guys!!! www.MySpace.com/JailhouseChoppersINC), last bike out at 11:30 A.M.
The run will end up at the Mighty 8th Air Force Museum, and the $20 first hand/registration fee includes one admission to the museum.
Come out and help The Bomber Girls make this first run a success!!!