Alas, 1200, we hardly knew ye. Or: Meet Kitten!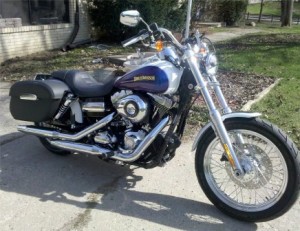 SHORT VERSION: I GOT ANOTHER NEW BIKE!!
EXTENDED VERSION: So my dear husband, who buys me stuff all the time, was up at Big Barn HD on Wednesday of last week and bought me an owner's manual for my 1200 Sportster, plus a hair tie with a rhinestone HD emblem on it. What a sweetie, right? I know!
Anyhoo, he gives me these things when I get home from work and says, "You wouldn't believe the really neat Dyna they had, it's got you written all over it." So as he was telling me about it, I was looking at the hair tie and realized that it's got a rhinestone missing out of it. I told him, "Well I guess I'll just have to go with you to exchange it, and look at that Dyna."
Well the Dyna was indeed beautiful, and seemed to have been set up just for me, so I ended up making a trade that included both The Picky Bitch and the 1200, and I'm now the proud and delighted owner of a 2010 Harley Davidson Dyna Super Glide Custom!
The moment I started it up, I knew her name was Kitten. Not the soft and cuddly kind, but the  sultry kind that craves attention and purrs when she gets it.
She's got HD's 96 cubic inch engine, six-speed transmission, and Progressive short shocks that make her just the right height. Big Barn had set her up with hard-sided leather bags and just a little bit of "diamond ice" bling. Her paint is a two-tone combination of White Ice Pearl and Black Ice Pearl. She looks white and blue one moment, and white and purple the next, depending on where you're standing. I've already added a set of risers to pull the handlebars back just a bit, and a windshield. She is amazing, and beautiful.
Make no mistake, I thoroughly loved and enjoyed both the Sportsters – it's like I traded a couple of fast, nimble Corvettes for a bigger, more muscley Gran Torino – a step up in power, perhaps, but taking nothing away from the previous vehicle.
What can I say, folks, I'm addicted! It's going to be a GREAT summer!