In addition to the graduation and Memorial Day activities we enjoyed this past weekend, we also managed to squeeze in a ride. (I actually squeezed in a solo ride, too.) On Saturday, we took off on a short "ride to eat" trip with Garry and Shirley to the tiny town of Williamson, Iowa.
This trip took us southeast along Highway 5 out of Carlisle to County Road S45, which we took south through Melcher-Dallas, then a short jog on State Highway 14 and in to Williamson.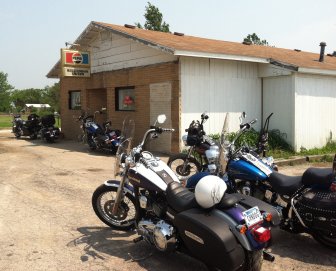 At our destination, lunch at the Williamson Tavern was large and cheap – it was also the only thing to do in this tiny town of under 200 people. The view from the main road in either direction is testimony to the "sleepiness" of this little place, which is still three times bigger than Millerton! (Garry & Shirley also ended up buying us lunch – what Williamson lacks in venues it also lacks in ATM's. Thanks guys, next time we'll try to remember to bring cash!)
After lunch we headed back out along the same route, but stopped in Melcher-Dallas for a couple of pictures. We had detoured through this hyphenated town on our way down (instead of passing right by), and I wanted to go back and catch pictures of a bridge and a mural.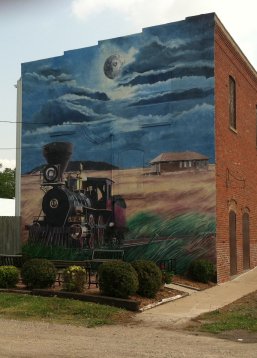 Unfortunately I haven't been able to find any information about either of these local features. My "keen eye for the obvious" tells me the bridge is very old, given the weathered boards showing through under the top layer of asphalt. It arches over train tracks that run parallel to the highway. Heading into town isn't as tricky as heading back out – the bridge dumps you right at the highway with a very short approach and a sharp downhill slope.
The other photo opp was this really neat mural painted on the back wall of the Melcher-Dallas Coal Mining Heritage Museum. A small landscaped seating area provides space to enjoy the artwork, which is signed simply "D.E. Adams, '98."
I posted more pictures from this ride on the BCN Facebook Page.
After taking my pictures we headed home along a route that included G76 west and S23 north. We did have one near-incident along S23 – I spotted what I thought was roadkill in the middle of the road up ahead, but quickly figured out that it was actually moving (walking) right to left. Uncertain whether it was something that could quickly reverse course, I slowed way down and went around it on the right – turned out to be a large turtle – my friends followed, but not before riding up on each other a bit too quickly. Of course I didn't see this happening behind me, but I learned later that by slowing I had almost caused them to wreck in the back. Not good!
This, plus another near-incident on my solo Monday ride and my recent bike drop in the garage, have sort of caused me to wonder if I'm "off my feed" this year for some reason… maybe thinking too hard, or not thinking enough… anyway, it feels like I need to take a breath and push the re-start button on this riding season!
It's been a crazy-busy month around here as my daughter wraps up her senior year of high school. As of this writing we are two days away from the actual graduation ceremony, but at this point she has officially completed her required education. She is just plain excited – to be done with high school, to be heading off to college in the Fall, to be entering a new phase of life. I've been a little emotional, and honestly it's hard to explain exactly why – I'm not sad, though this time does indeed signify her passage into adulthood. I'm very, very happy for her, and extremely proud of her… but maybe just a little blue that my role in her life is changing. I've had to consciously remind myself that this time is not about me and my emotions – it's about her, and her accomplishments. And I'm very, very proud of the young lady she has become, so, onward and upward! And congratulations to my beautiful daughter!
(P.S. – her stunning senior pictures were taken by Randy Shebek of Des Moines, Iowa, owner of Great Life Photography. What a wonderful experience it was to work with Randy!)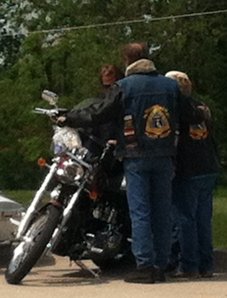 After having a bad start last week that resulted in my beloved Kitten going over onto her side, Steve and I ended on a high note with a lovely bike-blessing event at Route 65 Harley Davidson in Indianola on Saturday. The event included live music, complimentary lunch, and group and individual blessings offered by the Christian Motorcyclists Association.
Following the food and fellowship, we decided to take a short ride so we headed south out of Indianola on Highway 65/69.
The "dual identity" of the highway ends just a few miles outside of Indianola – with a left turn it becomes Highway 65, while going straight means you stay on 69. Our plan was to ride to the town of Osceola at Highway 34, so we stayed on Highway 69.
While in the northern part of the state this highway is straight as a string, this stretch of 69 has some lovely curves as it meanders to the southwest. We passed the tiny town of Medora at the G76 junction, where I noticed a beautiful little field of purple-blooming Dames Rocket – the roadside version of garden Phlox. So pretty in the dappled sunlight.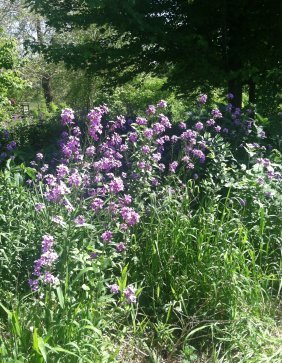 We cruised into Osceola from the north a short time later, and stopped to top off gas. While there, we asked a local where we might get an ice cream cone, and she directed us to Junction Creamery a few blocks away along Highway 34.
We pulled into this nice locally owned shop, which has lunch and dinner selections as well as sweet treats. (Apparently they also do catering!) Enjoyed our soft-serve sundaes, then decided to head back home. We headed back the way we had come – out of town on Highway 69. Just a couple miles up the road, we turned north at the junction of County Road R45, which is a straighter stretch that took us through New Virginia, St. Mary's and Martensdale.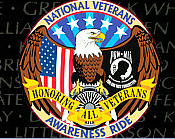 Here's a great opportunity to honor veterans and participate in a unique tribute ride. The annual National Veterans Awareness Ride (NVAR) starts in Auburn, California on May 15 and concludes on Sunday, May 27 in Washington, D.C. It's a full agenda of greeting veterans at VA hospitals, conducting wreath-laying ceremonies at veterans' cemeteries, and celebrating the legacy of veterans at sites across the country. The ride is conducted each year by the National Veterans Awareness Organization, a non-profit organization started in 2005 to honor all veterans.
The NVAR ride passes through Iowa on Sunday and Monday, May 20-21, with stops in Council Bluffs, the Freedom Rock at Greenfield, Van Meter, Des Moines, Marshalltown, Iowa City, and Davenport.
Visit the full NVAR website at www.nvar.us for a complete ride schedule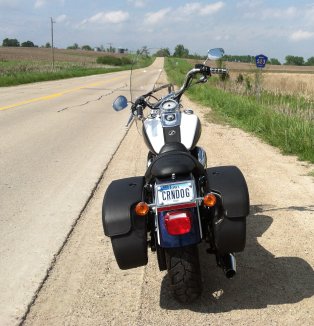 If you read this blog regularly, you know that my favorite way to ride is gather some friends and take off for an interesting Iowa destination, find some new curvy roads or a good local diner, or – when the stars align – all three! Sometimes though there's not time, or I just want to simplify, so it might just be me an' hubby Steve. Then other times, he's working on a project or otherwise occupado, so I go by myself.
So today I took off by myself for awhile – did less than 50 miles, took 90 minutes doing it, and came back feeling quite refreshed! I headed south on my trusty county road R63 which goes south out of Des Moines down to Highway 92 at Indianola. I was going to ride west to Winterset then do the St. Charles & Truro loop that my gal pals and I missed last year, but I left home later than I intended (and needed gas anyway) so instead of going west on 92 I went east into Indianola.
Once through town I turned north on S23, the "Palmyra Road." Stopped to snap a couple roadside pictures (much easier to do when riding alone – no group to worry about!), then continued north. As I was passing through the tiny town of Palmyra, I noticed the neat old church that we always see when we are headed to Bike Night, and as I passed it I thought I should stop and take some pictures. So just because I was alone and could do so easily, I slowed and did a U-turn and went back to the church.
I am a huge fan of peeling, chippy paint and old buildings, and the Palmyra Church is a neat little gem in a town of about 500 people. Built in 1870 (1870, people!), the church had its heyday through the 1940's and went into decline, and around 1979 was on the "short list" for demolition. Thank goodness the descendents of the original builders were still in the area and got wind of the plan, because they got together and the church now rests on its laurels upon the National Register of Historic Places. A bit of restoration occurred, and a bit more is planned. Although the church doesn't have a congregation, it is available for special events and hopefully one day the bell will be restored to the bell tower. (Read a bit more in this neat article from the Mason City Globe Gazette.)
Cute little gothic country church…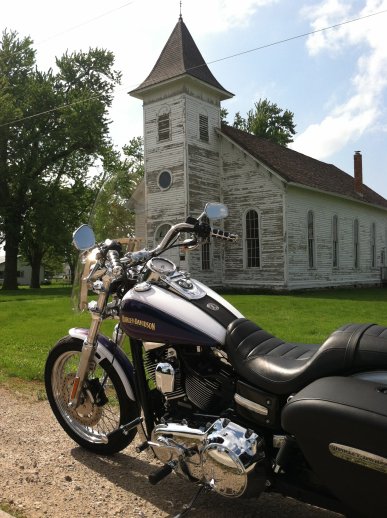 The NRHP agrees.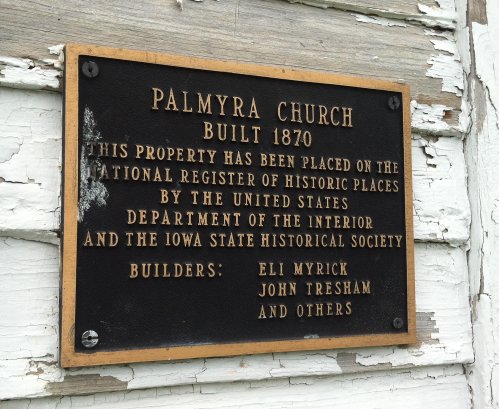 Another view:
Just look at that chippy goodness!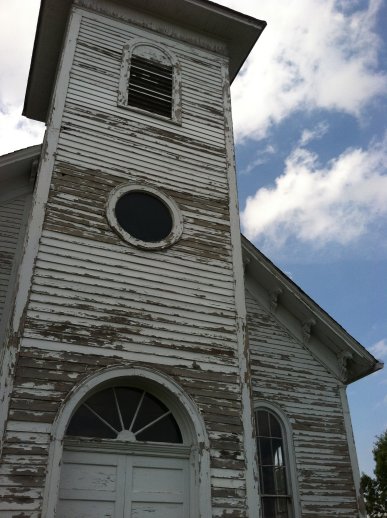 These windows are completely awesome.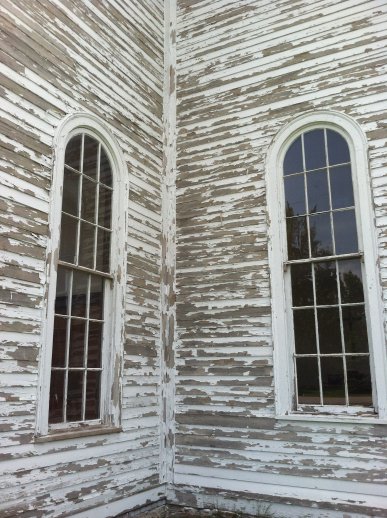 Happy to have found the place – neat little ride!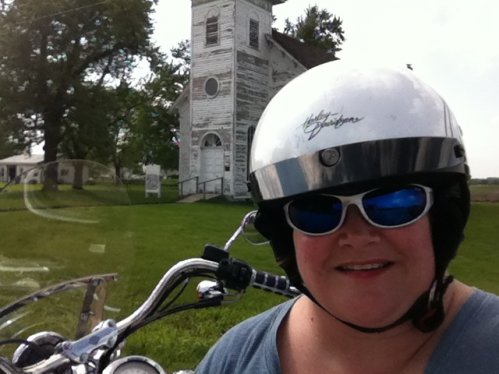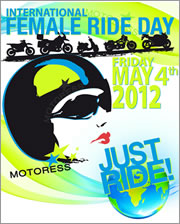 Today is International Female Ride Day! Here's hoping you have the opportunity to get out and ride!
Have you been following the series of woman-rider profiles over at Helmet or Heels? So many wonderful women being featured there the past few weeks, and today's my day! Here's a link to my nifty-difty profile on Pam's terrific blog!
Profile of a Female Motorcyclist: Meet Janet!
Huge hugs and thanks to Pam for the opportunity! If you're a lady rider, be sure to contact her through the blog and get your own self featured!
Oh! And, tomorrow (Friday May 4) is International Female Ride Day! Why not celebrate by taking a ride… learning to ride… or simply hugging a biker chick!