Route 65 bike blessing and ice cream ride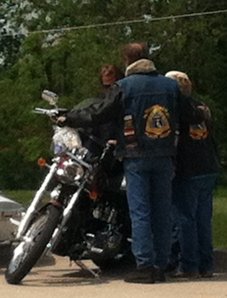 After having a bad start last week that resulted in my beloved Kitten going over onto her side, Steve and I ended on a high note with a lovely bike-blessing event at Route 65 Harley Davidson in Indianola on Saturday. The event included live music, complimentary lunch, and group and individual blessings offered by the Christian Motorcyclists Association.
Following the food and fellowship, we decided to take a short ride so we headed south out of Indianola on Highway 65/69.
The "dual identity" of the highway ends just a few miles outside of Indianola – with a left turn it becomes Highway 65, while going straight means you stay on 69. Our plan was to ride to the town of Osceola at Highway 34, so we stayed on Highway 69.
While in the northern part of the state this highway is straight as a string, this stretch of 69 has some lovely curves as it meanders to the southwest. We passed the tiny town of Medora at the G76 junction, where I noticed a beautiful little field of purple-blooming Dames Rocket – the roadside version of garden Phlox. So pretty in the dappled sunlight.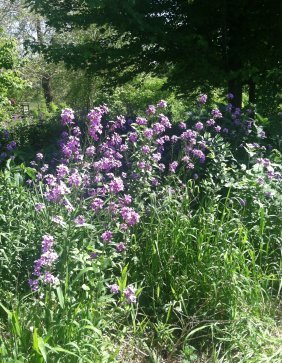 We cruised into Osceola from the north a short time later, and stopped to top off gas. While there, we asked a local where we might get an ice cream cone, and she directed us to Junction Creamery a few blocks away along Highway 34.
We pulled into this nice locally owned shop, which has lunch and dinner selections as well as sweet treats. (Apparently they also do catering!) Enjoyed our soft-serve sundaes, then decided to head back home. We headed back the way we had come – out of town on Highway 69. Just a couple miles up the road, we turned north at the junction of County Road R45, which is a straighter stretch that took us through New Virginia, St. Mary's and Martensdale.
A couple of notables from the ride home: heading north on R45, just after we turned off Hwy 69, it was pretty cool to catch a glimpse in the rear-view mirror of the long straight road behind us. At one point I think you could see the road disappearing into the distance for 2-3 miles!
And, in the tiny town of New Virginia, the local grocery/convenience store has a neat little hand-painted sign over the door that optimistically proclaims, "TOURIST INFO." What a throw-back to the days before Interstate 80 went through just to the west, when this road was likely more heavily-traveled! (The town's website has a locally-written history of New Virginia.)
P.S. – there was a slim chance I was going to miss the Blessing event. Our graduating-senior-daughter was required to participate in "team districts" with her tennis team. So feeling a bit like one of those over-booked soccer moms, I headed off early Saturday morning to the tennis match knowing it was possible I would return too late for the blessing. So as a back-up plan, I wrote this little prayer that I intended to use to bless my own bike if need be. I wrote it out on a little card, and although I didn't end up needing it on Saturday, it seems like "not a bad idea" to have it on board:
Oh Lord,
Thank you for this beautiful day and
the opportunity to gather and fellowship
with our friends and fellow riders.
As we look to the season ahead, we ask
that you bless and keep us safe… that you
grant us wisdom for the safe operation of
our bikes… and that you make every
person on the road aware of the presence
of motorcycles and the need to share the road.
Lord we ask that you guide us along our
journey.. that you help keep the road ahead clear…
and we thank you for the freedom and the
opportunity to enjoy your beautiful creation
each and every day.
We ask these things in Jesus' name.
Amen.