I can't help but notice that more and more of my friends are taking their dogs along for motorcycle rides. Now I don't pretend to know a THING about this from a how-to standpoint (and I can say with certainty that my hundred-pound Rottweiler-mix Bugs would need a full-fledged sidecar to enjoy a bike trip)… but I do know from riding with some of these folks that the pups are as safe and secure as the rider – and everyone takes good care of the pooch while on the road by providing water and rest-stop exercise.
I thought it was time to share some fun pictures with you, of friends riding with their awesome biker dogs! If you've got a dog that rides, send me a photo via email and I'll do another post soon!
First up, here's Cuddles, riding with Cassie in a specially-made back pack AND wearing a bad-ass Harley hat!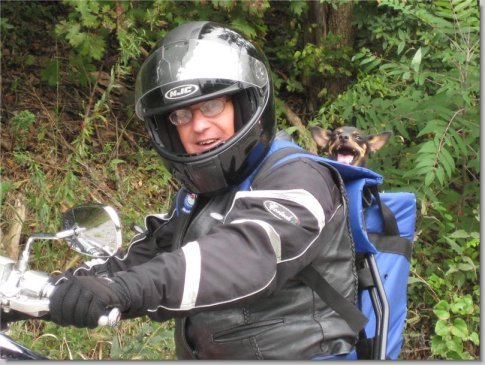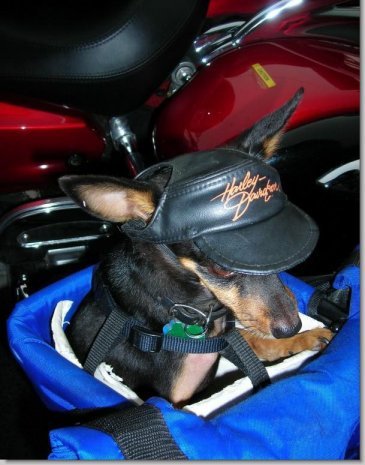 Next, Susan (Dakota) rides with her little buddy, Road E. Coyote (Roadee) on an HD Street  Bob. That's the Freedom Rock near Greenfield, Iowa they're visiting with Susan's husband Paul.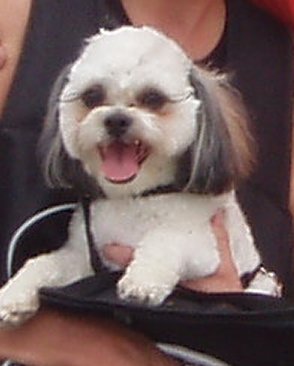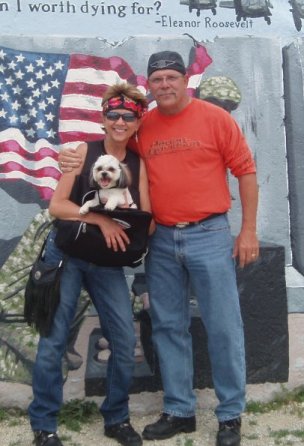 And here is Miss Sadie, sporting her bright pink Doggles and hanging out with Papa Stu. Sadie, Stu and mama Donna are enjoying retirement by full-timing in an R.V., traveling all around the U.S. Sadie blogs about all her biker dog adventures at http://sadiechats.blogspot.com.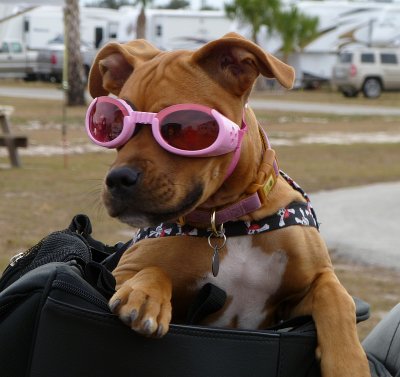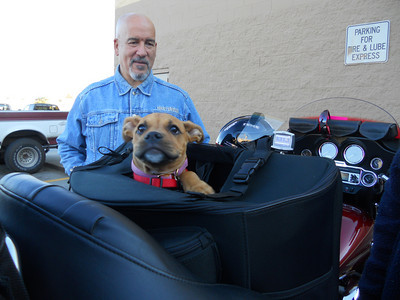 Finally, here's my original biker-dog pal Einstein, who rides in custom eyewear and an awesome bomber jacket with his friend Howard. Einy loves being in the wind… and I think he looks downright authoritative perched there at the Freedom Rock!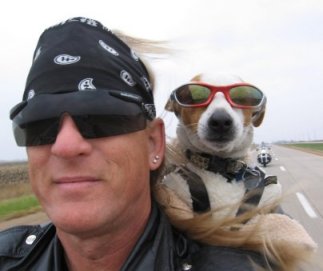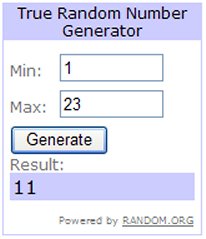 Thanks to all who left comments on the J&P gift card post! We had 23 comments, and I used the random generator over at random.org to select a winner. And that winner is….
WENDYVEE, comment #11!
Congratulations, Wendy – the folks at J&P will be in touch to get you the gift card!
I really do appreciate each of you who took time to participate, and all who spend time reading and commenting here! And, I thank J&P Cycles for thinking of me in facilitating their give-away!
I admit to being more than a little curious about how the insurance industry works when it comes to motorcycles, so when Pam King invited me to review this article about potential discounts, I felt that the information could really be useful to virtually anyone who owns a bike. Thanks to Pam for providing this piece for Biker Chick News!  ~ Corn Dog

by Pam King
When you're in the market for motorcycle insurance, it's important to shop around and make sure you're getting the best deal possible. Before digging into the discounts, it's important that you have a basic knowledge of how insurance companies decide your initial insurance rate. Some of these can translate into discounts so be sure to ask your agent about how they impact costs!
Type of bike – If you own a brand-new bike, it will be more expensive to insure than an older one. Additionally, elite brands of motorcycles are more expensive as well, since the cost of replacement is higher.
Your age – Similar to auto insurance, the older you are, the cheaper your rates will be. The only thing that could change this is if you're new to operating a motorcycle. Some companies will put you in a higher rate category, in which case your age may not matter initially.
Your driving history – The cleaner your driving record, the cheaper the insurance. Unfortunately, even if you're new to driving a motorcycle, past auto accidents can count against you.
Your geographic location – Where you live can influence the price of your insurance premiums. For example, if you live in an area that's known for its high crime rate or high accident area, your premiums will be higher than someone who lives in a safer area of the United States.
Aside from these primary factors, there are many other discounts you may be eligible for on your motorcycle insurance. Doing your research before calling insurance companies will help you know the right questions to ask – and more importantly, which discounts are right for you. Because face it: discounts aren't something your insurance agent will bring to your attention – you'll have to ask for them!
Here are 11 of the most common ways you can get discounts on your motorcycle insurance. Some can save you up to 40 percent.
Low mileage discount – If you stay below a certain yearly mileage (usually predetermined on your policy), some companies offer a small discount. This is ideal if you use your bike for recreation instead of commuting back and forth to work every day.
"Mass transit" discount – This is basically the opposite of the above discount. Some companies can give you a break in your rates for using your bike as transportation to and from work.
Safe driver discount – By maintaining a good record with no moving violations or accidents, you may be eligible for a discount.
Organization discounts – Many times, you can get a small discount through local or national organizations. Popular organizations include the American Motorcycle Association, Gold Wing Road Riders Association, Harley Owners Group, Honda Riders Club of America, Motorcycle Safety Foundation, and more.
Motorcycle safety course – Participating in a motorcycle safety course within the last 24 -36 months can help lower your monthly premium. The window of time will depend on the individual insurance company.
Owning multiple bikes – Some insurance companies give a discount for having a policy that covers more than one bike.
Multiple policies with the same company – Many insurance companies, like Allstate and State Farm, will give discounts if you have more than one policy with them. For example, having home and auto, as well as motorcycle insurance, can save you money on your premiums.
Transfer discount – As competition in the insurance industry rises, companies have begun offering a discount when you transfer your policy from another company to theirs.
Anti-theft device – Having an approved anti-theft device on your bike can many times earn you a discount.
Safe storage – If your insurance company knows your bike is stored somewhere safe when not in use, you may be eligible for a discount. Why? Because having it locked in a shed or garage means it's much less likely to get vandalized. And, it won't have to withstand the wear-and-tear caused by weather as much as it would if it was stored outdoors.
Part-time drivers – Some companies give a discounted rate for those who drive the bike occasionally. These drivers are known as "part-time" drivers, and make the most dramatic difference when the part-time driver is young.
When talking with your insurance agent, be sure to ask for the above discounts – along with any others that are available through the company. Even getting a break on a few of these can save you plenty of money in the long run.
If you're interested in learning more about saving on motorcycle insurance, be sure to read Q&A for Cheaper Motorcycle Insurance. It covers questions to ask yourself, and will help you have a productive, money-saving conversation with your agent.
About the Author:
Pam King writes on frugality, safety and insurance literacy for Direct General, a motorcycle insurance quote provider.

(Here's the third installment of my gal pal Shirley's series of ride reports from the Texas Hill Country, where she and hubby Garry are wintering along with her sister Nancy and BIL Chuck. Take a look at the pics, and be sure to note that she points out she's afraid of heights… I'm here to tell you, she's not kidding! This was quite an accomplishment!)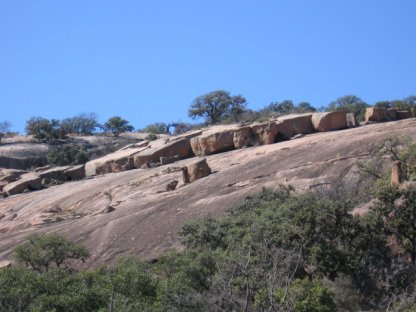 by Shirley P.
As mentioned in my last ride report, we had a couple of absolutely beautiful days to ride at the end of January. So after doing the Willow City Loop on the 27th we took off the next day to Enchanted Rock State Park. Once again starting from Kingsland we took 1431 to the west side of town and picked up county road 3404 and again across The Slab. As mentioned in the earlier report, 3404 is about 7 miles of two lane through the country road but easy to ride and reasonably scenic. 10 miles on Hwy. 71 at 70 miles per hour to what is by now our gas up and jump off point at the junction of 71 and 16.
We filled up the bikes and bought new batteries for the camera and took off for a fairly short run to the Enchanted Rock, this is only about 13 miles south of Llano.
We paid the $6 entry fee (per person) and parked the bikes to do what we intended to be a short hike along the lower trails. Somehow, however, once you start on a trail you see a view and think maybe we'll just go a bit further, and then a bit further and then before you know it you are only 100 yards from the summit. By this time the trail really doesn't exist anymore and you are simply finding the easiest path across the rock face.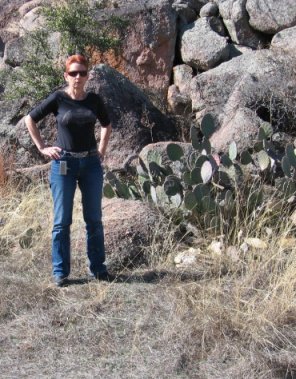 By this time the temps had climbed to about 80 degrees and everyone was watching the smooth rocks for the possibility of sunning rattlers! Thankfully, we didn't stumble across any. Those who know me also know that I have a fear of heights, especially when there is what I call a "blind drop". When we turned to start back down I wasn't sure I could take that first step as you just had to trust that once you stepped off the first rock there would be something below it. Luckily after the first step it wasn't so bad and soon we spotted the trail signs again.
For hikers this is totally cool and you can go any number of directions and presumably end up back at the parking lot. Once back at the bikes we decided a short trip back wouldn't be any fun so we dug out the county road map and started off into the unknown. Taking 965 out of the Park we went about 6 miles to Welgenhausen Road. (This is an easy turn-off to miss so watch for it on your right). Welgenhaus is another well kept two-lane and we went approximately 15 miles before needing to make our next decision at the junction of Keese Sagebel Road and Keese Road.
We decided to take the left branch but after only a couple of miles we decided we had made the wrong decision and turned around. Back to the junction we now took Keese Road. All said and done this was probably the wrong decision as both would have taken us to county road 2323 which was our goal. But for the sake of adventure it was definitely the right decision. Once again signs all along the way indicated loose livestock and many times this road narrowed to one lane with no shoulders and you really hoped you wouldn't meet anyone coming the other direction. In fact, we never met anyone the entire time.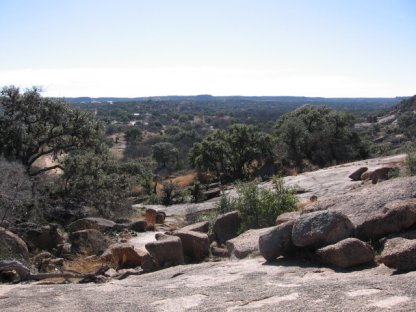 At a couple of 90 degree turns we were sure we would end at a ranch gate and have to back track but didn't happen and after what seemed a very long time but probably wasn't, we did indeed come to the junction of county road 2323. I have no idea how many miles we were actually on Keese Rd. but I'd estimate no more than 15 – though it seemed longer. Once on 2323, a beautiful two-lane, it is only about 30 miles back to Llano and it brings you in right at the junction of 16 and 71.
As always, we opted for the little longer ride through town and then back to 1431 junction (yep, Fuzzy's Corner) and on back to Kingsland. Because of the choices made we again had a great hundred-mile day. After that ride we endured several of Texas's coldest days in the past 20 years, with highs in the 20's and 30's – literally unheard of here. Good news, of course, is that it was short-lived and were back to Spring-time temps before long.
Keep the faith, all, riding weather will arrive!
One of my favorite vendors of bike-related accessories is J&P Cycles, based in Anamosa, Iowa. Great store, great catalog, friendly/helpful folks… and enough chrome and leather to keep a girl shopping for a LONG time!
Well this month, J&P is spreading the Daytona Bike Week love – not only at their Anamosa and Daytona locations, but also around the blogosphere by offering $50 Gift Cards through several bloggers. And, I'm lucky enough to snag one of these cards to give away to one of you!
SO – if you want to win a $50 J&P Cycles gift card, good for motorcycle parts and accessories purchased online, via their catalog, or in person at one of their locations, here's all you do:
Leave a comment on this blog post, letting me know what you'd like to buy from J&P if you win. (One comment per person please.) Be sure to include your email address so I can contact you if you win, and be sure to git 'er done before midnight, March 14.
The winner will be randomly drawn from all comments, and will be notified by email.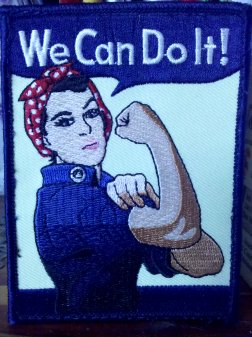 One of my favorite patches, currently awaiting the opportunity to be sewn to my leather vest, is the embroidered version of that famous World War II poster showing a woman flexing her biceps and proclaiming "We Can Do It!" The character, which came to be known as Rosie the Riveter, embodied the spirit of America's working women who filled the stateside factory jobs vacated by men who were called to war.
I was interested to learn that a real person was used as the model for that now-famous poster: Geraldine Hoff Doyle was just seventeen when she took a factory job near Detroit, Michigan to support the burgeoning war effort. A photographer for United Press International snapped a photo of Geraldine, and that photo was later used as the basis for a poster supporting an anti-absenteeism campaign at Westinghouse. The image was not widely circulated because Westinghouse's campaign was an internal employee-focused effort, but later was embraced by the American feminist movement.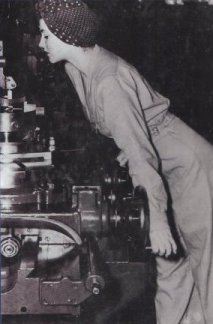 The muscular young woman depicted on the poster was not originally named Rosie. The poster began to gain some popularity among women workers and a song titled "Rosie the Riveter" received frequent play on radio stations. Around the same time, Norman Rockwell published an illustration of a hard-working war-time gal whose name, 'Rosie," was emblazoned on her lunch pail. All of these influences converged, and the girl shown on the poster began to be known as Rosie the Riveter.
Ms. Doyle left her factory work after only a few short weeks, and took a position at a local soda fountain. She married and raised a family, and had no idea she was the inspiration for the now-famous poster until the 1980's, when she happened to find an article about it in an AARP publication.
She passed away in December, 2010, at the age of  86, from complications of  arthritis. Her iconic image continues to not only inspire women; it represents a true turning point in American history, when women first began in earnest to prove their worth in the male-dominated workforce.