Geraldine Doyle, inspiration for iconic WWII image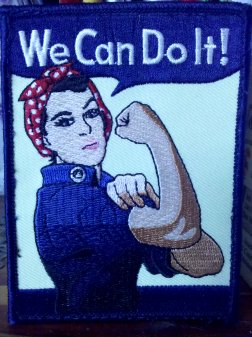 One of my favorite patches, currently awaiting the opportunity to be sewn to my leather vest, is the embroidered version of that famous World War II poster showing a woman flexing her biceps and proclaiming "We Can Do It!" The character, which came to be known as Rosie the Riveter, embodied the spirit of America's working women who filled the stateside factory jobs vacated by men who were called to war.
I was interested to learn that a real person was used as the model for that now-famous poster: Geraldine Hoff Doyle was just seventeen when she took a factory job near Detroit, Michigan to support the burgeoning war effort. A photographer for United Press International snapped a photo of Geraldine, and that photo was later used as the basis for a poster supporting an anti-absenteeism campaign at Westinghouse. The image was not widely circulated because Westinghouse's campaign was an internal employee-focused effort, but later was embraced by the American feminist movement.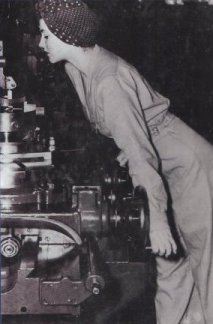 The muscular young woman depicted on the poster was not originally named Rosie. The poster began to gain some popularity among women workers and a song titled "Rosie the Riveter" received frequent play on radio stations. Around the same time, Norman Rockwell published an illustration of a hard-working war-time gal whose name, 'Rosie," was emblazoned on her lunch pail. All of these influences converged, and the girl shown on the poster began to be known as Rosie the Riveter.
Ms. Doyle left her factory work after only a few short weeks, and took a position at a local soda fountain. She married and raised a family, and had no idea she was the inspiration for the now-famous poster until the 1980's, when she happened to find an article about it in an AARP publication.
She passed away in December, 2010, at the age of  86, from complications of  arthritis. Her iconic image continues to not only inspire women; it represents a true turning point in American history, when women first began in earnest to prove their worth in the male-dominated workforce.