J&P gift card: we have a winner!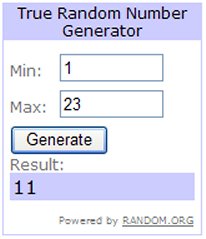 Thanks to all who left comments on the J&P gift card post! We had 23 comments, and I used the random generator over at random.org to select a winner. And that winner is….
WENDYVEE, comment #11!
Congratulations, Wendy – the folks at J&P will be in touch to get you the gift card!
I really do appreciate each of you who took time to participate, and all who spend time reading and commenting here! And, I thank J&P Cycles for thinking of me in facilitating their give-away!