Corn Dog's Note: Wanted to share this excellent article with you by Jordan Robertson, a freelance writer, long-time rider and concerned Mom. Be sure to add your thoughts about what make good "ground rules" for teens interested in riding, and a big THANK YOU to Jordan for offering her insights to Biker Chick News!
Preparing Your Teen to Ride
by Jordan Robertson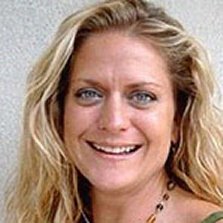 If you're a motorcycle enthusiast, chances are your kids will be too. They've grown up watching you ride, maybe helping you wash it in the driveway, dreaming of the day when they'd be able to take it out for a spin themselves. As a rider, you know better than anyone the joys of zipping down the road, feeling the bike between your knees and the feeling of freedom it offers. But you also know the dangers involved, especially when the rider is uneducated and unprepared. You've been an experienced rider for so long now, you may have forgotten some of the basics for someone just starting out.
My son has been saving up and recently bought his first bike, but I won't let him get on that bike until I've helped him learn how to do it the right way. Here are just a few of the things your teen will need to do in order to be a safe, responsible rider:
Take a Motorcycle Safety Course
Sure, you know everything there is to know about riding. You've been doing it for years. But you probably also know some shortcuts, and have your own little ways of doing things that may be a little, let's just say, unorthodox. Before you pass those on to your teenager, insist that he learn to ride the right way, taught by an experienced instructor.
Learning anything in a structured, classroom environment brings out the student in all of us. A teenager will be more likely to listen and pay attention to the instructor than to his parent who tells him what to do every day. The goal of earning that certificate at the end, and getting that feeling of accomplishment will motivate him to learn and participate.
Besides, by completing a safety course, my son is eligible for a discount on motorcycle insurance. That alone is reason enough to attend.
Wear a Helmet
Statistics show that head and chest injuries are the most common injuries suffered in motorcycle accidents. A helmet is the easiest way to prevent severe head injuries, or even death. If you require your kid to buckle his seatbelt when he's in the car, require him to wear a helmet on the bike. It will give you peace of mind while protecting him from motorcycle injuries.
Not all states require that helmets be worn, and I know many people who think it's not necessary, or that it just gets in the way. But this is my kid we're talking about, and my concern for his safety trumps any state law. Once he's an adult, it will be up to him whether or not he wears a helmet. But for now — no helmet, no motorcycle.
Get Insurance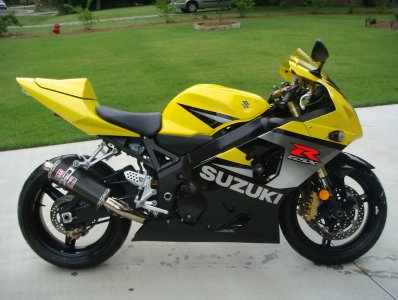 One of the best ways to help teenagers appreciate something they have is to make them pay for it themselves. Too often, parents buy everything for their kids, denying them the opportunity to learn the true value of their possessions. When a child has to earn and then spend their own money on something, whether it's clothes or a vehicle, they're much more likely to take care of it and use it responsibly.
I am requiring my son to pay for his own insurance, which is also a way to teach him about an important part of personal finances. He'll eventually be paying for life and health insurance in addition to his vehicle insurance. I'm using this time to help him understand how it works and why it's necessary, and to also make sure he understands how premiums can go up if he gets a ticket or is involved in an accident. The more careful and responsible he is on the road, the more money he'll be saving, not to mention the safer he and everyone else on the road will be.
Ride Responsibly
Even after taking a motorcycle safety course, and being lectured about the dangers of irresponsible riding, your kid is still a teenager, and prone to making mistakes. There may come a time when he gets a ticket for speeding, or worse, participates in road racing or other dangerous activities on the motorcycle.
Before he rides that bike for the first time, I will have a discussion about what is and is not allowed on the motorcycle, and what I will and will not tolerate. He needs to understand there are consequences for inappropriate actions, one of which may be losing the motorcycle altogether.
Hold your teen accountable for his behavior and actions. It may seem harsh, but remember that stunt riding, or even just speeding on a busy road or in a residential area doesn't just put your kid in danger. By doing those things, he's also putting others in danger.
By preparing my son for the responsibility of owning and riding a motorcycle, I believe I am helping him become a more responsible person in all areas of his life. With a little trust, a lot of patience, and even more preparation, I'm hoping that someday soon we will be able to ride together.
A big THANK YOU to all who participated in the drawing to win copies of Sonny Barger's new book, "Let's Ride"! The winners of the books, whose names were drawn randomly by Corn Dog's teen-age daughter and then notified via email by Corn Dog, are:
Jules B., aka "Dr Tigger" of Rhodes, Iowa, and
Cathie K. of Clermont, Florida
Congrats to Jules & Cathie!
Just a quick reminder that comments are due on Friday, June 25 by 5 p.m. (CDT) if you want to be eligible to win a copy of Sonny Barger's new book, "Let's Ride"! Read the book review, below, and leave a comment on the book review post to be eligible. I'll be drawing winners this weekend!
In other news…
A few other miscellaneous things going on recently –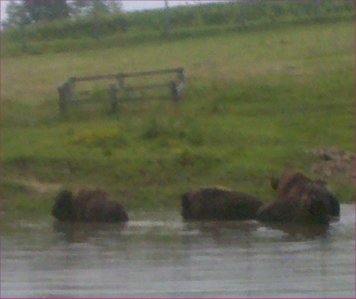 We took a nice ride up around Saylorville and Jester Park this past weekend after spending some time at the Big Barn HD Open House. (The photo at left shows Jester Park's resident bison, bathing in their watering hole.) We noted that, while speed bumps in Jester make it a VERY unfriendly place to ride, at least the repair crews are working on all those horrible seams in the road along 415 on the north side of the lake.
Are you familiar with Examiner.com? It's a website where writers from your local area file reports about every topic imaginable, with a local slant. Well, I've just become the "motorcycle Examiner" for the Des Moines area! So, in addition to all the goodies you normally find here, I will be posting some things there occasionally as well, mostly of a more "local news" nature.
Also, I'm excited to report that I'll soon have a couple of articles coming up in regional motorcycle magazines. I will keep you posted so you can catch them when they come out, and will plan to do profiles here on the blog of each publication so you can learn more about them!
Finally, met (by phone) a great guy name Greg Crook from Hornick, Iowa who owns Leather and Hawgs. This is a leather shop with not only the store in Hornick, but also a seasonal store over in Soldier, IA, near the Loess Hills region. You'll be reading more about them here on the blog, too – they not only sell all kinds of biker leather, but have some great events coming up as well!
There's still plenty of time to be eligible to win a copy of the Sonny Barger book, "Let's Ride." Just comment on the book review post by Friday, June 25, when I'll randomly pick two winners!
We've been having a lot of rain here lately, but thankfully we no longer have to worry about flooding – after 2008's disaster we relocated to higher ground (that's right, we're no longer the idiots you see on television who refuse to move!) so these days our biggest rain worry is the tiny bit that's seeping in through the basement walls. I think some strategically-splotched tar or blackjack out on the patio will take care of it.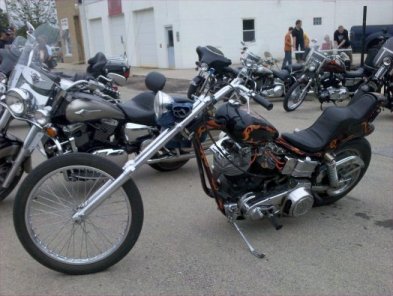 We did manage to eek out a trip in between rain showers down to Hartford, Iowa last Friday night for their monthly Bike Night event – this is a small one, usually a hundred bikes or so, but we had a very nice (if humid) evening – friendly folks (as are most in Iowa) in a tiny town, ever second Friday on West Elm Street.
Finally, Here are a few recent gems from around the Web related to bikes, bikers and riding – enjoy!
Motorcycle Cruiser magazine has a web-only feature of the Top 10 Scenic Cruises in the Rockies. (Just remember, I think you need a passport these days to travel into Canada. Sure would be worth getting one!)
With the 70th Sturgis Rally coming up quick, one of BCN's Facebook Fans, Aleta Gerard, shared a link to the write-up of her 2008 ride to the Rally – no shortage of travel adventures for her group, that's for sure, and the tale is well worth a read!
Liz Frazier, aka "Rippin Kitten," had a unique opportunity recently to travel to California to test-ride the new Honda VFR1200F, outfitted with dual clutch transmission. This hot little sport bike can be switched from the standard shifting transmission to an automatic mode. Liz notes that the most interesting part of the test ride was observing the difference between where the bike would shift itself, vs. where she would have shifted it manually. (Also on Liz's blog, if you're a "Sons of Anarchy" fan, be sure to read about her visit with Kurt Sutter, who gave her a personal tour of the series' sets!)
I've got two copies of Sonny Barger's new book, "Let's Ride," to give away! To be eligible to win, read my review below and leave a comment on this post that contains either one good tip for fun, safe and/or smart riding, or a quick take on why you'd like to win the book. Two winners will be randomly selected on Friday, June 25 from among those who comment! Thanks to  Harper Collins for the opportunity to review the book and for providing the give-away copies.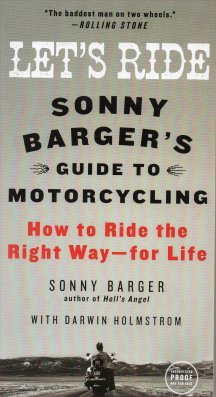 Here's the thing: many folks will not lend credence to this book because of the lifestyle led unapologetically by its author. That's the route I almost took when I was invited to read and review the book.
But, ultimately, I believe that having multiple perspectives on any given topic is always a good thing. People coming from different backgrounds, and with different life experiences, can often lend something quite valuable to the discussion.
If you think that Sonny Barger is going to advise you to "not worry" about riding while impaired, or to terrorize groups of upstanding citizens, or to be a scofflaw regarding helmet use, or anything else along those lines, you'll be just as surprised as I was at how mainstream ("square," if you will) his advice actually is.
And you may also be surprised at how much useful information is in the book regarding riding techniques, evaluating motorcycles, and valuing/looking out for your own safety.
Whatever else he's done in his long life, Ralph "Sonny" Barger has been riding motorcycles for something like 60-plus years. And while it's tempting to think of him in the one most obvious dimension (he's the founder and long-time President of the most visible chapter of the most visible motorcycle club in the world – the Oakland, California Hell's Angels), there's also at least one undeniable truth: the guy knows how to stay alive on a motorcycle.
With several books already under his belt (including an autobiography and a couple of novels), Barger now takes on the task of passing along some of his more practical wisdom about bikes and riding.
His new book, Let's Ride: Sonny Barger's Guide to Motorcycling
, co-authored with Darwin Holmstrom, covers everything from the types of motorcycles that are out there to the basic controls and how to operate them to how to change your bike's oil.
The section on how to evaluate a used bike isn't just useful when you're shopping, it could also be used as a checklist of things you should review to determine the condition of the bike you already own. And, the chapter on advanced riding strategies is filled with reminders every rider – experienced or beginner – can use to stay safe on the road.
What really struck me about the book, though, was how much the world's most infamous one-percenter and I seem to have in common.
For example, I've often said that motorcycling is relaxing not because it allows you to sit back and take it easy, but because when you are riding it leaves you singularly focused on your safety, the road, and the bike. At the end of the ride even though you've been working hard mentally, you're still relaxed.
Sonny says the same thing:
(Focusing on road hazards) helps me prepare for potential danger, but it does more than that: it focuses my complete attention on that moment in time, so that I'm not thinking about anything other than riding my motorcycle at that place in time. It might not be the same as spending a lifetime in some Buddhist monastery, but the concentration required while riding a motorcycle is a form of focused meditation that makes all the petty distractions of day-to-day life melt away. It might seem morbid to concentrate on potential danger with such intense focus, but it clears my head. When I'm finished riding, I feel relaxed and recharged, so morbid or not, I consider it a beneficial activity.
I'm also fond of saying, "Ride like no one sees you, and those who see you want to kill you."
Barger says the same thing, in a slightly more colorful way:
…I recommend adopting the attitude that every single person on the road is a sociopathic serial killer who has just escaped from an asylum for the criminally insane. This might seem a little pessimistic, but you'll live longer if you assume everyone else on the road is a homicidal moron whose sole purpose is to kill you.
A few other things Barger and I have in common: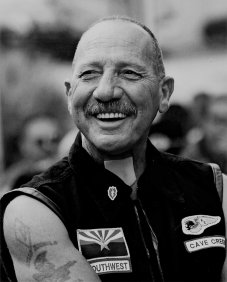 Bottom line: the book is a good primer, shows occasional flashes of Barger's salty humor, and offers up a lifetime of bike-riding wisdom you just can't argue with.
Don't forget, leave your comment with a riding tip or reason why you'd like to read the book, and you'll be eligible to win a copy!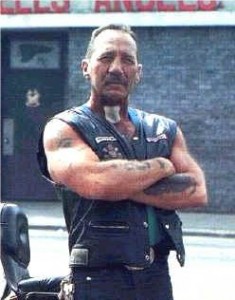 Safe to say that Ralph "Sonny" Barger would consider me a square. And I'll admit, I am one – except for the fact that I ride a motorcycle, which distinguishes me somewhat from my non-riding sistren. (I like to call my unique blend of conformity and individualism RBM, which stands for Rebel Biker Mom. As in, "I ride two wheels… I wear leather… I take a sweater in case it gets chilly!")
In any case, it's also safe to say that if I were looking for advice on how to get into motorcycling, I probably wouldn't immediately think that the founder and long-time president of the Oakland, CA Hell's Angels would bother to provide the sort of guide I'd be looking for: what types of bikes exist and which one I should get, how to learn to ride, strategies for riding safely down the road.
So the fact that Barger has, in fact, written exactly that kind of guide leaves me a little stunned and even (dare I say) a little skeptical. It also leaves me wondering: have I seriously miscalculated the degree to which the "baddest man on two wheels" cares about whether I pick the right bike and understand the concept of countersteering?
All of this is simply to let you know that recently I was offered the opportunity to read and review Barger's newest book, Let's Ride: Sonny Barger's Guide to Motorcycling
, which comes out this month from the William Morrow imprint of Harper Collins.
And, I was also offered a couple of additional copies, which I'll be giving away to blog readers.
So c'mon back on Friday for the review and to learn how to sign up to win, and meanwhile try to wrap your brain around this: Sonny Barger wants you to ride, and he wants you to ride safely – for life!
I recently read a really neat story that touched on something  experienced by a lot of women who ride motorcycles: the reaction of our family and friends, particularly our mothers. Now I don't know about yours, but my mother was terrified of motorcycles. She would not let my dad own one, and she was absolutely against me owning a Honda Express when I wanted one as a teen-ager. (I eventually won that battle – I have no idea how.) She did not live long enough to see me learn to ride a "real" bike, and would have been beside herself with worry had she been here.
The story I read was written by Condi Starks, a gal from South Central Kansas who's been riding her own for just about a year. Her current bike is a 750 Honda Shadow. But, Condi's mom used to fret openly that riding wasn't ladylike. I asked Condi if she would mind sharing her story here, and I'm delighted that she agreed!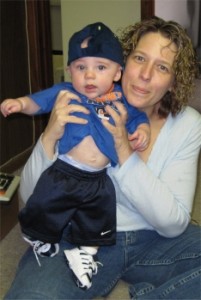 My Cute Mother
by Condi Starks
My mother is very much a Diva!  I mean in every sense of the word.  I love her to pieces but can't help but to just stand and shake my head at her.  She loves the attention and the drama that most "Divas" feed on, that's my mom!  She had a cow when I got my bike.  "Condi that just isn't lady-like!"  And then when I started shooting, she literally CRIED! And I am not even exaggerating, REAL TEARS because "I feel that you are losing your femininity!" We have talked and I "educated" her on what TRUE femininity was, and as you will see, I think she is a very good student.
A little history about my mother:  She came from a level of poverty that she was always embarrassed about; my grandfather worked his butt off, but with 5 children and one of them being a "special needs" child, it required that work and dedication from my grandfather.
My mother was a pre-teen before they had an indoor toilet.  So based on the "lack of" when she was a child, she created an image of what a "Perfect world" should look like and has strived to make her world as perfect as her mental image.
She dropped out of school in the 9th grade and went to work.  Then a few years later she met my dad.  He came from a very dignified family (mom's dad was gruff and teetered on abusive).  My dad's family was not "rich" by any means – they were dairy farmers here in Kansas and eventually lost the farm, so money isn't what bought them respect in the community. It was their values.  This was the "Perfect family" in my mother's eyes and she tried to mold me into THEIR image. (I don't do so bad really but mental image is a hard thing to live up to).
My mother has since worked her way up to being the CEO of her own corporation, owning several tax franchises, and has every right to hold her head proud in her own right.  But she still struggles with "Mental Image" of what is "Perfect".  And ladies on bikes, shooting guns is not the mental image she has of a "Dignified Lady." UNTIL….
I told her "Mom, when I am on my bike I am free.  And there is nothing MORE lady like than FREEDOM.  I am free to be who I am, I am free from gender barriers. I am in control of my own destiny when I am on my own bike.  I am not sitting behind someone putting my life in the hands of THEIR riding skills.  You have always taught me to be in control of my own successes and failures, when I am sitting at the controls of my own bike I am in complete control.  I have POWER, when I hit that throttle and my bike roars, it screams 'I am WOMAN, I am FREE, I am IN CONTROL!'
"And when I pick up my gun and master the skill of shooting I am saying I have value enough to stand up for my right to be safe and secure!  There is nothing lady-like in laying there letting someone rape you, there is nothing lady-like in begging for  your life, there is nothing lady-like in being reduced to hoping someone gets to you in time.  So by learning how to shoot I am learning how to protect the lady you created in me."
She just smiled! Now she BRAGS about my riding and my shooting.  Recently while at a family picnic with "the perfect family" one of my female cousins said "Ohhh I have wanted a bike for so many years, but how do you keep Helmet Head away?" Before I could answer, my mother answered for me.  She said "That's why you wear Doo-Rags."
I smiled and winked at her.  By George I think she's got it!!!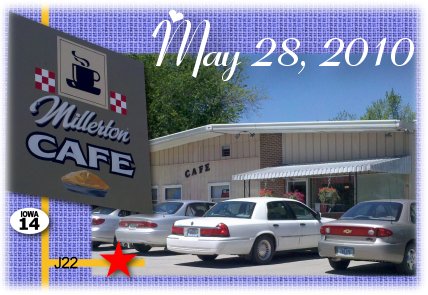 "I wonder if this is the right place?"
In my defense, it wasn't entirely a silly question. I was expecting (for whatever reason) to see a diner called "Rose's" or "Rosie's." Instead I had located the Millerton Café. So going strictly by signage, I wasn't sure at all that this was our intended destination.
By all other accounts, it was the right place simply because there was no other place. You could stand in the parking lot and see the outskirts of town in all four directions. There clearly wasn't another place to eat unless perhaps you were family stopping by to check on Aunt Ellie, in which case she might rustle you up a sandwich.
Besides, the spot we were looking for was supposed to be "the best place to eat in Southern Iowa," and the parking lot of the Millerton Café was packed when we arrived. (I daresay this town of 48 people probably triples in size every day between 11 a.m. and 1 p.m.) A good sign, even if it was the wrong place.
We first learned about Millerton on the 10 o'clock news one night; a local reporter was exploring Iowa towns looking for "the best (blank) in Iowa" (because that's something those big-city TV reporters are always looking for) and happened upon homemade pie at the Millerton Café.  This was back in the very late winter or early Spring, at which time Steve and I looked at each other and said, "Let's take a day-ride there!"
So on the Friday of Memorial Day weekend, we left around 10 a.m. and headed south, collecting Garry & Shirley in Carlisle. A quick jump down Highway 5 took us to the Palmyra Road (S23), which is a lovely piece that gets you down to Highway 92 in about 20 scenic minutes.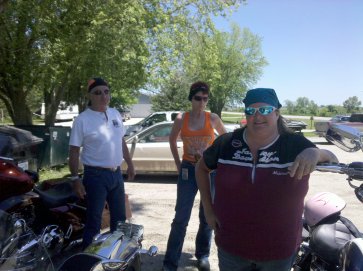 We jogged back west on 92 and picked up S23 again heading south. This is a county road which happens to make judicious use of the "pavement ends" strategy of way-finding. By this I mean that a sign warns you that "pavement ends"  and you should therefore plan to take the sharp turn called "your only option" in about 10 feet. I think there were three or four of these along S23 and each time they'd leave me wondering if I was still on the right road.
We took S23 to State Highway 34, then with DETOUR and ROAD CLOSED signs blaring all around us, we turned toward Chariton anyway and got lucky: the road did close, but gave us one final turn-off at the edge of town that dropped us at Casey's for a potty and beverage break. From there we took a short loop through town and picked up Highway 14 heading south. (This, by the way, is a HORRIBLE stretch of road that will shake your teeth loose.) The turn-off to Millerton was County Road J22 – a peach compared to 14.
Lunch was very good. The homemade hot beef sandwiches were excellent. I don't think the chicken tenders were homemade, but they were still okay. But the real prize was dessert: Legend has it that Grandma comes in every morning to bake fresh pies. And not just apple and cherry. Every day there is fresh pecan, several types of berry, chocolate, sour cream raisin, banana cream, and much more – about 12 or 16 varieties, I think. The pie was amazing, and by itself worth the trip.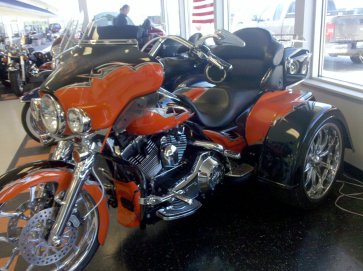 After lunch we took 14 back up to 34 east, which got us quickly to C&C Cycles. C&C is a multi-brand dealer selling Harley Davidson, Yamaha, Kawasaki, Suzuki and Polaris vehicles, parts and apparel. They also must sell a really versatile trike kit, because the entire front showroom was filled with about a dozen or more trikes made from a wide range of motorcycles. We shopped a bit, then it was time to head back toward Des Moines.
For the trip home we took 34 west to Highway 65, which eventually joins with Highway 69 and takes us into Indianola.
Other than a couple of impatient drivers (one of whom got to carefully study the middle finger of my left hand as he passed us on the two-lane), it was a gorgeous day of bright blue skies, summer temperatures and low humidity. Only thing that would have made it better was if Millerton had had a white-sand beach, clear azure water, and cabana boys selling umbrella drinks along with the pie.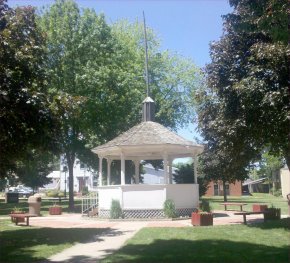 I've been job-hunting these past few weeks, and while I've been pleasantly surprised at the number of opportunities out there for me to pursue, the going is very slow. So Thursday afternoon before Memorial Day, the weather was absolutely beautiful and Steve and I took the opportunity to go and enjoy lunch in a town we ride through often but never stop to see: Polk City.
This little community is just northwest of Des Moines and we cruise through whenever we take the "Madrid Loop" or visit Big Creek State Park. But we've never stopped at any of the local businesses.
So Thursday we opted to have lunch at the Reising Sun Café on t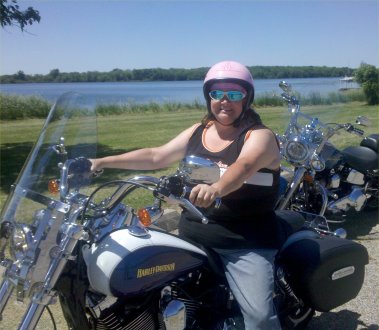 he square, but could also have elected pizza or pub fare. The Reising Sun was a nice little place that looked out onto the iconic Polk City gazebo. Our window seat allowed us to enjoy the view as well as our pork sandwiches.
After lunch we slipped over to Big Creek for a view of the lake, then headed back down toward Des Moines and stopped at Big Barn HD. Garry & Shirley soon arrived, so we shopped the Barn for a brief time then headed home, with a stop at Sambetti's just for good measure.
Just one of those days that was hardly worth a mention, except for the perfect weather and time spent on the bikes – which is never an insignificant combination!