Just a quick reminder about a couple of blessings coming up this weekend. First, on Saturday May 1 it's the annual blessing at Route 65 Harley Davidson, 1300 S. Jefferson Way in Indianola beginning at 11 a.m. All riders welcome, and don't miss Bad to the Bone BBQ too!
And, on Sunday May 2, The River's Edge Church at 204 College Avenue in Iowa Falls will host its 4th annual blessing event. Lunch served at Noon, music by TRE's house band, The Way, and blessings beginning at 1 p.m. The event is free, and it's been growing each year – from 26 bikes the first year to 72 in 2009! No cost to participate, and no pre-registration required – just come on up to Iowa Falls and enjoy food and fellowship. For more information, email Pastor Carlton Anderson at pastorcarlton@msn.com, or call 641-640-0543.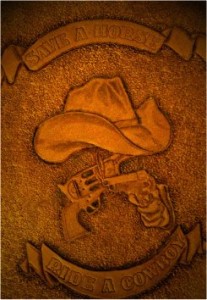 Back in February, when we were all just about bonkers from the Winter That Wouldn't Quit, we had the opportunity to visit the annual motorcyle swap meet. As soon as we got inside, I almost immediately came upon Tina Anders-Grover, a local leatherworking artist and owner of Custom Leather Design. I was impressed with the inspired hand-tooled leather bike seats on display.
While today much of Tina's Des Moines-based business is devoted to custom seats, she actually  began her career in leatherwork when her husband needed a belt made to club specifications. Being an artist familiar with other media, Tina decided to make the belt herself. Soon she was making wallets, toolbags and other items for her husband and his biker brothers.
"As an artist, to begin with, I was amazed at the ability to bring my art into 3D, and still am to this day," Tina says. She considers the motorcycle seat to be an often over-looked canvas on the bike.
"So many people put thousands into custom paint jobs, chrome and flashing lights, but forget that when someone stands above your bike looking down… what do they see? A gorgeous bike, with a blank seat."
Each one of Tina's seats is a one-of-a-kind creation, hammered and crafted with traditional tools. She'll create the design from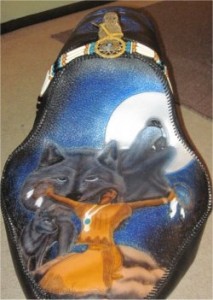 scratch, or work from the bike owner's design. Her own bike seat brings in a variety of leatherworking techniques including snakeskin inlay, Spanish lacing, and colored mural-like images. Most designs are not as complex, she says, but every seat gives the owner's bike a custom look.
"I have learned much from leather crafting," Tina says. "Mostly I'm very glad that the night my husband came home asking for a belt, I chose to be a cheapskate and do it myself, because you never know when pinching a penny will earn you lots of them and send you into a career that you love!"
To see more of Tina's work, or to get an estimate for customizing the "over-looked canvas" on your bike, contact Tina at 515-422-7277.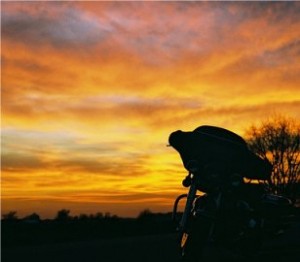 I really dig all the "bike blessing" events I'm hearing about. I'm not what you'd call a regular church-goer, but I am a Christian person and I find that riding the Iowa by-ways on two wheels is a great way to enjoy and appreciate God's creation. (Riding in areas that look so different from Iowa, like South Dakota, is a great way to be reminded that my immediate world is very tiny and that God's creation takes many different forms!)
Of course, one of the things I like best about bike blessing events is that they signify the beginning of the riding season. But more than that, they are an opportunity to acknowledge that there is some risk in riding, and that you have to be able to pretty much put yourself in God's hands when you ride because you simply can't control every risk factor. It's humbling. Sometimes, it's even emotional, but maybe that's just me.
We're headed to the first of the area bike blessings this weekend, so it seemed like a good time to mention three of them that I know of. If you know of another and would like to list it here, feel free to add it in the comments. Also feel free to visit Biker Chick News on Facebook and post your Blessing event in the appropriate thread in the "Discussions" tab.
How about you – do you enjoy blessing events? Share your thoughts in the comments!
Saturday, April 17 – Big Barn Harley Davidson in Des Moines, blessing at 11 a.m. with chili feed to follow. Also includes blood drive and benefit for Disabled American Veterans (DAV). For info: bigbarn@bigbarnhd.com.
Saturday, May 1 – Route 65 Harley Davidson in Indianola. For info: rt65@route65.com.
Sunday, May 2 – River's Edge Church, Iowa Falls, Iowa, 1 p.m. For info: pastorcarlton@msn.com.
Flickr photo by mobhistory.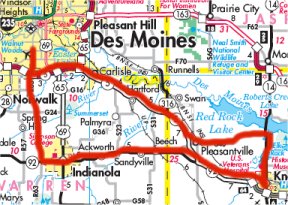 Had a nice weekend working (slowly) toward that first thousand miles on Kitten. Saturday Steve and I rode down to Route 65 Harley Davidson in Indianola then took a scenic ride home along Highway 92, 14, G40 and 5.  (Funny, I initially thought in my mind that the route would look something like a golf putter; turns out it looks more like a snoutless fish. Because that's how my brain works.)
Then Sunday, after a brief excursion to rescue Stephanie's car keys (conveniently locked in the car in the church parking lot), we took another short jaunt around the northeast part of Des Moines, converging on Kristin's new house near Saylorville Lake for a too-brief visit to ooo and ahh over her new place.
I've also been finding a few really good blog posts recently that I wanted to share, courtesy of some of my biker blogger pals around the Internets. Here they are:
First, IowaHarleyGirl is finally ridin' her own! Check out what she bought!
Then, a really wonderful ride report about the Blue Ridge Parkway by Mrs. Road Captain – be sure to study the photos!
Another wonderful ride report with beautiful photos, courtesy of Chessie.
And finally, the one-minute version of yours truly, making a spectacle of herself at Big Barn Harley Davidson. Here I am ringing the Freedom Bell after buying my new bike!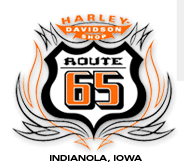 Route 65 Harley Davidson in Indianola, Iowa is celebrating Women Rider's Month in May with a dinner ride on May 25. All riders – women and men – are welcome to ride along with the Route 65 Ladies of Harley (LOH) and local Motor Maids members. The ride will leave from the Route 65 Harley-Davidson Shop parking lot, 1300 S. Jefferson Way in Indianola, at 6 p.m., but get there early if you want to shop and socialize!  The Dinner Ride destination will be announced soon. Call Route 65 HD at 515-962-2160 if you need additional information.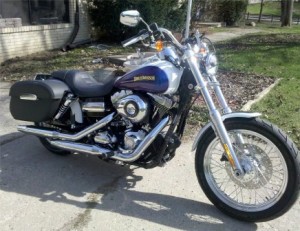 SHORT VERSION: I GOT ANOTHER NEW BIKE!!
EXTENDED VERSION: So my dear husband, who buys me stuff all the time, was up at Big Barn HD on Wednesday of last week and bought me an owner's manual for my 1200 Sportster, plus a hair tie with a rhinestone HD emblem on it. What a sweetie, right? I know!
Anyhoo, he gives me these things when I get home from work and says, "You wouldn't believe the really neat Dyna they had, it's got you written all over it." So as he was telling me about it, I was looking at the hair tie and realized that it's got a rhinestone missing out of it. I told him, "Well I guess I'll just have to go with you to exchange it, and look at that Dyna."
Well the Dyna was indeed beautiful, and seemed to have been set up just for me, so I ended up making a trade that included both The Picky Bitch and the 1200, and I'm now the proud and delighted owner of a 2010 Harley Davidson Dyna Super Glide Custom!
The moment I started it up, I knew her name was Kitten. Not the soft and cuddly kind, but the  sultry kind that craves attention and purrs when she gets it.
She's got HD's 96 cubic inch engine, six-speed transmission, and Progressive short shocks that make her just the right height. Big Barn had set her up with hard-sided leather bags and just a little bit of "diamond ice" bling. Her paint is a two-tone combination of White Ice Pearl and Black Ice Pearl. She looks white and blue one moment, and white and purple the next, depending on where you're standing. I've already added a set of risers to pull the handlebars back just a bit, and a windshield. She is amazing, and beautiful.
Make no mistake, I thoroughly loved and enjoyed both the Sportsters – it's like I traded a couple of fast, nimble Corvettes for a bigger, more muscley Gran Torino – a step up in power, perhaps, but taking nothing away from the previous vehicle.
What can I say, folks, I'm addicted! It's going to be a GREAT summer!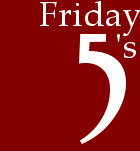 One of the principles that guides virtually all of my riding adventures is this: "No one sees you. And those who see you, want to kill you." It may sound extreme, but it keeps me always mindful of the importance of being visible – especially given that statistics now show that "distracted drivers" are a primary cause of multi-vehicle accidents involving motorcycles. In fact, just this past week, there has been a tragic story reported of a truck driver who, momentarily distracted, plowed into a group of eight bikes – killing three riders.
At the February meeting of our local HOG chapter, Safety Officer Andy Lara presented a list of tips to help you be seen on the bike. I thought I'd share a few of them here, and hope you'll add your own best tips for visibility.
Wear bright colors – the Day-Glo yellow worn by construction workers is a good choice!
Use reflective materials – on your person as well as on your bike!
Additional lighting on the bike – the newer flashing brake lights are attention getters!
Ride defensively – look ahead, see and plan for potential hazards before they become a problem.
Adjust your lane position – to stay out of blind spots.
In riding, as in driving, there is only so much you yourself can do to prevent accidents. The above tips will help you do all you can to protect yourself, even though you are only part of the equation. What are some of your strategies for being more visible on the road?