Bits and pieces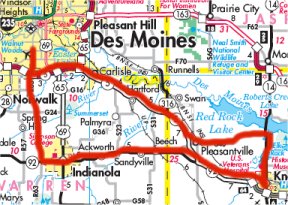 Had a nice weekend working (slowly) toward that first thousand miles on Kitten. Saturday Steve and I rode down to Route 65 Harley Davidson in Indianola then took a scenic ride home along Highway 92, 14, G40 and 5.  (Funny, I initially thought in my mind that the route would look something like a golf putter; turns out it looks more like a snoutless fish. Because that's how my brain works.)
Then Sunday, after a brief excursion to rescue Stephanie's car keys (conveniently locked in the car in the church parking lot), we took another short jaunt around the northeast part of Des Moines, converging on Kristin's new house near Saylorville Lake for a too-brief visit to ooo and ahh over her new place.
I've also been finding a few really good blog posts recently that I wanted to share, courtesy of some of my biker blogger pals around the Internets. Here they are:
First, IowaHarleyGirl is finally ridin' her own! Check out what she bought!
Then, a really wonderful ride report about the Blue Ridge Parkway by Mrs. Road Captain – be sure to study the photos!
Another wonderful ride report with beautiful photos, courtesy of Chessie.
And finally, the one-minute version of yours truly, making a spectacle of herself at Big Barn Harley Davidson. Here I am ringing the Freedom Bell after buying my new bike!