Bike Blessing events mean it's riding season!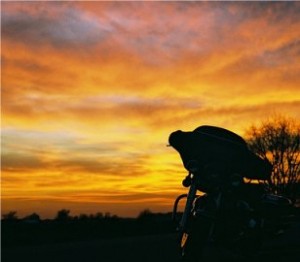 I really dig all the "bike blessing" events I'm hearing about. I'm not what you'd call a regular church-goer, but I am a Christian person and I find that riding the Iowa by-ways on two wheels is a great way to enjoy and appreciate God's creation. (Riding in areas that look so different from Iowa, like South Dakota, is a great way to be reminded that my immediate world is very tiny and that God's creation takes many different forms!)
Of course, one of the things I like best about bike blessing events is that they signify the beginning of the riding season. But more than that, they are an opportunity to acknowledge that there is some risk in riding, and that you have to be able to pretty much put yourself in God's hands when you ride because you simply can't control every risk factor. It's humbling. Sometimes, it's even emotional, but maybe that's just me.
We're headed to the first of the area bike blessings this weekend, so it seemed like a good time to mention three of them that I know of. If you know of another and would like to list it here, feel free to add it in the comments. Also feel free to visit Biker Chick News on Facebook and post your Blessing event in the appropriate thread in the "Discussions" tab.
How about you – do you enjoy blessing events? Share your thoughts in the comments!
Saturday, April 17 – Big Barn Harley Davidson in Des Moines, blessing at 11 a.m. with chili feed to follow. Also includes blood drive and benefit for Disabled American Veterans (DAV). For info: bigbarn@bigbarnhd.com.
Saturday, May 1 – Route 65 Harley Davidson in Indianola. For info: rt65@route65.com.
Sunday, May 2 – River's Edge Church, Iowa Falls, Iowa, 1 p.m. For info: pastorcarlton@msn.com.
Flickr photo by mobhistory.