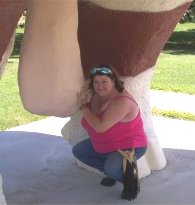 As a blogger, I pay some attention to the number of visitors that come to this site.  Biker Chick News started the year with just over 13,000 visitors in January, peaked at just over 20,000 in October (that's a record!) and will end the year with about 18,300 in December.
Some of those folks, of course, check in regularly – either through Favorites bookmarked in their browsers or by subscribing to my RSS feed. I really do thank each of you who come to this site again and again!
One of the other things I can learn from my traffic reports is which words and phrases visitors typed into the search engines to get here. Because this blog is focused on motorcycling, the search terms normally aren't too surprising – every month there are myriad variations on the 'biker chick' phrase, including "biker chicks," "sturgis biker chicks," etc.  As August approaches, I begin to see the phrases "Sturgis pics" and "Sturgis Bike rally" appear in my results. And, each month there are usually a few readers who got here having searched for "sportster ape hangers" – apparently that's something that needs a little research before making a final decision!
There are sometimes unusual phrases too, phrases that have nothing overtly to do with motorcycling, but that happen to be reflected in something I've written. I always wonder what people think who come here having searched for "Alton Brown," the Food Network host. But by far my favorite of the many search phrases that appeared in my traffic reports this year was this:
"Big Nuts."
This phrase appeared not once, not twice, but several times over the course of the year, in several different months. I'm not sure if people were looking for guys with big nuts, or those fake big nuts you can hang from the back of your car, or what.  But I certainly know which article people find when they come here looking for "big nuts," and since it's one of my favorite rides, I'm okay with that!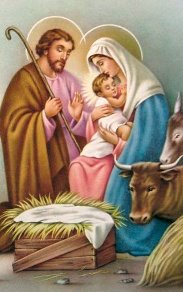 Well I can't say I will be sorry to kiss this @#$ year good-bye! The Picky Bitch is put away in the new garage (which isn't heated like the old one so Santa needs to bring me a battery tender…), and we just attended our local HOG chapter's annual Christmas party. I wanted to mention a few things that deserved mention this year, but that I never got around to mentioning:
First, a few of the gals in our HOG club organized a really neat event this year – they put together a scavenger hunt, where you were supposed to ride to various towns in Iowa (based on clues), and figure out a "theme" that bound each of the towns together. Well turns out the theme was music, so you also had to tell what each town had to do with music. While I didn't get to participate to the extent that I wanted to, it was still a great idea and a real challenge for those who did it – and a lot of work for the organizers. GREAT JOB!!
Also, our chapter's sponsoring dealership, Big Barn Harley Davidson, had a neat ongoing project this summer – it's an idea similar to one I had a few years ago, and never put together. I called it a World Tour – there are several towns in Iowa that have the same names as famous Places: Jamaica, Peru, Orient, etc. Well the dealership put together a little passport booklet and the idea was for you to ride to each of these towns and snap a photo with your bike against the backdrop of a welcome sign or other town marker. We were able to do a few of these, and although those days seem really far away now (heck they were back in May!! LOL), they were absolutely the best days of this past summer. We rode with some awesome folks, including new friends Nate & Kate and Austin & Shannon. 
We also had a nice ride to Pella back in May (li'l windy, right Garry??), and of course the Toy Run closed the season for us.
Needless to say, riding took a backseat to flooding… and then moving… in 2008, so we are definitely looking forward to trying again in 2009!
More soon… for now, here's wishing you all a warm, happy and beautiful Christmas, and a safe, healthy and prosperous new year!
Victoria Sampson of Shadow Hills, Calif. was selected as the Grand Prize Winner in Harley Davidson's Bikes, Camera, Action! film contest. Here's her winning entry (if embed doesn't work, check out the YouTube wide-screen version):



Ms. Sampson was honored at the premiere party for her film, Her Need for Speed, which took place December 11 in Los Angeles. An HD spokesperson said her film stood out for the quality and creativity of the content as well as the success she had in capturing the empowerment inherent to women riders.
In addition to the premiere party, Sampson received $5,000 in cash, a new High Definition video camera and a Harley-Davidson leather jacket. Already a rider, Sampson will also have the opportunity to fine tune her riding skills with a gift certificate for a 5-day bike rental through Harley-Davidson's Authorized Rentals.
"We know there are thousands of women dreaming of hitting the open road," said the emcee of the evening, Karen Davidson, great-granddaughter of one of the Harley-Davidson founders. "The Bikes, Camera, Action! films captured the powerful visual of women embracing their independence and we hope they will inspire those still dreaming to take life by the handlebars."
Melissa Kosar of Orange, Calif. and Marta Masferrer of New York City were selected as First Prize Winners, each receiving $1,500 to use toward their next project, a Harley-Davidson leather jacket and the opportunity to learn to ride through Rider's Edge(R), Harley-Davidson's rider training program.
Dozens of female film makers answered the contest's challenge, to create original short films that capture the freedom and control that riding offers women. The three prize-winning films can be viewed at http://www.facebook.com/harley-davidson.