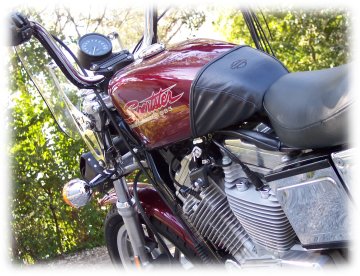 On Monday of this week it was an absolutely unseasonably amazing day, with temps in the upper 60's. Did I ride? No, and I even had the afternoon off! But, my dad's in the hospital and I needed time to do some errands for him, so I didn't get to take advantage of the late-season riding weather.
Now it's Friday and we've got a little over an inch of snow on the ground – ah, Iowa!! The snow means that I'm now working on my over-winter plan for The Picky Bitch… I talked about this last year and didn't make any progress, but hopefully this year will be different!
PB is actually a lot like me: a little rough around the edges, a few dings here and there, but a good ol' gal that works hard and appreciates a good makeover now and then. So this winter I'll be on a quest to provide her with a few of those baubles, in an effort to transform her from workhorse to chrome-dressed glamour-girl! 
The plan also includes a new paint scheme, but that will mean big bucks so I'm not sure that will happen this year. At this point all I have is a plan on paper… but like gardeners with their seed catalogs, you can bet I'll be spending at least a few nights this winter snuggled on the sofa with my HD parts book, dreaming about rolling the PB out of the garage next spring slathered in chrome!
There is so much to be thankful for… not the least of which is this beautiful scene right outside my front door today! Have a beautiful holiday!
If you're a Harley Davidson enthusiast like me, you might enjoy this opportunity to support the new Harley museum opening in 2008 in Milwaukee.

Hat-tip to Rippin-Kitten for the link!
Wow, not sure what happened to my WordPress template, but sometime between Nov. 8 and today it disappeared! Guess that's an opportunity for a re-design, eh?
So while I'm working on that, you all just enjoy this perfectly wonderful picture of Howard & Einstein!
UPDATE: 10 minutes later. That was weird, but it's fixed now. I think I need to learn to develop my own WordPress templates so I don't have to rely on the kindness of strangers for these free (but possibly unstable?) ready-made themes.
ANOTHER UPDATE: Nov. 18. Dude, WTF?? I check back a few days later and the theme is gone again. I give up. I'm using this temporary "skin" till I can find something that fits the site perfectly.
Oh boy, here we go – I'm betting we're in for a helmet law here in Iowa in 2008. How do you ride, with or without? Should they be mandatory? C'mon, let's hear it!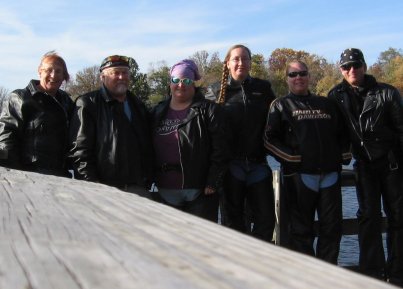 We took probably our last ride of the season over the weekend – Sunday was beautiful, sunny with a high in the mid-60's… so we took a scenic ride with Kristin, Hollie, Howard, Brenda and Cassie down to Indianola and Lake Ahquabi just a few miles south. Fall colors are nearly done (there are still a few really amazing trees here in town, though), and it's getting dark pretty early what with Daylight Savings Time over… plus it's the height of lust-crazed deer season and that always makes things interesting – but we had a great day riding with no troubles.
I've got a little over 13,000 miles on my bike now – it had 4900 when I bought it. I put the saddlebags back on recently and I've got some thoughts for things to do/add over the winter, so we'll see what the PB looks like come spring.
So what's in store for the off-season? Oh the usual shopping for chrome, leather, etc. LOL But also, I've put my name in the hat to be an officer in the local HOG chapter (new member ambassador – does that sound like me or what??) so I'm looking forward to see if that comes to pass.
I also have lots of blogging fun in store so hang in there with me, just because it's too cold to ride doesn't mean the blog goes quiet!
More soon!