Last ride of 2007 season, November 4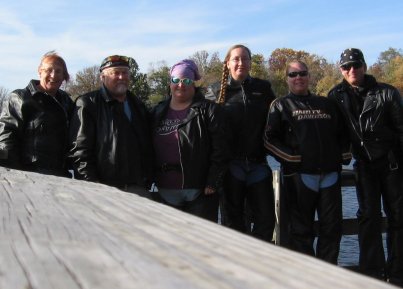 We took probably our last ride of the season over the weekend – Sunday was beautiful, sunny with a high in the mid-60's… so we took a scenic ride with Kristin, Hollie, Howard, Brenda and Cassie down to Indianola and Lake Ahquabi just a few miles south. Fall colors are nearly done (there are still a few really amazing trees here in town, though), and it's getting dark pretty early what with Daylight Savings Time over… plus it's the height of lust-crazed deer season and that always makes things interesting – but we had a great day riding with no troubles.
I've got a little over 13,000 miles on my bike now – it had 4900 when I bought it. I put the saddlebags back on recently and I've got some thoughts for things to do/add over the winter, so we'll see what the PB looks like come spring.
So what's in store for the off-season? Oh the usual shopping for chrome, leather, etc. LOL But also, I've put my name in the hat to be an officer in the local HOG chapter (new member ambassador – does that sound like me or what??) so I'm looking forward to see if that comes to pass.
I also have lots of blogging fun in store so hang in there with me, just because it's too cold to ride doesn't mean the blog goes quiet!
More soon!