Hey thank you all for taking time to check out the new Biker Chick News Video Channel! I wanted to be sure you knew I've added a BUNCH of videos since I first introduced the channel a couple weeks ago… including two great ones from Liz (aka "Rippin-Kitten"). She's got a great photo montage from Laconia 2007, and also an instructional bit about what she went through in a recent re-jetting project. (I also recently added my own Sturgis 2006 slide show!)
Here are some direct links:
Kitten's Laconia Video
Kitten's Rejet Video
BikerChick's Sturgis '06 Video
Main video page
AND – did you know that this site is set to clear over 12,000 visitors this month? That's right, more than 12,000 individual visits to the site – either folks stopping by once, or coming back again and again – in this one month alone! That's double the traffic from just the end of last year, and more than four times the traffic from August, 2006! Now I realize that compared to the Internet's most highly-trafficked sites (like Google, MySpace and Amazon), that's pretty small potatos. But hey, I am just SO appreciative that you find this site worth a visit!
THANK YOU for reading, and don't forget to leave your comments and send me an email if you have something you'd like me to post.
Here are a few news stories from around the US and Canada that I've found in the past few days. Just interesting reading!
This piece from the Vancouver Sun talks about the effect of the Baby Boom generation on the bike market.
Here's an article about the 2007 Wisconsin State HOG rally, held in Racine.
And this article about the 100th anniversary of the Oakland Motorcycle Club (the club Sonny Barger rejected for being too family-friendly) is making the rounds in papers throughout California.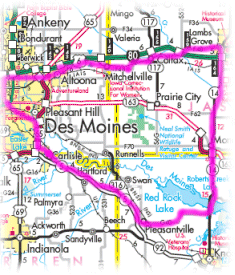 Friday night was Indianola Bike Night – we rode down with Kristin and Hollie (Hollie got her bike fixed!) but along the way noticed a person waiting with a bike on the side of the rode… realized as we rode by it was SUSAN (Coyote)!! So I stopped and waited with her while she waited for Paul to return with tools to fix the problem… they then rode home to switch bikes and I went on down to Indianola. Got there just as Steve, Garry and Shirley were getting off their bikes… Susan and Paul arrived a short time later. Did our usual pass around the square and had dinner at the One Stop Cafe.
Normally I hate the ride home from Indianola – it's always in the dark and I always feel like it's a deer gauntlet… this week, though, the ride home was pleasant. I happened to hit the highway behind a guy riding a bike with a sidecar rig, and he maintained a speed of about 50 mph the whole way home. I was able to rely somewhat on his headlight beam to light the road ahead of me, so I felt like I had a good "advance view" of any animals that might be lurking.
Saturday night we went up the HD dealership and enjoyed a free showing of "Wild Hogs"
with about 100 other club members. We really liked that movie the first time we saw it in the theater, but it was even more fun in a room full of bikers.
Then today (Sunday) we went to breakfast at a local diner with Garry & Shirley and then went on an afternoon ride to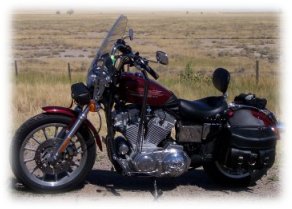 the east. We traveled Old Highway 6 east through Mitchellville, Colfax and Lambs Grove, then south on Highway 14 down to Monroe where we hit a little rain. We had intended to go a little farther east to Pella, but we could see the wall of rain off in that direction so we changed plans and just took 14 on south out of Monroe, over the Mile Bridge over Lake Red Rock. We turned to the west on County Road G-40 into Pleasantville, then north on Highway 5 back into Carlisle where Garry & Shirley live.
I did try something  new today – instead of wearing my usual HD boots, I tried riding in my new red Ariat cowboy boots (I got mine on eBay for $30!!). The only issue I had was that the upper is a lot thinner on these than it is on the HD boots, so I could feel the shifter through the top of the boot as I pushed it upward. I did find a comfortable way to accomplish the shift, and these seemed to have a decent grip sole so I might ride with them a few more times until I can get a good deal on the brown HD Laredo harness-style boots I want.
In all a good weekend on the bikes… summer is winding down but I think we might try to get one more over-nighter in. 
I've started a video channel just for women who ride!

A cool new video service called Magnify.net lets me search the web (YouTube, Google, Yahoo, etc.) for bike-related videos, filtering out the "bikini bike wash" -style videos and leaving just neat stuff of interest to women who ride, and then put them all on a "Biker Chick News Video" channel.
I have about 30-some videos loaded in at present… the first group I loaded in was woman-oriented… the second group was Sturgis-oriented… and I can't seem to find a way to mix them up a bit. They're displayed in newest-first order, so all the Sturgis videos are on the front page. (Oh, and my cool little photo slideshow from Sturgis 2006 is first in line!)
Now here's the thing: I'd love to add lots more videos to the "Biker Chick News" channel. If you have a ride video from a bike-mounted camera, or have made a cool photo-slideshow-with-music, or have any bike-related video you'd like to share, please upload it to YouTube and then send me a link so I can add it to the channel. I'll be searching a couple times a week for new videos, too, so hopefully new stuff will be added frequently.
It'd be nice to think that "biker gang" activity is a thing of the past, that the old school gangs are just a bunch of guys who simply want to be free to ride their machines without being hassled by the man. Certainly there are people who adopt the look of the old school MC's, but who don't live the lifestyle.
Still, I'm not naive. I know that illegal activity still happens, which is why I try to give "one percenters" a wide berth whenever I take note of their presence: I'm pretty sure they don't need me hovering around trying to chat them up like we were best biker buddies.
Today the US Department of Justice (USDOJ) announced a string of indictments against Outlaws Motorcycle Club members in Michigan and Indiana. The indictments were the results of "a five-year investigation by the ATF, the FBI, the National Drug Intelligence Center (NDIC), Michigan State Police, the Detroit Police Department, the South Bend (Ind.) Police Department, and the Fort Wayne (Ind.) Police Department," according to a USDOJ news release.
The release stated:
The 18-count indictment alleges that the Outlaws Motorcycle Club is an enterprise whose members allegedly committed, attempted, and threatened to commit acts of violence to protect and expand the gang's criminal operations. Several of the defendants were charged with allegedly assaulting various members of the rival Hells Angels Motorcycle Club, in some cases with dangerous weapons including a cane, a hammer, and motorcycle parts. Several defendants allegedly trafficked in the sale of drugs, including methamphetamine, marijuana, hashish and cocaine, while others were charged with various firearms offenses for either being a felon in possession of a handgun, or selling a firearm to a prohibited person. The indictment contains a criminal forfeiture allegation, which sets forth property, vehicles, motorcycles, weapons and currency that was either used to conduct or facilitate illegal activities, or which were proceeds from the Outlaws' criminal activities.
Here's a link to the full release about the results of the various federal "operations" that led to the indictments against the Outlaws.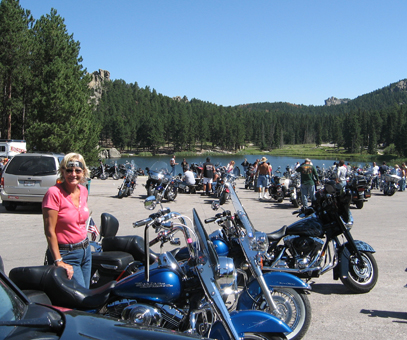 Pinky is a long-time rider who's probably been just about everywhere on her many bikes. She recently returned from Sturgis and sent along this report.
Sturgis, SD – What a destination for bikers! Along with several friends we started our journey northwest with bikes in tow in our toy hauler. We were passed by one rider with a bright green shirt with lettering "Nice Trailer, Pussy!" In some ways I know how he felt: we rode our bikes in '05 and of course (being the bad bikers we are) had the same feelings of those trailers. We had an awesome time riding the Black Hills area, camping with friends, and seeing some of the sights. Some of those sights I don't care to see again for a while if you know what I mean! The weather was perfect except for one day where hail decided to make an appearance. Luckily, we were in the campground at the time and it didn't hail at our location. Rapid City reported baseball size hail and I can only imagine being on a bike with no helmet during that kind of a storm! Needles Highway and Spearfish Canyon were my favorite rides of the week with Ironhorse being close behind. My friend Holly and I were stuck on Ironhorse for a while waiting out a rainstorm. We were riding alone from Keystone back to Custer and decided to try the road one more time, not knowing it was going to pour down on us. Luckily we had our rainsuits and had a place to stop before the worst of it hit. Several other bikers stopped to gear up also and it was nice visiting with them and hearing where they were from. We made it back to camp safely and laughed about what a good time we had even in the rain! The week flew by way too quickly but good memories were made and good times were had by all.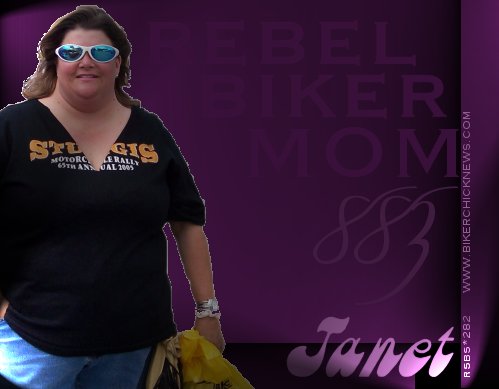 The ol' blog was lookin' pretty text-heavy up top today so thought I'd share the latest "sig pic" I made for use over on the Delphi "Women Who Ride" forum. (I'm no "pro" with Paint Shop Pro but I have some fun with it.) By the way, if you want to chat it up with other biker chicks and women who ride, this particular Delphi forum is a wonderful place. Delphi has hundreds of forums on hundreds of topics and requires you to sign up for a free account to participate. (And for a small fee you can get the version without all the ads.)  It's well worth it – lots of support and encouragement!
Looking for info for absolute beginners? You've come to the right place! In addition to reading our "No B.S. Guide" for women (or "biker chicks in training"), I've collected a few links and resources that will help you realize that YES: You've made the right choice in learning to ride! Enjoy –
AMA's "Five Things Every New Rider Should Know" – (best tip: Your best friend is probably not your best teacher)
From DMV.org, here's "Learning to Ride A Motorcycle." Read this first. And then make yourself a T-shirt with this statement: "a motorcycle rider has the right to the same space as a car." Wear this to a variety of work and social functions as a 'conversation starter' with those around you. Come to think of it, this is a good idea for experienced riders too!
Check out the entire Novice Tips section at BCRider.com.
Download this handy safety reminder sheet from the Motorcycle Safety Foundation.
And for even more woman-centered reading, visit the following:
It's Friday – time to RIDE!! (Or depending on your weather, time to READ! LOL)
I'm not sure this post really counts as "Link Love" since these are all articles instead of blog posts, but here are a few links I found this week that I just had to share. Enjoy!
Great article about why she loves to ride by biker chick Karen DeCoster (best line: she's talking about getting her Harley Sportster 1200 in 2004: "Well imagine trying to hide that from Mom and Dad at my age. I had to…")
Here's a brief item from the Milford, NH Cabinet about Biker Chick Essentials, a neat new business in the area, just for women who ride!
Over in the UK, there's a charity run for Amazon Heart and Helen Rollason Heal Cancer Charity. What makes it special is that all the riders are breast cancer survivors.
Updated to add:
And speaking of the UK, visor tip to Rippin-Kitten for the link to Lady Biker Magazine, a UK-based magazine for… wait for it… LADY BIKERS!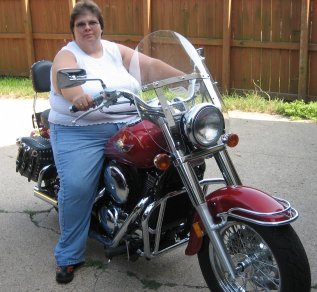 Vicki D. in Des Moines just bought this 2005 Vulcan Classic 800, and she's ready to hit the highway for some touring. Hope to see you on the road, girl!!