Indianola Bike Night, more Wild Hogs, and a nice ride around central Iowa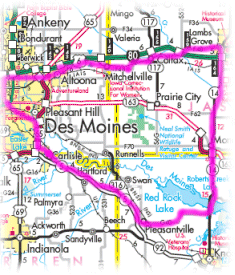 Friday night was Indianola Bike Night – we rode down with Kristin and Hollie (Hollie got her bike fixed!) but along the way noticed a person waiting with a bike on the side of the rode… realized as we rode by it was SUSAN (Coyote)!! So I stopped and waited with her while she waited for Paul to return with tools to fix the problem… they then rode home to switch bikes and I went on down to Indianola. Got there just as Steve, Garry and Shirley were getting off their bikes… Susan and Paul arrived a short time later. Did our usual pass around the square and had dinner at the One Stop Cafe.
Normally I hate the ride home from Indianola – it's always in the dark and I always feel like it's a deer gauntlet… this week, though, the ride home was pleasant. I happened to hit the highway behind a guy riding a bike with a sidecar rig, and he maintained a speed of about 50 mph the whole way home. I was able to rely somewhat on his headlight beam to light the road ahead of me, so I felt like I had a good "advance view" of any animals that might be lurking.
Saturday night we went up the HD dealership and enjoyed a free showing of "Wild Hogs"
with about 100 other club members. We really liked that movie the first time we saw it in the theater, but it was even more fun in a room full of bikers.
Then today (Sunday) we went to breakfast at a local diner with Garry & Shirley and then went on an afternoon ride to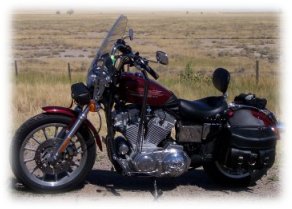 the east. We traveled Old Highway 6 east through Mitchellville, Colfax and Lambs Grove, then south on Highway 14 down to Monroe where we hit a little rain. We had intended to go a little farther east to Pella, but we could see the wall of rain off in that direction so we changed plans and just took 14 on south out of Monroe, over the Mile Bridge over Lake Red Rock. We turned to the west on County Road G-40 into Pleasantville, then north on Highway 5 back into Carlisle where Garry & Shirley live.
I did try something  new today – instead of wearing my usual HD boots, I tried riding in my new red Ariat cowboy boots (I got mine on eBay for $30!!). The only issue I had was that the upper is a lot thinner on these than it is on the HD boots, so I could feel the shifter through the top of the boot as I pushed it upward. I did find a comfortable way to accomplish the shift, and these seemed to have a decent grip sole so I might ride with them a few more times until I can get a good deal on the brown HD Laredo harness-style boots I want.
In all a good weekend on the bikes… summer is winding down but I think we might try to get one more over-nighter in.