Biker Chick Buzz: Pinky in Sturgis!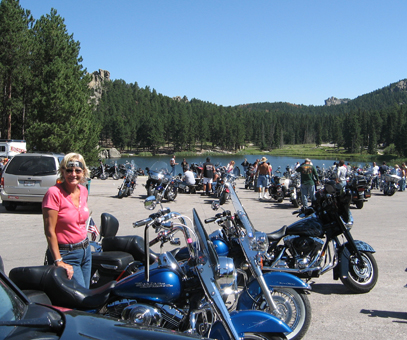 Pinky is a long-time rider who's probably been just about everywhere on her many bikes. She recently returned from Sturgis and sent along this report.
Sturgis, SD – What a destination for bikers! Along with several friends we started our journey northwest with bikes in tow in our toy hauler. We were passed by one rider with a bright green shirt with lettering "Nice Trailer, Pussy!" In some ways I know how he felt: we rode our bikes in '05 and of course (being the bad bikers we are) had the same feelings of those trailers. We had an awesome time riding the Black Hills area, camping with friends, and seeing some of the sights. Some of those sights I don't care to see again for a while if you know what I mean! The weather was perfect except for one day where hail decided to make an appearance. Luckily, we were in the campground at the time and it didn't hail at our location. Rapid City reported baseball size hail and I can only imagine being on a bike with no helmet during that kind of a storm! Needles Highway and Spearfish Canyon were my favorite rides of the week with Ironhorse being close behind. My friend Holly and I were stuck on Ironhorse for a while waiting out a rainstorm. We were riding alone from Keystone back to Custer and decided to try the road one more time, not knowing it was going to pour down on us. Luckily we had our rainsuits and had a place to stop before the worst of it hit. Several other bikers stopped to gear up also and it was nice visiting with them and hearing where they were from. We made it back to camp safely and laughed about what a good time we had even in the rain! The week flew by way too quickly but good memories were made and good times were had by all.