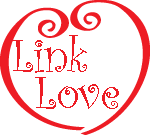 A li'l more link love goin' out to those writing about biker chicks and women who ride!
This piece from the Rapid City Journal chats up some gals – some new riders, some experienced – who've come to Sturgis.
Shirley at Delaware Curmudgeon writes about a friend she's glad to see back in his chaps.
Donna's been tryin' to keep her clothes on while her house is for sale, but that's harder than it looks.
Okay so he's not a biker chick. But remember Evel Knievel? He's not doing so well, health-wise, these days. I remember Evel's Snake River Canyon jump well… and I remember a toy my brother owned: a device that "launched" a plastic motorcycle across the room, complete with an 11-inch Evel doll that used to date my Barbies. I'm not making light… this is a sad story. I wish Evel all the best, and I thank him for providing such great entertainment.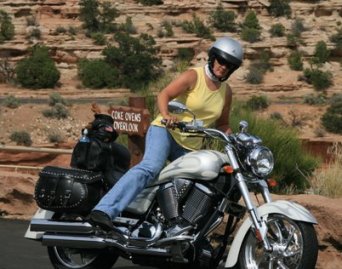 Okay here's the deal: Marsha says she doesn't like to have her picture taken – and judging from the scarcity of photos of her in her online photo albums, I guess I believe her. But, she was kind enough to add a couple of herself (and send one to me!) so I could share it with you! This biker chick extraordinaire has been putting some serious miles on her bike this year with her hubby… two of her recent trips have been to Colorado and… well, all around the Midwest. Okay, and Niagara Falls area. And back to the west. You get the idea.
The last ten miles of the Estrogen Ride turned out to be a challenge for me. It was a simple matter of coming into Des Moines on Highway 163, which becomes University Avenue at the city limits and which takes me straight home. But I think my brain finally began to shut down a little from the weekend's excitement. While cruising past the State Fairgrounds and down East University, I became impatient and couldn't decide which lane to be in. I kept moving back and forth. And once, while planning to signal a move into the right-hand lane, I actually hit the kill switch instead of the turn signal, shutting off my bike for a few seconds til I figured out what I'd done. I flipped the switch back on while still coasting – the bike back-fired and re-started, but I felt pretty damn stupid. It was at that point I told myself I'd better just calm down, and think, if I wanted to make it home. I found I had a hard time collecting my thoughts into cohesive stories the rest of the evening.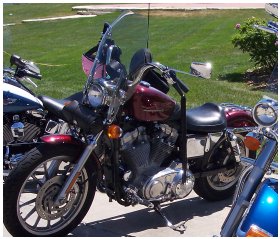 I was talking about the Estrogen Ride at work the other day and one of the guys asked me "how in the world" do I have any fun traveling long-distance on a Sportster? It's true that the Sporty is not really intended to be a touring bike, but mine has been set up with several Harley Davidson parts that make it a whole lot better for road trips than the stock machine. I was fortunate that most of these were already on the bike when I bought it, but they are all things I would have added myself anyway.
Here's a list of the stuff on the bike that specifically contribute to its long-distance capabilities, at least for me:
Forward controls kit
Detachable SuperSport Windshield
Buckhorn handlebar kit (including longer cables)
Chrome Luggage rack
With all of these Harley parts and the other stuff I've added to the bike, it rides as well as any pre-2004 (non-rubber mount) Sporty can ride. Of course, I love to shop so I have a few Harley accessories on the bike as well that don't affect it's touring suitability – but they sure do add to my enjoyment of the bike:
Leather tank bra
Live to Ride primary cover
Chrome oil tank cover
Straight pipes
Finally, I've got a few other HD items still on my wishlist (hey, birthday's comin' up – a girl can dream, right??):
Chrome engine guards with highway pegs
Color matched hard bags
Two-up Reach seat with passenger backrest
Chrome master cylinder cover
Chrome hand levers'
Chrome belt guard
"Buckshot" air cleaner cover
And, I want to try mini-ape handlebars instead of the buckhorns (what can I say, I love the look!)
Of course, none of this would be necessary if I would just buckle and trade the Sporty in for a Low Rider, but that's a whole 'nother can-o-worms!
The weather on this trip had simply been unbeatable: temperatures in the mid-80's, low humidity, mostly sunny. Monday was no exception, though it may have been just a touch warmer. It was still well within "perfect" range for a bike trip.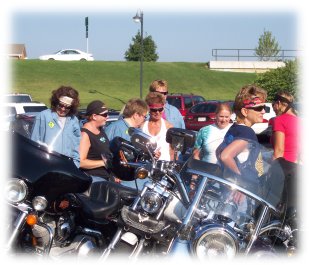 We gathered Monday morning in the hotel parking lot. A few riders were going to take the Interstate home so they could fulfill some evening commitments; a few others were going back down to Galena's shopping district before heading home. The rest of us – 11 bikes, I think – had planned a slow westward mosey with stops that included the Wilwert's dealership in Dubuque and J&P Cycles in Anamosa.
Leaving Galena the same way we'd come back from dinner the night before, Holly lead us on a short detour through Dubuque so we could all have the experience of riding through a particular neighborhood. It wasn't the historic homes she wanted to show us, though – it was the street itself: I swear to God this thing was a 45-degree incline, with a 90-degree turn-with-incline at the start and another 90-degree-turn-with-incline at the end, followed by an immediate steep decline back down. It was a road that would have really intimidated me had I not encountered something nearly identical last summer out in Deadwood at Mt. Moriah Cemetery. I knew the key was to keep my speed up (though the instinct is to take it slow) – the challenge was to do that while being mindful of what the riders ahead of you were doing.
We all made it through without problems – and gave another WOOHOO at the end – and then we were on to Wilwert's for more shopping.
After Wilwert's, we headed out of Dubuque and traveled Highway 151 to Anamosa, where we stopped at the Iowa biker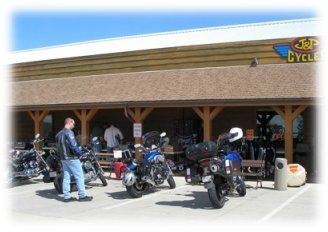 mecca, J&P Cycles. J&P is a retail and mail-order company offering all manner of bike parts, accessories, apparel and gifts. Their catalog is a must-have for anyone who rides, and their annual Open House event draws thousands of bikers from around the Midwest. We did some shopping and then headed on down the road to Scooter's, a biker bar and grill that looked brand-new, where we had a really good lunch and took some time to pass our cameras around for a preview of some of the weekend's pictures. That was an eye-opener, to say the least.
I'll pause here a moment while you ponder that statement.
We continued down 151 through the town of Marion on the outskirts of Cedar Rapids (larger Iowa city), and it was here that we had our biggest traffic problems with cars separating our group and trucks unwilling to give an inch to help us keep together. More butt puckering as we ran the gauntlet down to the junction of 151 and Interstate 80 at the Amana Colonies, then thankfully a gas stop where we could breathe again for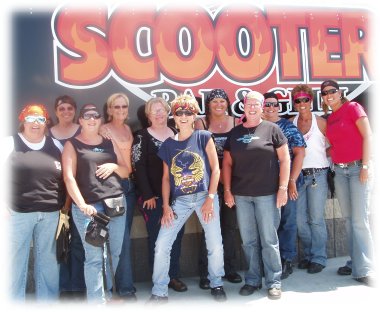 few minutes, count fingers and toes to make sure we were all still in one piece, and get familiar with the westward route home. (I didn't get the full story, but I know Judy B. had a close call with an impatient driver during this portion of the ride. She was understandably pissed and a little shaken at the gas stop.)
We followed County Roads F52, F57 and F62 west, and took our final gas stop at Prairie City about 20 miles east of Des Moines. We toasted our trip and said our good-byes, as we'd all be peeling off in different directions once we hit Highway 163 into the city. It was the last "group moment" of an awesome three-day adventure, and we vowed to expand on the idea for next year with more days and more amazing women.
I rolled into my driveway at home at about 6:30 p.m. Monday night, wishing I'd taken an extra day off work to recover from my vacation but happy to see my family and thrilled to note my biker sunburn: the lower two-thirds of my face are deep red, while the parts covered by my sunglasses and do-rag/helmet combo were distinctly lighter. It's a look I wear with pride!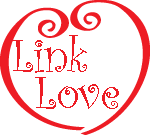 Here's some good reading about women and motorcycles from around the Web.
Neat article about the popularity of sport bike clubs in North Carolina, including women who ride these fast bikes! 
Great come-back to the "organ-donor" remark bikers often hear. 
The Sheboygan Journal looks at "the new American biker". 
A blog post from last week about H-D's woman-focused marketing. 
This article is an interesting read, too – it includes this rather bold statement: "The point is that women are becoming increasingly important to a sport that desperately needs new blood."
And finally, from July 11: a neat article about a women rider's group in Florida.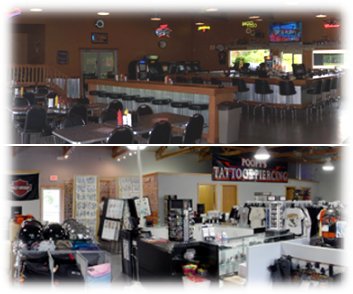 Having conquered Poopy's, we left Savanna around 5:45 p.m. with Laurie and her GPS-equipped bike in the lead, and headed for Sunday night's supper destination: Breitbach's Restaurant in Balltown, Iowa. Breitbach's is Iowa's longest-existing restaurant and bar, dating back to the mid-1800's.
It's located in the tiny town of Balltown, west and a little north of Dubuque. The owners told us they had served some 1200 customers that day by the time we arrived around 7 p.m., and that was just the bikers!
Our route from Savanna took us over a grated-surface bridge back into Iowa (which gave new meaning to the term "squirrely" – riding that surface felt like the bike was going to slip out from under me! – interesting!) up Highway 52, through Dubuque, Bellevue and St. Donatus, then up County Road 9Y into Balltown. Of these communities, a couple things were notable: First, Bellevue is a very pretty little town with the highway running right alongside the river and a lovely, curving recreational trail running parallel on the water-side of the highway. On the other side, beautiful old and well-kept/restored 1800's buildings line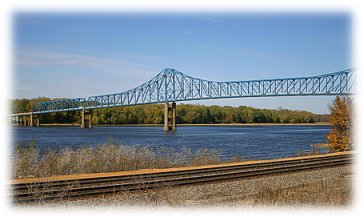 the road – I'm sure several of them must be bed-and-breakfast inns.
And second, Highway 52 between St. Donatus and Highway 151 is TERRIBLE for motorcycles! It's scenic enough, but it seems that every hundred yards or so there's literally a hump in the road where it's been repaired and surfaced with road-gouging equipment. Whoever in State Government is responsible for this method of road repair should be fired… or forced to ride his/her handiwork on a Sportster: it feels like speed bumps! And it thoroughly ruined any enjoyment I got out of that portion of the road – perhaps the gals on the larger bikes didn't feel it as much, but for me it was miserable and it actually ruined my good mood for awhile. (It also doesn't bode well for the community of St. Donatus – this is the ONLY thing I remember about passing through what may very well be a lovely town.)
Pulling into Balltown, we met up with the gals who had skipped the side-trip to Poopy's and had traveled over directly from the hotel in Galena. Once again, the restaurant was prepared for us with an excellent, well-stocked buffet and plenty of available seating for all. By this time there were plenty of shared road stories flying around – deer sightings, favorite scenic views, notable Galena shops, over-eager McGregor locals, etc. – so dinner was a delightful combination of great food and spirited conversation.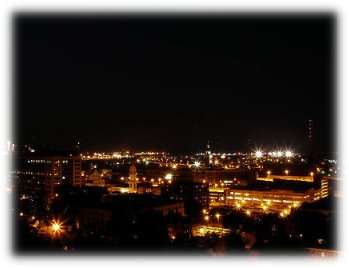 The ride back to Galena was interesting. I hate riding deer-laden roads at night. (I'm quite certain the little buggers hover behind every tree on these dark country highways, just waiting for the opportunity to spring out onto the road and offer a cheerful – if stupidly mutually-destructive – "hello!" to us bikers.)  By the time supper was concluded, it was dusk and now we had to ride back to Galena… along an unfamiliar deer-laden road at night. To further complicate things for me, I happened to be the last bike out of the restaurant, and the closest bike to me was a good hundred or more yards ahead for the first several miles of the trip. I had to ride about 10 mph faster than was comfortable for me on that road just to keep tail lights in sight, and that made me far less confident that I would spot any lurking deer far enough in advance to avoid a collision. (This is where the "ride your own ride" advice kind of fails: if I had ridden my own ride, I would've slowed down – but then would have quickly lost the rest of my group, and been forced to ride alone at night without a map in unfamiliar territory.)
I caught up with the group once we got to Dubuque, but I still felt like I was riding too fast. (And we were not speeding – the group was riding the speed limit! I just felt very unsure of the territory.) I was pretty damn happy to finally roll into Galena – it was only a half-hour ride, but it was for me a 30-minute butt puckering, character-building ride.
The rest of the evening in Galena was spent on the hotel patio, enjoying drinks and again sharing road stories. The next day would be head-for-home day.
Next up: More butt-puckering roads, a stop at J&P Cycles, and home!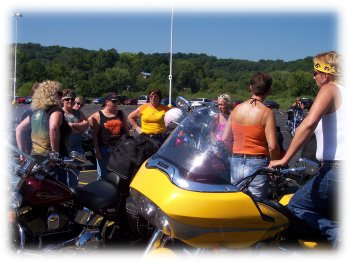 Day Two started out with a fond (if slightly hung-over) farewell to McGregor and a short hop down the road to the Isle of Capri Casino, where we enjoyed the breakfast buffet.
Once finished, we headed to the parking lot to learn the plan for the day and to say good-bye to several folks who were headed back home, including all the gals who had driven in cars. I learned later that one of our riders had a little trouble and dropped her bike in a tight, slow-speed corner going out of the casino, but she was not injured and neither was her bike so she continued on without incident.
We left the casino in our small groups a few minutes apart and crossed the Mississippi into Prairie du Chien, Wisconsin.
We took Highway 18 down to Bridgeport. Just south of Bridgeport we picked up County Road C, which is a must-ride for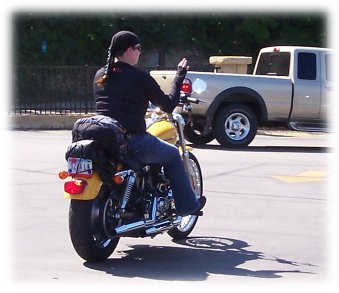 anyone visiting that area. It's a narrow little road under a canopy of trees which runs right alongside the Lower Wisconsin River (which feeds into the Mississippi back at that Pikes Peak Overlook) and offers constant twists and curves as well as beautiful views (woops! and deer!). Our group spread out a little so we could each enjoy the road, and when we pulled up to the stop-sign at the end of it we all let out a "WOOHOO!!" so Holly would know we had enjoyed it.
From there we headed south down Highway 61 – our group made a stop at a Wisconsin cheese shop where we all purchased fresh cheese, then continued south to Galena. Somewhere along the way we got off our planned route and went through Dickeyville and East Dubuque, eventually coming into Galena on Highway 20 from the west.
Our stop here was at Wilwert's Harley Davidson (which also has a location in Dubuque, Iowa), and turns out our hotel was right across the parking lot from the dealership – fortunate, because I had a few purchases to haul and thankfully they didn't have to go far!
Some of the gals headed down into Galena's main shopping district – I checked into the hotel (Stoney Creek Inn – VERY nice with a cute "lodge-look" theme) and then headed that way. Galena is a popular tourist destination precisely because of the well-kept old buildings and the concentrated shopping on the main business street. Hundreds of little specialty food and gift shops line the narrow street with it's 1800's architecture and pretty landscaping.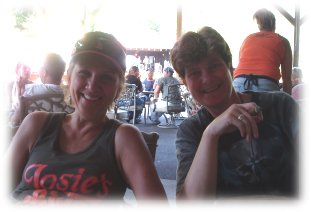 I met up with Susan S. and Michelle C. once I got parked; my only purchase (besides bottled water) was a bottle of homemade hot sauce from Galena Canning Company. Although Susan and Michelle had been there awhile already, I only got to shop for about half an hour before Theresa called to say a group was headed down to check out Poopy's, a biker bar/repair shop/parts store located in Savanna, IL about 30 miles south. The three of us decided to cut shopping short and go to Poopy's.
The ride to Savanna was also very scenic, but this was when we had another bike-down incident. Because we missed the actual turn-off to Savanna, we had to turn around at one point. We pulled into a small utility area with propane tanks situated in it, but it was large loose white rock and gravel. The driveway to get out was a steep incline with only a small cement pad at the top, and one of the gals riding an Ultra Glide got situated on that incline in the loose rock and lost her footing. The bike went so far over the wheels were pointing up. She also fell, but was not hurt. It took about six people working to lift the bike, but fortunately the damage was limited to a broken tab on one of her fairing louvres, a few scratches, and a loosened footpeg.
Once in Savanna we had a little trouble locating Poopy's (the address we'd been given was on the main street – it turns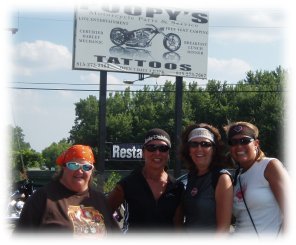 out Poopy's had relocated a little ways out of town), but true to our womanhood we were not afraid to stop and ask directions so we soon found it.
What a neat place! Poopy's is actually a sort of multi-purpose biker gathering place: it consists of a large building with large paved parking lot, a covered patio, and a "backyard" area. In the building are a bike repair shop (they fixed the loose footpeg on the Ultra Glide free of charge!), parts, accessories and apparel store, tattoo shop, bar and restaurant. The bar and restaurant extend out onto the patio, where there's also an area with pool tables. In the "backyard" there's a stage for live bands to play, and a grassy area where bikers are inited to tent-camp for free. Every Friday night is "bike night," so I imagine there's a bit of a rowdy party followed by "sleeping it off under the stars." Like County Road C up there in the 2nd paragraph, Poopy's is a "must-do." (This is where we saw the best t-shirt of the weekend. Poopy's servers wore bright orange t's that said, "Please tip generously. Poopy's pays shit!"
Next up: A great dinner followed by a butt-puckering ride back to Galena!
One of the challenges with traveling on my bike this year was that I had removed my saddlebags once we got home from last year's Sturgis trip. The particular combination of shocks and lowering blocks now on the bike would have made re-installing the bag supports a challenge, so for the Estrogen Ride I just decided I would fit everything into my T-bag and strap that to the backrest of the seat, then bungee the bag to various points on the bike for stability. Problem was, without those bag supports I had fewer places on which to hook the cords so figuring out a secure bungee plan was a challenge.
When I arrived at the motel in McGregor on the first night of the ride, I quickly realized I'd never be able to remember the pattern so I got smart: before I unhooked my bag, I wrote down the colors, hook points and installation order of all the cords I'd used so I could re-do it the next day. This worked flawlessly for reloading the bike on Day Two. On Day Three, though, I'd bought enough t-shirts and other new stuff that my bag was actually bigger than it had been, so the old bungee pattern no longer worked. I had to figure out a new pattern for the ride home, but I was still pretty proud of myself for having thought to write it down. Lesson: be prepared, but be flexible – and know your bungee plan!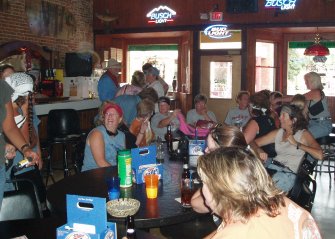 What happens when 30-plus high-spirited biker women go bar-hopping in a small town?
Tables get pushed together…
music cranks up…
beer gets bought…
dancing ensues…
friendships are forged…
the local men try to crash the party…
ask us if we're a lesbian biker gang (we tell them YES – LOL!)…
more beer gets bought…
the music cranks further…
more beer…
more music…
some of the locals are following us from bar to bar… are we THAT much of a spectacle?? (YES!)
locals trying to dance with us… we feed them to the crocodiles…
more dancing…
… then slowly start trickling home… a slow mosey to the convenience store for snacks… why's it so friggin' BRIGHT in here?
And the next day comes around far too soon!
Needless to say, we all had a great time partying in McGregor on Saturday night. Josie's and Crazy Carl's received the brunt of our "Surge the local economy" program, as they were within easy walking distance of the motel. I'm sure they are still wondering what the hell happened!