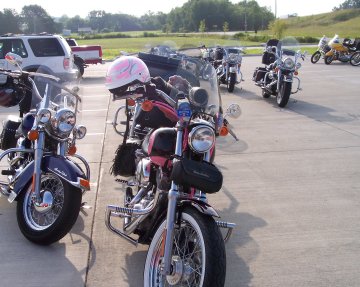 What do women bikers want?
Scenic roads, camaraderie, shopping, and plenty of potty stops. The "Dangerous Curves" Estrogen Ride didn't disappoint.
Perhaps I should start by explaining that the "Estrogen Ride" was a group of women bikers – some of whom already knew each other, some of whom had never met before – who had gathered to go for a three-day scenic tour of northeastern Iowa and Galena, Illinois. (As a follow-up to a 2006 birthday ride, Holly N. and some friends decided to hold another ride in 2007 and invite a few more women.) The group included one rider from Waterloo, a small group from Carroll, Iowa, and the rest from Des Moines and central Iowa.
In all, more than 30 women Harley riders (and a few who joined us in cars) gathered at Big Barn Harley Davidson in Des Moines on Saturday morning, July 28. After donuts and juice courtesy of Big Barn, and brief pre-ride instructions from Holly, we staged in our smaller groups and the first of us pulled out right at 8:30 a.m.
The weather was perfect: destined to be a pleasantly warm day, but a little cool when riding because of the mild humidity. (Unbelievable, quite frankly, for July – it COULD HAVE been a hundred degrees!) I was riding in Group 1, which was lead by Holly and swept by Carole B. 
We rode through Bondurant to Highway 330, then northeast on 330 to Highway 14 north of Marshalltown, then north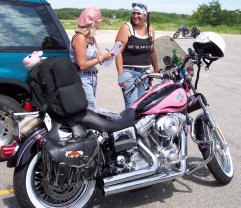 and east to Grundy Center where we had our first gas/potty stop. We eyed the western sky a little nervously at first – it looked like it might rain on us – but eventually the clouds went away and we never saw a drop.
Back on the bikes and on to Waterloo, where we stopped at Silver Eagle Harley Davidson and met  up with the other two groups. Silver Eagle had a great selection of apparel and gifts… a little skimpy on bikes, but the '08's are just coming in around the country so everyone's in between model years at the moment. They did have a copper-and-black Low Rider… a bike I really like in a color scheme that looks really cool and retro. 
With all three smaller groups gathered at the dealership, we proceeded as a large group to a truck stop in Waterloo called Junie's – where they had a banquet room all ready and waiting for us!  Lunch was the first opportunity to get to know a few of the gals a little better. It was at this gathering that we learned that the range of riding experience in our group was pretty incredible: Carole B. had been riding about 36 years, and Jules from Carroll, Iowa had only been riding for a month! We also presented Sue S. with a card and a small donation to help pay for her weekend expenses as a thank-you for the embroidery on our shirts.
After lunch we took off in our smaller groups again, heading west on Highway 20 and then north on 187, through the VERY scenic Backbone State Park, and into Strawberry Point. Turns out the little town of Strawberry Point provided the first challenge to our collective riding skills: we had to take a brief detour off the main highway that took us through a neighborhood… the loose-gravel portion of this detour was pretty short, but the fine-gravel and POT-HOLED portion was a little more interesting. (These were holes big enough to get lost in! You not only had to try to navigate the pot-hole gauntlet, you had to keep track of the bike/s in front of you to make sure you weren't going to run into anyone as we slowly moved through the obstacle course.) We all made it through without incident and stopped for gas a block away from the giant fiberglass strawberry.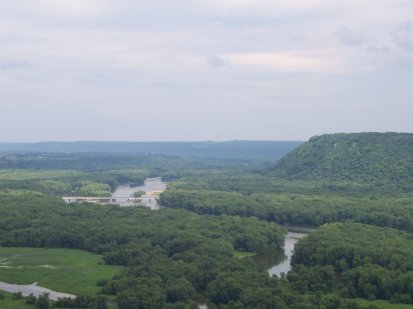 By this time the Iowa landscape had certainly changed: in central Iowa, there are some gentle hills and lots of lush green cornfields, but in the northeastern part of the state you start to see some significant bluffs and hills as the land climbs up from the Mississippi River.
There was no shortage of scenic views on Day One – as beautiful as Backbone had been, the best for this day were yet to come. We traveled from Strawberry Point to Pikes Peak State Park, where there is an overlook with a sweeping view of the confluence of the Wisconsin and Mississippi Rivers and the town of Prairie du Chien, Wisconsin. It was here that explorer Louis Joliet and Father James Marquette first crossed the then-unknown (and un-named) Mississippi River in the late 1600's. All three of our groups met up here as well, after a stunning ride through the park itself to the overlook, and we attempted to get some full-group pictures. This proved difficult – we were a noisy, excited group (and some of us were still in the
bathroom) and getting everyone to stand still at the same time proved nearly impossible. (I'm pretty sure Marquette and Joliet didn't have this problem.)
After admiring the overlook, we took off as a full group and descended (literally) upon the town of McGregor, Iowa – our first overnight location. McGregor is a lovely little town right on the Mississippi, home to the Isle of Capri Casino but also to a quaint Main street business district and a touristy motel called The Holiday Shores.  The Holiday Shores is actually the kind of locally-owned place I love to discover… showing its age a little, but run by a very friendly and knowledgeable family… large rooms – some with great views overlooking the river – and right across the parking lot from a great restaurant with a scenic view from the patio.
One of the neatest things about being on this ride was simply being part of the "spectacle" of a group of more than 30 women on motorcycles. I'm confident the town of McGregor is still recovering!
Next up: Our quiet evening in a sleepy little river town.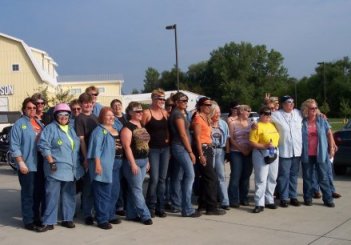 WOW!!
I don't even know where to begin chronicling this awesome trip – the 2007 "Dangerous Curves" Estrogen Ride! From the bikes to the people to the weather to the route to the sights to the arrangements, meals, and gas stops, it was about as perfect a trip as you can imagine.
We left Des Moines promptly at 8:30, proving to the skeptical husbands/SO's that 30+ women CAN all be ready to go at an appointed time (the SAME appointed time, mind you!) if the occasion is worthwhile enough. And the last of us arrived home, as far as I'm aware, around 6:30 p.m. Monday night – perhaps the gang from Carroll took a little longer?
I do know that before I get to the actual ride reports, a few big thank-you's are in order:
First, Holly N. put together this awsesome trip from start to finish. She planned three days of scenic rides, secured hotels with plenty of room, arranged for restaurants to accommodate us, ordered perfect weather, and still left enough time for a side-trip to Poopy's!
Sue S. made sure we all looked the part with awesome denim shirts embroidered with a ride logo and a nickname – this started out being a fairly safe bet for her, because originally she was only expecting maybe nine or 10 participants. I'm sure she must have gotten a little panicky as the number of riders grew and grew, but she hung in there and all who wanted them ended up with a "Dangerous Curves" riding shirt!
And, each of our sub-groups had a ride captain and a sweep rider – I don't think I can remember all of them… I know that Holly, Lee, Diane, Carole, and Carla all helped out in this way.  But I know there were others,  so ladies if you served in these roles, THANK YOU!!
I'll close this first-of-several posts about the ride with a tip for anyone organizing a group ride: do what Holly did – break the large group up into smaller groups, with a captain and a sweep for each small group and a common destination at the end of the ride. It's easier to keep ten bikes together than 30… more efficient at gas stops and potty breaks… and safer on the road because there's less chance of cars sneaking their way into the column.
Coming next, DAY ONE ride report!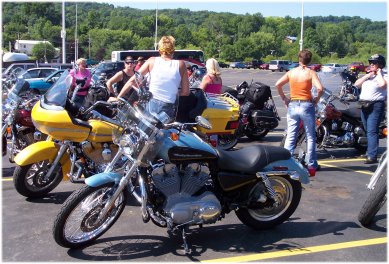 Oh.
My.
GAWD!!!!
(more later!)
Have a question for the Biker Chick? Just send me an email!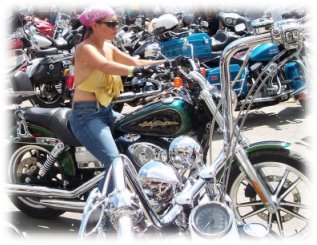 I am learning to ride and just have my permit at the moment.  My husband is totally ticked that I am not ready to go on long rides and am wanting to just cruise around our neighborhood. Do you have any words of wisdom to overcome my anxiety?  Is it wise to hop on and go for a long ride? 
First and foremost, stress to your husband that if you are going to ride, you are going to learn at your own pace – not his. Only you know how comfortable you are on the bike, and because of this only you have that innate sense of what you might be ready to tackle.
Keep in mind that for experienced riders, everything about the operation of the bike is already second-nature – they've probably forgotten what it's like to have to learn the various aspects of riding the bike, observing traffic, and generally being safe – all while trying to get just a quick glimpse of that "freedom of the road" that everyone seems to be talking about. So just tell him you're prepared to spend the time it takes to get good at riding, but it has to be at your own pace. Encourage him to go on solo rides or rides with experienced friends so he doesn't feel like he's completely dependent on your learner's pace.
 
Having said all that, if you are comfortable on the bike riding around your neighborhood, it's possible you are ready for a slightly longer ride and you're just reluctant because you're enjoying a little "plateau" in your comfort zone. I encourage you to venture a little farther out, but safely and in your own way.
So try this: get out a map and pick a destination about 30 miles from home that you really want to go to. Plan a ride with that destination as your half-way point – hopefully it will include some 45- and 55-mph roads to give you a sense of what faster speeds are like, without putting you on the 75-mph Interstate too soon. (For me personally, it's important that I be the one planning the comfort-zone-expanding ride… it gives me a sense of ownership of the plan rather than feeling like someone's trying to control me.) Just take that round trip once, to see how you like it. You might find you really are ready for a new challenge!
 
If you really don't feel comfortable riding outside the neighborhood yet, by all means just keep at it and stress to your hubby that it's important for you to feel you've mastered this step before you proceed to the next.
Anyone else want to take a stab at this one? Feel free to comment!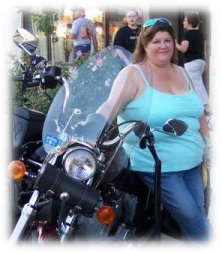 Getting fired up for East Village Bike Night this Friday night… Des Moines' historic East Village really knows how to throw a party. The event will include a "show-n-shine," street dance outside the Blazing Saddle, and international food vendors.
Then on Saturday morning, I'm leaving along with about 30 other Harley-riding women for the "Dangerous Curves" Estrogen Ride! I'm pretty excited about this one… it's a 3-day trip to northeastern and eastern Iowa organized by some gals from the Big Barn Harley Davidson Ladies of Harley group.
Look for photos and ride reports!
Harley-Honda merger? Leveraged buyout?
Didn't think so.
Just in the nick of time, I've got all my Sturgis materials from 2006 loaded into WordPress so you can enjoy them leading up to, during and after the Sturgis Rally 2007!
Photo galleries are linked in the right-hand column, and full ride reports are categorized under "Sturgis 2006."
Enjoy and comment!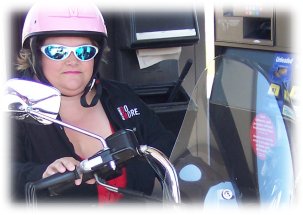 More great riding this weekend – man the weather has been beautiful! Mid- to upper-80's, sunny, no humidy… which is so unusual for July in Iowa! Last weekend we had the nice group ride up around Brushy Creek State Park, and this weekend we went to Indianola for Bike Night on Friday and then up to the local Harley dealership on Saturday to celebrate the grand opening under the new owners. They had a poker run, BBQ feed, carnival games and of course in-store specials.
Here's the Webshots album with the photos from the weekend!
We arrived around 10:30 a.m. and met up with Garry and Shirley to do the poker run. The way this works is you follow a prescribed route to various stops along a 100-mile route, and a person is waiting at each stop (usually the clerk at a convenience store) to mark your poker ballot with a highlighter marker. You get your last mark back at the dealership, and then you get to draw a poker hand out of a box of cards. The person who draws the best hand, of course, is the winner – although none of us even came close to having best hand. Didn't matter, the ride was really the point and it was just a perfect day to be out on the bikes. The ride took us west through Granger, Minburn, Perry, Woodward and Madrid, then back to Des Moines. We got off the prescribed route a couple times, but it was all Iowa countryside so it was all beautiful.
August 11:
FINISHED!! I've now loaded all the content from the complete Biker Chick News original website into the WordPress installation. All four years' worth of content is now searchable by date and category.
August 3:
I now have all the items from the Biker Chick Buzz page re-loaded. If you want to be featured, just send me an email with a snippet and photo!
July 25: 
I'm almost done with the content move. Everything from the old site, including the photos and ride reports from Sturgis 2006, has been loaded into the blog system and categorized (with appropriate back-dated timestamps to maintain the chronology of the posts) except for: Biker Chick Buzz photos, ride reports from 2005 and 2006, and homepage archives from 2005 and 2006. Those will be coming soon!
July 22:
I've just replaced the entire architecture of BikerChickNews.com with an installation of the WordPress blogging platform. I've got the entire 2007 front page re-loaded – you can now comment on every individual article! – as well as some of the sidebar material. More will be added back in the coming days – for now, enjoy reading and commenting! And, if you're a Biker Chick who keeps a blog, please drop me a note with your blog address so I can create the Biker Chick Blogroll!
In the "Just an FYI" department, here's a link to a neat story about bikers doing something they do really well: support others in their time of need.
And another cool story about a growing group of women riders who take an annual trip beginning in Manitowoc.