Poker run and HD dealer's open house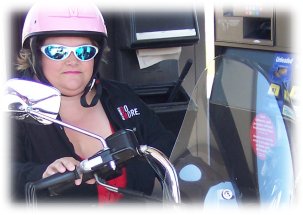 More great riding this weekend – man the weather has been beautiful! Mid- to upper-80's, sunny, no humidy… which is so unusual for July in Iowa! Last weekend we had the nice group ride up around Brushy Creek State Park, and this weekend we went to Indianola for Bike Night on Friday and then up to the local Harley dealership on Saturday to celebrate the grand opening under the new owners. They had a poker run, BBQ feed, carnival games and of course in-store specials.
Here's the Webshots album with the photos from the weekend!
We arrived around 10:30 a.m. and met up with Garry and Shirley to do the poker run. The way this works is you follow a prescribed route to various stops along a 100-mile route, and a person is waiting at each stop (usually the clerk at a convenience store) to mark your poker ballot with a highlighter marker. You get your last mark back at the dealership, and then you get to draw a poker hand out of a box of cards. The person who draws the best hand, of course, is the winner – although none of us even came close to having best hand. Didn't matter, the ride was really the point and it was just a perfect day to be out on the bikes. The ride took us west through Granger, Minburn, Perry, Woodward and Madrid, then back to Des Moines. We got off the prescribed route a couple times, but it was all Iowa countryside so it was all beautiful.