Q & A: How do I handle a hubby who's pushing me too hard?
Have a question for the Biker Chick? Just send me an email!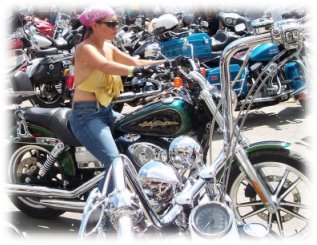 I am learning to ride and just have my permit at the moment.  My husband is totally ticked that I am not ready to go on long rides and am wanting to just cruise around our neighborhood. Do you have any words of wisdom to overcome my anxiety?  Is it wise to hop on and go for a long ride? 
First and foremost, stress to your husband that if you are going to ride, you are going to learn at your own pace – not his. Only you know how comfortable you are on the bike, and because of this only you have that innate sense of what you might be ready to tackle.
Keep in mind that for experienced riders, everything about the operation of the bike is already second-nature – they've probably forgotten what it's like to have to learn the various aspects of riding the bike, observing traffic, and generally being safe – all while trying to get just a quick glimpse of that "freedom of the road" that everyone seems to be talking about. So just tell him you're prepared to spend the time it takes to get good at riding, but it has to be at your own pace. Encourage him to go on solo rides or rides with experienced friends so he doesn't feel like he's completely dependent on your learner's pace.
 
Having said all that, if you are comfortable on the bike riding around your neighborhood, it's possible you are ready for a slightly longer ride and you're just reluctant because you're enjoying a little "plateau" in your comfort zone. I encourage you to venture a little farther out, but safely and in your own way.
So try this: get out a map and pick a destination about 30 miles from home that you really want to go to. Plan a ride with that destination as your half-way point – hopefully it will include some 45- and 55-mph roads to give you a sense of what faster speeds are like, without putting you on the 75-mph Interstate too soon. (For me personally, it's important that I be the one planning the comfort-zone-expanding ride… it gives me a sense of ownership of the plan rather than feeling like someone's trying to control me.) Just take that round trip once, to see how you like it. You might find you really are ready for a new challenge!
 
If you really don't feel comfortable riding outside the neighborhood yet, by all means just keep at it and stress to your hubby that it's important for you to feel you've mastered this step before you proceed to the next.
Anyone else want to take a stab at this one? Feel free to comment!