I don't know about you, but I'm REALLY disappointed in the '08 lineup from Harley Davidson. There are no awesome new must-have colors on any of the bikes I've been considering, and in fact the only shiney color on the '08 Street Bob is black. All the other colors are that God-awful "denim" flat color. (Look, if I wanted to ride a bike in primer, I'd prep mine for re-painting and ride it a season in primer.)
And what the hell is that "Rocker" model? Ugly, ugly, ugly – and again too many "flat-finish" surfaces. (Yuck – give me chrome!!) There must be some pretty nifty advanced engineering in that rear assembly to make the pillion seat hover above the fender like that… I'll certainly do some reading and figure out what that is, but just based on looks? The only bright-spot as far as I'm concerned is that the 2008 Low Rider still comes in that gorgeous light-blue and black combination. That's the bike I saw and loved at first sight at the dealership in Sioux Falls, SD, on our way to Sturgis last year. It's still my best hope for a new bike – only the copper-and-black Sportster 1200 is a second possibility.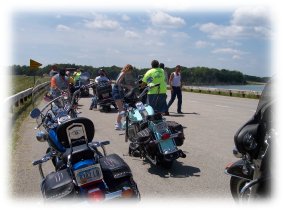 AT LAST, I got to do a little riding! Wednesday and Thursday nights last week, we took a couple short jaunts – one to the HOG club meeting and on Thursday, out to supper followed by a park-and-walk through bike night at Porky's – first visit to Porky's all year!
Then on Sunday, we set out with a group of online friends to make a day of it. Our original plan was to travel from Des Moines to Fort Dodge and back by way of some two-lanes. We left about 11 a.m. from Waukee, and stopped for lunch at the Golden Corral in Boone. While there we hooked up with another rider who had an alternate plan, and while we ultimately didn't go as far as Ft. Dodge we took some outstandingly beautiful roads just south of there. We left Boone about 1:30 p.m. and traveled north up Highway 17, then cut over going west on County Road D56. Some beautiful twisties – the kind my Sportster loves! – and then took a turn to the north and went through Brushy Creek State Park. Coming out on County P73, we jogged back south down to D56 and continued west into the town of LeHigh. Entering this little town on D56 has got to be one of the most picturesque spots in Iowa: D56 comes into town at the Des Moines River, and just as you cross the little bridge you come to a stop sign where you're stopped in front of historic business buildings and tree-lined roads going uphill to the north and south. It reminded me of some of the historic towns in Colorado and the Black Hills.
On through LeHigh and then through Dolliver Memorial State Park, then south to Jefferson, a stop in Perry, and then home. About 220 miles total – only a couple of flat stretches and some really beautiful roads in between. Minor problems included me taking a big sweeping curve a little too wide and having to "look HARD at where I wanted to end up" to get out of it… Steve says he did the same thing on a big sweeper to the left and we wondered if it was the same curve. And a suicidal black dog who came charging out of a farmyard and chased us down the highway til our 2nd-in-line blasted a good-sounding horn at him. Some of these folks were people we had never met in person before – all became instant friends and we are so glad to have met them! In all we spent nine hours and traveled about 220 miles in absolutely perfect summer weather.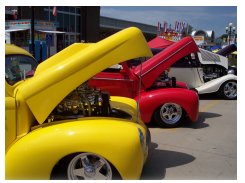 Wow, I'm not sure where the summer is going, but it's going fast! We just spent the past weekend sitting in our lawn chairs in 100-plus degree heat at the GoodGuys Rod & Custom Heartland Nationals here in Des Moines – here's a few pictures!I'm sorry to say I haven't ridden much in the past few weeks – we did get down to Indianola for June Bike Night, but I've been focused on a couple other projects that have been taking some non-work time. So aside from some short jaunts, we've had no major rides. We do have one with a fun group coming up on Sunday, so I'm definitely looking forward to that! And of course, the all-girl Estrogen Ride (with my HOG club gal-pals) is coming up at the end of this month. I'm also hoping Susan (Coyote) and I (Corn Dog) will be able to take another overnight trip yet this year.
One thing I did want to be sure to share here is that I am planning to move this website onto a blog platform. Over the past couple of months I've really learned a lot about using WordPress blog software as the basic "skeleton" of a frequently-updated website, and I've always known that there had to be an easier way to maintain this site other than editing the raw HTML. I finally decided to just bite the bullet and move the entire site onto a WordPress installation on my web-host. The biggest challenge will be adding back all the old content. I'm still working out how to do that efficiently since I can't generate the usual OPML file, but rest assured that down-time will be minimal and the site will be much easier to search, read and update! And, you'll be able to subscribe to my RSS feed so you can easily be notified whenever the site is updated! More on this coming soon.
And, more to come as July wraps up – I can't wait to get the bike back on the road! Thanks for reading!