Here are a couple links I've been meaning to share, by or about biker chicks!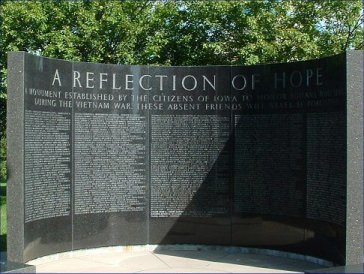 Here's two things that happened over Memorial Day weekend that I feel bad about. For the past three years, we've made a point to go on a large-group ride to our state capitol's memorial grounds, for a service at the Viet Nam memorial that's hosted by a local ABATE member. It's not an official event – just his own personal ride each year – but it has grown quite large. It's usually held on the Sunday of Memorial Day weekend. Well this year, I didn't receive any notifications about it like I usually do so on Saturday I went online to check the start time – and discovered it had been held a full week earlier. We missed it!Determined not to miss our own annual "moment of reflection" at the Iowa Wall, we rode up to the capitol on Sunday anyway (what a perfect, beautiful day!) to leave some flowers. As we approached on our (noisy) bikes, we discovered a large crowd gathered around the Viet Nam memorial where we focus our efforts – there was a service in progress! Embarrassed, we coasted as quietly as possible into the parking lot… we cut our engines off as soon as we were positioned to back into a parking spot, and then discovered that they were in the middle of playing "Taps." Which, ideally, I'm sure they would have liked to have been played with a noiseless background. We felt awful about interrupting the ceremony, having had no idea that it would be taking place.
And, one thing I feel GREAT about: We approached the dispersing group looking as apologetic as possible just as it was breaking up to leave. My husband took the small bunch of silk flowers I'd fashioned and left them at the foot of the wall and then stepped back to study the names. This is, for him, a traditional visit that gives him the opportunity to remember why he carries on despite depression, diabetes, weight problems, divorces, etc. etc – because other guys didn't get the chance to carry on. As we were standing there, a woman who was there quietly asked him if he knew how many Iowans had died in Viet Nam. We did a quick estimate of the number of names on the wall and guessed it to be about eight hundred. As she turned to walk away she said to him, "Thank you, sir, for your service. I appreciate it." He was barely able to sqawk a "thank you" in return – he carries enough survivor guilt and all the baggage of a less-than-welcoming return, and to actually have someone thank him for years of service he'd been conditioned not to talk about was almost too much. Having lived with him for almost 18 years now, I know a little something about how much her words might have meant to him, and I believe it was good for him to hear it.
Then a little while later, back at the bikes and getting ready to leave, another woman was visiting with another couple on a bike – the man was wearing his Viet Nam veteran cap, and the other woman was relating a story about her brother who had been killed in combat during that time. Steve and I listened and joined in, Steve and this other man swapped a couple reminiscences. And again, as this woman turned to leave, she said, "Thank you both for your service. It was important and it means a lot." And again my poor hubby was just ready to cry. This has never happened, I realize. No one has ever said "thank you" or "welcome home" to him.
I'm proud of him in so many ways – for coming out of that horrible time with his head screwed on fairly straight, for having a heart when it would be easy to become bitter, for continuing to be a courageous man who treasures esprit de corps and means it when he tells another marine, "Semper Fidelis." I think this Memorial Day was really for him, more than any other we've shared in our 18 years together.
Welcome home, honey, I'm glad you're here.
Many of us probably dream about quitting our jobs to take the motorcycle journey of a lifetime. Well today I found this article about a new book by a woman who did just that: Lois Pryce, who chronicles her 20,000-mile bike journey from Alaska to Argentina. The book is called Lois on the Loose
and I can't wait to read it! Also be sure to check out the Lois on the Loose website!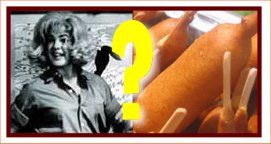 Another beautiful weekend here, 70's and 80's for daytime temperatures – a little windy, but bound to be that way in Iowa til July so might as well ride. And attempt to answer the age-old biker chick question, "Rizzo? Or Corn Dog?"
Friday night was Indianola Bike Night, one of our favorite monthly events. Only part of this event I don't like is the ride home… it's usually 10 p.m. when we head home, up Highway 65/69 which is hilly – meaning, visibility is bad enough because it's dark – but add lots of hillcrests where you are really trusting there's nothing stopped (or crossing) in the road just over the top of the hill, and it begins to feel like a sort of "gauntlet."
This particular night we rode with Garry & Shirley, Susan "Coyote" & Paul, and Kristin & Hollie – had a little trouble when we got separated on the way down, but everyone made it to the event within a few minutes of each other so all was well. As usual we just walked around the square looking at bikes, had supper… should note that Shirley got awesome loud pipes on her Yamaha V-Star… just in time to take a trip to Colorado!
Cute side story: Susan and I are going on a "Ladies of Harley" 3-day ride in late July. This group decided it would be fun to adopt road names for the event, and since I always liked the Stockard Channing character from the movie "Grease," I was going to call myself Rizzo. Susan was debating calling herself "Coyote." So as we're walking around the square in Indianola debating the road name "Coyote," we round a corner and come upon a food stand called "Howlin' Coyote." "See," says Susan, "it's a sign – I'm supposed to call myself Coyote." Well I turned and just 10 yards up the way is another food stand that just says "CORN DOGS." So I said, "Well if we're relying on signs to pick our names, then mine must have to be 'Corn Dog.'" Maybe you had to be there, but we got a huge laugh out of that and decided that we would have to produce a female buddy film called "The Adventures of Coyote & Corn Dog." And now I'm not sure if I should pick Rizzo or Corn Dog for my "road name" for the LOH ride… if you'd like to cast a vote, just send me an email!
Anyway, Saturday I bugged my family until they agreed to go on a ride… I wanted to go all the way over to Toledo, Iowa to see the last remaining Lincoln Highway Bridge in Iowa, but we ultimately compromised and went down to visit some friends in the southeast part of the county. (I must be hormonal or something – when I saw my friend Kathy, whom I haven't seen for about a year despite being really good friends with her for about 15 years, I told her I missed her and got all emotional. Gads I'm a dork sometimes.) Visited with them for a couple hours and then took a scenic route home down Highway 316 – through some really severely flooded farm fields – to Highway 5, then back up 5 through Carlisle and home.
Killed the afternoon doing all this and had a blast – beautiful again on Sunday but spent the day working in the yard and doing laundry. Going to have to pick a road name soon… one of the LOH gals will embroider it on a shirt for me if I can make up my mind in time!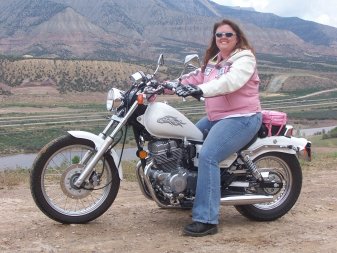 Ramy A. of Battlement Mesa, Colorado is an April 22 graduate of the Colorado Motorcycle Operator safety Training (MOST) program. She's shown here with her Honda Rebel. Way to go, Ramy!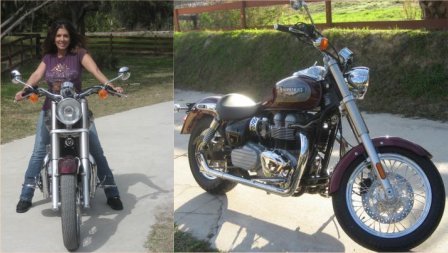 Donna, a.k.a. PaintedLady, of Florida passed her safety course on January 27, 2007 and rides this awesome Triumph America.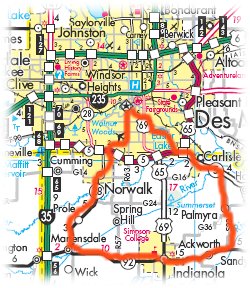 What a great weekend! Weather was beautiful both days, and Mother's Day was sweet as always with my daughter and husband indulging my weakness for garden statuary.
Steve and I took a really nice ride on Saturday afternoon – our neighbors, Kristin & Hollie, both ride now (Kristin just bought a new Sportster 1200 and Hollie wasn't content to ride pillion for long – she bought an '83 Yamaha 750 Virago "Midnight Special"), but Hollie's a new rider so just experiencing all her "firsts." She decided she was ready for the highway on Saturday, so I planned a short (-ish) route that took the four of us south out of Des Moines and down to Carlisle, where our friends Garry & Shirley live. Stopped by their place to see if Shirley was back from the tattoo parlor yet (she wasn't), then we headed down to Indianola to see if we could catch up with her still at the shop. We took a pretty county road (the one we always take to Bike Night) down to Hiway 92, then west to Indianola, where we found Shirley still at the tattoo shop with her sister. She had just finished getting a really cool mystical dragon on the back of her shoulder, so we hung around and admired it for awhile. Then stopped at the A&W for a snack and headed west out of Indianola on 92. This is a very pretty hiway in and of itself, but then we picked up 28 going north back toward Des Moines, and boy was that nice too! Very picturesque. We rode about 63 miles total, but took almost four hours to do it! LOL – Guess we are good at moseying!!
It was a trouble-free ride but it should be noted that Hollie had had a mishap earlier in the day where she actually took a spill – she was trying to maneuver the bike on a stretch of pavement where there was a "seam" in the road with the two parts of the road at different heights, and the tire caught on that "groove", and the bike was pretty much yanked right out of her hands. She has a nasty bit of road rash on her arm and a few bumps here and there but thankfully is otherwise okay with only minor quick repairs (courtesy of my dear hubby Steve!) to the bike. I don't think anyone would've blamed her if she'd decided to opt out of the planned afternoon ride with us, but she decided to get right back on and rode great the rest of the day. So glad she is okay, and so thankful for the beautiful weekend!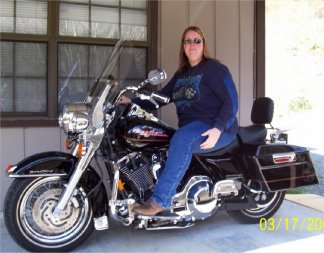 Renee M. bought this beautiful Harley Davidson Road King in early March, and passed her MSF course the following week. At age 40, she says, "I can't believe I waited this long to do this!" Well they do say life begins at 40, Renee – congratulations!
Meet some California lady riders in the news! Nanci Rogers and the Siskiyou Lady Riders of Siskiyou County, California are featured in this piece from the May 7 issue of the Siskiyou Daily News. The group works with former California Highway Patrol motor officer Jerry Schumacher to improve their safe riding skills.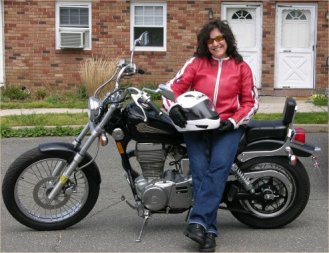 Here's Maria G. and her awesome 1998 Suzuki Savage. "'Squeaky' and I, along with my boyfriend, have been making ever-widening circles around Long Island since I passed the MSF on March 25, 2007!" Great work, Maria!