Our Memorial Day visit to the Iowa Wall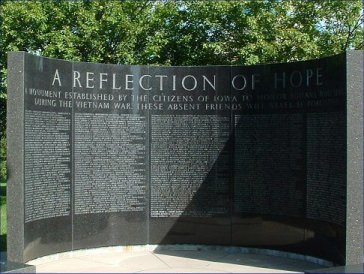 Here's two things that happened over Memorial Day weekend that I feel bad about. For the past three years, we've made a point to go on a large-group ride to our state capitol's memorial grounds, for a service at the Viet Nam memorial that's hosted by a local ABATE member. It's not an official event – just his own personal ride each year – but it has grown quite large. It's usually held on the Sunday of Memorial Day weekend. Well this year, I didn't receive any notifications about it like I usually do so on Saturday I went online to check the start time – and discovered it had been held a full week earlier. We missed it!Determined not to miss our own annual "moment of reflection" at the Iowa Wall, we rode up to the capitol on Sunday anyway (what a perfect, beautiful day!) to leave some flowers. As we approached on our (noisy) bikes, we discovered a large crowd gathered around the Viet Nam memorial where we focus our efforts – there was a service in progress! Embarrassed, we coasted as quietly as possible into the parking lot… we cut our engines off as soon as we were positioned to back into a parking spot, and then discovered that they were in the middle of playing "Taps." Which, ideally, I'm sure they would have liked to have been played with a noiseless background. We felt awful about interrupting the ceremony, having had no idea that it would be taking place.
And, one thing I feel GREAT about: We approached the dispersing group looking as apologetic as possible just as it was breaking up to leave. My husband took the small bunch of silk flowers I'd fashioned and left them at the foot of the wall and then stepped back to study the names. This is, for him, a traditional visit that gives him the opportunity to remember why he carries on despite depression, diabetes, weight problems, divorces, etc. etc – because other guys didn't get the chance to carry on. As we were standing there, a woman who was there quietly asked him if he knew how many Iowans had died in Viet Nam. We did a quick estimate of the number of names on the wall and guessed it to be about eight hundred. As she turned to walk away she said to him, "Thank you, sir, for your service. I appreciate it." He was barely able to sqawk a "thank you" in return – he carries enough survivor guilt and all the baggage of a less-than-welcoming return, and to actually have someone thank him for years of service he'd been conditioned not to talk about was almost too much. Having lived with him for almost 18 years now, I know a little something about how much her words might have meant to him, and I believe it was good for him to hear it.
Then a little while later, back at the bikes and getting ready to leave, another woman was visiting with another couple on a bike – the man was wearing his Viet Nam veteran cap, and the other woman was relating a story about her brother who had been killed in combat during that time. Steve and I listened and joined in, Steve and this other man swapped a couple reminiscences. And again, as this woman turned to leave, she said, "Thank you both for your service. It was important and it means a lot." And again my poor hubby was just ready to cry. This has never happened, I realize. No one has ever said "thank you" or "welcome home" to him.
I'm proud of him in so many ways – for coming out of that horrible time with his head screwed on fairly straight, for having a heart when it would be easy to become bitter, for continuing to be a courageous man who treasures esprit de corps and means it when he tells another marine, "Semper Fidelis." I think this Memorial Day was really for him, more than any other we've shared in our 18 years together.
Welcome home, honey, I'm glad you're here.