I've recently been lucky to receive several new photos from biker gals who have received their motorcycle license endorsement in the first quarter of 2007. If you have any big bike news to report (got your license? bought a new bike? take a big trip?) be sure to send me your info and a photo or two! I'd love to feature you in the Biker Chick Buzz!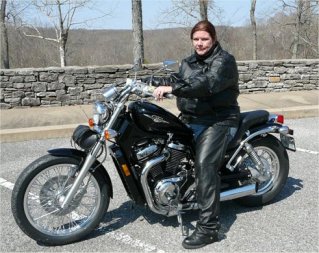 Rachelle of Tennessee just bought her Suzuki Boulevard 800 in mid-March. She's a returning rider and originally started out on a Yamaha Virago. Although weather has been a factor, she's already got 150 miles on the bike and looks forward to many more. Congrats on the beautiful bike, Chelle! Wishing you many happy miles!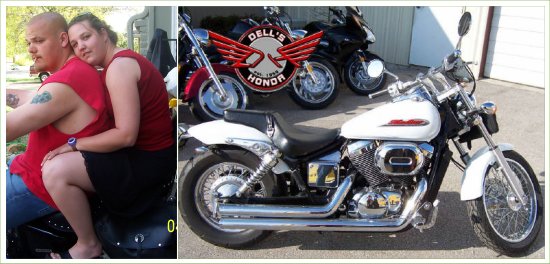 Patricia of Overland Park, KS (riding pillion at left) now has this awesome white Honda Shadow AND a newly-minted motorcycle endorsement on her license as of April 15! Pat says she loved being on the bike with her hubby, but on a trip to Nebraska she decided the view from the front might be more to her liking. She has already been back to Nebraska on her own bike. Congratulations, Pat!