Benefit ride for Theresa, 10-20-2007
Photo above: a stitched-together panorama of the bikes gathered at Kung Fu Tap & Taco.
Click here for the full album!
This was a near-perfect day in so many ways. After last weekend's Toy Run rainout, I was anxious to see what the weather would have in store for Theresa's benefit ride. I needn't have worried – our high for the day was in the upper 70's, with a beautiful bright blue sky. This in late October, in Iowa! The ride was scheduled to begin around 11 a.m. at Big Barn Harley Davidson, where Theresa works in the Warranty Service department. We arrived shortly after 10 a.m. to find there were already around 100 bikes gathered. By 11 that number had doubled and they were still coming in, so the ride start was bumped to Noon. Eventually I think they had almost 300 bikes and probably 500+ people.
Around Noon the bikes started leaving, and we made a very impressive and continuous mile-long column traveling down 2nd Avenue toward downtown Des Moines. (If you've never been in such a column, I don't know how to describe the feeling. But it can be a little emotional realizing that all these people are gathered for the same big-hearted purpose.) Bikes in the lead blocked intersections so we could pass through as a group without worrying about cross traffic. (Probably illegal but what the hell… we're bad-ass bikers, we're supposed to do shit like this!) As we approached Downtown, traffic got a little heavier and around Court Avenue there were lots of pedestrians – the Farmer's Market had just closed, and lots of those patrons were standing around watching us pass, some taking pictures or shooting video. There was a police officer at 3rd & Court who held off the cross-traffic there for us to pass through the intersection as a group.
Just south of the Iowa Cubs triple-A baseball stadium, we turned and headed toward the home of Theresa's sister Vicki,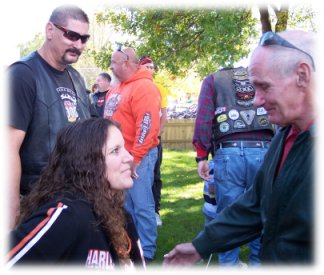 where T is recuperating. Family members had arranged for T to be outside when everyone arrived – I'm not sure they were expecting quite so many of us! All those bikes took up probably two full blocks! After a short benediction and opportunity for as many as possible to meet and greet Theresa, we took off again, this time for the Kung Fu Tap a few blocks away.
The stop at Kung Fu was really just an opportunity for us to hang out while Theresa's family helped transport her to the site of the actual pot luck dinner waiting for us at the end of the ride. We were there long enough to enjoy a beverage and then the group took off again.
Our final stop was the clubhouse of the El Foresteros. This is an old-school motorcycle club; these are the folks who actually hosted the ride and dinner. They certainly don't normally open up their clubhouse to the general public – it's a members-only gathering spot. I for one appreciated their hospitality and willingness to let non-members show their support for our mutual friend.
As for T herself – she's doing pretty well but still has a long recovery ahead. I wish her the very best, and I'm really pleased to have been part of such a great turn-out for this event!