Ha-ha-ha-ha-ha-ha… I WIN!!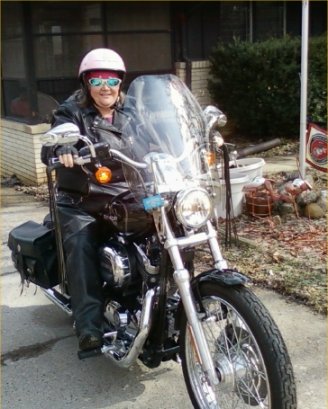 Take THAT, Winter – I have officially taken the first ride of the new season before going stark raving mad, and that means I WIN!
Well now, don't I feel better! As you may have guessed, I got to take a ride today – the FIRST ride of 2010! What a blast… a relief… a pleasure.
Accuweather predicted 54 degrees today, and since the sun was peeking out periodically I decided to step out and start the bike – you know, just to hear the rumble. Well she started right up so I rolled her out into the driveway and puttered around a bit… took my rain suit out of the saddle bag and folded it all back up into it's self-contained pouch (that was a victory in itself – do these things EVER fit back in the pouch??)… cleaned the windshield, held my new gauge trim ring up to where it will be positioned to see what it will look like (SA-WEET!).
The sun seemed to be hanging around so I decided to go ahead and take a short ride. Past experience has shown that 54 might be a fine temperature for working out in the yard, but on the bike it's damn chilly. So I went in the house and gathered up all my leather gear. Glad I did – I ended up going a little farther than I originally planned, about 60 miles total, and most of it was highway.
I headed south down Fleur Drive in Des Moines, which is a nice four-lane that goes past the airport on the South side of Des Moines. At the south end of the airport I headed west on Army Post Road, down to Highway 28, and turned south. This road goes through Norwalk and then Martensdale, and ends at Highway 92. Took 92 east to the point where a nice county road (R63) intersects, and then took R63 back up to Des Moines. In the city, this road becomes S.W. 9th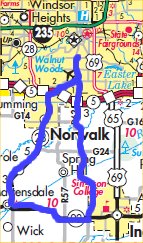 Street which is another major north/south road.
The problem with S.W. 9th Street – and with much of Des Moines – is potholes. Man, they are killer this year! I managed to complete that obstacle course and made it home safely… rode about 60 miles total, definitely feeling the chill but SO glad to have had the opportunity!
Riding season is here so Old Man Winter can officially kiss my *ss!