Ride to eat: Williamson
In addition to the graduation and Memorial Day activities we enjoyed this past weekend, we also managed to squeeze in a ride. (I actually squeezed in a solo ride, too.) On Saturday, we took off on a short "ride to eat" trip with Garry and Shirley to the tiny town of Williamson, Iowa.
This trip took us southeast along Highway 5 out of Carlisle to County Road S45, which we took south through Melcher-Dallas, then a short jog on State Highway 14 and in to Williamson.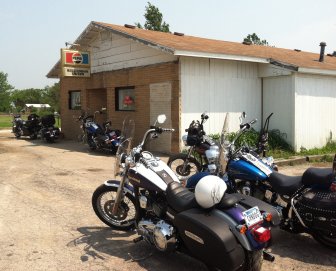 At our destination, lunch at the Williamson Tavern was large and cheap – it was also the only thing to do in this tiny town of under 200 people. The view from the main road in either direction is testimony to the "sleepiness" of this little place, which is still three times bigger than Millerton! (Garry & Shirley also ended up buying us lunch – what Williamson lacks in venues it also lacks in ATM's. Thanks guys, next time we'll try to remember to bring cash!)
After lunch we headed back out along the same route, but stopped in Melcher-Dallas for a couple of pictures. We had detoured through this hyphenated town on our way down (instead of passing right by), and I wanted to go back and catch pictures of a bridge and a mural.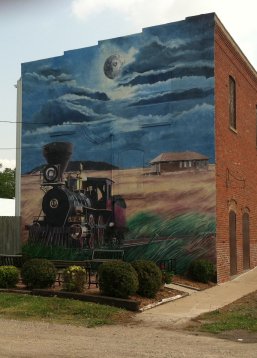 Unfortunately I haven't been able to find any information about either of these local features. My "keen eye for the obvious" tells me the bridge is very old, given the weathered boards showing through under the top layer of asphalt. It arches over train tracks that run parallel to the highway. Heading into town isn't as tricky as heading back out – the bridge dumps you right at the highway with a very short approach and a sharp downhill slope.
The other photo opp was this really neat mural painted on the back wall of the Melcher-Dallas Coal Mining Heritage Museum. A small landscaped seating area provides space to enjoy the artwork, which is signed simply "D.E. Adams, '98."
I posted more pictures from this ride on the BCN Facebook Page.
After taking my pictures we headed home along a route that included G76 west and S23 north. We did have one near-incident along S23 – I spotted what I thought was roadkill in the middle of the road up ahead, but quickly figured out that it was actually moving (walking) right to left. Uncertain whether it was something that could quickly reverse course, I slowed way down and went around it on the right – turned out to be a large turtle – my friends followed, but not before riding up on each other a bit too quickly. Of course I didn't see this happening behind me, but I learned later that by slowing I had almost caused them to wreck in the back. Not good!
This, plus another near-incident on my solo Monday ride and my recent bike drop in the garage, have sort of caused me to wonder if I'm "off my feed" this year for some reason… maybe thinking too hard, or not thinking enough… anyway, it feels like I need to take a breath and push the re-start button on this riding season!