Solo ride to the Iowa Arboretum
Last Sunday I took a solo ride with Kitten – I was really wanting to ride, but Steve had something on the lathe he wanted to work on, so I decided to head out in search of an Iowa attraction he didn't have much interest in anyway: the Iowa Arboretum.
The arboretum is a park-like facility northwest of Des Moines that showcases hundreds of native and non-native trees and plants. There are perennial beds, landscaped viewing areas, trees and shrubs – and since one of my other interests in life is gardening, I've always wanted to go there and simply have never taken time.
One of the rides we've taken occasionally when we want to go but don't have all day to travel is a loop that takes us past Saylorville Lake, past Big Creek State Park, and up to Madrid and back again. The arboretum is just a bit farther north than Madrid, so adding it to the loop was a snap: heading west on Highway 210 out of Madrid, just past the "alien structures" (which don't look so alien anymore, now that there seems to be a walking path up on top of them), is a turn-off onto a county road that takes you to the Boy Scouts' Camp Mitigwa.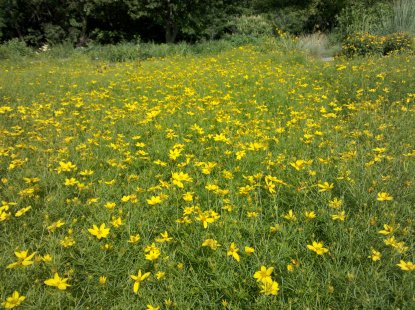 That road becomes R26, which is one of those Iowa gems: easy, sweeping curves, a hillcrest (clearly marked with a yellow sign reading "HILL," just in case you weren't sure) offering a really pretty view of the valley at the bottom, lush green Iowa meadows and hard-working homesteads on both sides of the road. R26 comes to a T at E57, and the arboretum is at the end of a turn-off just back to the east of the T.
This is the type of place where I could easily spend an entire afternoon – it's just over 375 acres, and I didn't even scratch the surface of exploration since I only stayed about 30 minutes. I did manage to take some neat pictures of the small portion I walked through.
Back on the bike, I continued east on E57. Looking for Highway 17, I discovered that it's poorly marked: I came to a two-way stop and since this was approximately where I was expecting to find 17, I took a chance and turned to the south. A few hundred yards down the road, there was my "State 17" sign. Would've been helpful to have a "Junction" sign back on E57, but at least I was on the right road.
This took me back through Madrid, where I stopped for a potty break and then headed home on the same roads I had taken on my way up: past Big Creek, through Polk City, and past Saylorville.
Notable things I passed:
A woman riding alone – she had a red touring bike and was wearing a bright red leather jacket with fringed sleeves. She waved enthusiastically as we passed each other, and I did likewise.
Several areas where recent heavy rains have gully-washed gravel and debris onto the road.
Extremely high water levels of the Des Moines River: I'll be really surprised if it doesn't flood this year.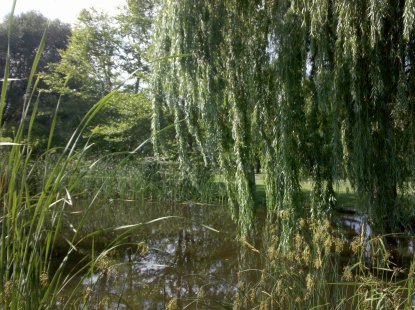 And one thing I managed to avoid: I was riding at one point about a hundred yards behind an SUV towing a boat, and the fabric cover on the boat suddenly ballooned up and blew off. I slowed way down, but it floated like a giant purple parachute off to the side of the road. Since the driver kept going, I'm not sure he even knew what had happened!
In all a really nice ride, and a little outside the norm since I don't ride alone all that often. There are a few more photos over on Webshots.