Dear Creston: You're not doing it right
Okay now that I've slept on it (til Noon, I might add), I can report that I am better able today to speak positively about our experience in Creston on June 22.
We had a beautiful ride, the weather toyed with us for half the day but ultimately was fine, we saw two beautiful old buildings enjoying a bit of resurgence (and lots of old buildings still waiting their turn to resurge) and as always the Merry Band was awesome company and made lemonade out of lemons. (If you are a "short version" sort of person, that's pretty much it in a nutshell – you can stop reading here. For the rest of you, read on for the full scoop!)
After waiting almost two years to the day to attempt a return ride to Creston, I was really looking forward to taking a look around the restored 1899 train station and the restored 1931 Phillips 66 gas station.
So sometime around Thursday, with weekend weather predicted to be hot but humid, I put the hammer down and proclaimed Saturday as Ride Day, with Creston as the destination. And not only Ride Day… but Get Up and Leave in the Morning Ride Day. As opposed to Sleep Til Ten, Fart Around For Three Hours, Have Brunch, and Maybe Take Off Around Two P.M. Ride Day, which has become a habit of ours.
Anyway, we made plans to meet up with Garry, Shirley and Tim around 10:15 on the south side of Des Moines. From here we went south down one of my local favorites, R63, which the night before had carried us down to possibly the biggest Indianola Bike Night EVER.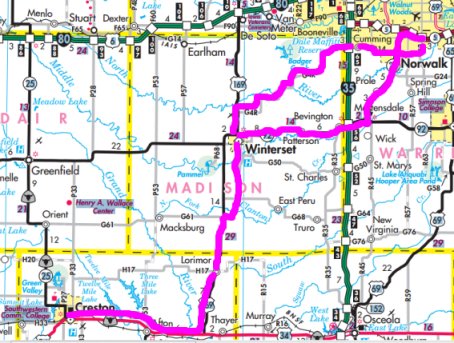 We turned west onto G14 which cuts through the north end of Norwalk, and at Cumming becomes G4R – another area favorite, being the scenic route to Winterset.
There is a moment on this road that always gives me an opportunity to appreciate the beauty of Iowa – the trees and rural buildings on the immediate roadside come to an end, and you are at the top of a long hillcrest looking to the left out over a beautiful rolling landscape, then the road starts to descend and you are riding right into that very view.
I always wish I could somehow capture the depth, the expanse, and the joy of a view like that. But of course, the tools at my disposal only capture a two-dimensional version, and there's no safe place to stop anyway. So, I find myself just stealing a few extra seconds to fix it in my mind before returning my focus to the road in time to set my line for the curve ahead.
G4R junctions at 169 just north of Winterset, and as is our norm we stopped at Winterset to grab a bottle of water. The weather was indeed warm and humid – all the way down G4R we had been watching some clouds coming our way from the southwest. Fortunately, the actual rain from those clouds missed us by about 5 minutes: as we were standing around the convenience store parking lot in Winterset, we could look back to the north and watch it pour on the very section of road we had just come down.
It was here that we parted company with Tim – I should have taken a better picture of his bike, which is a liquid-cooled marvel of engineering called the Boss Hoss. It has a GM 350 V8 engine, with a radiator. And an automatic transmission. And reverse. How he wrangles this 1300-pound monster around is beyond me, but Tim says he enjoys it as both a cruiser and a conversation piece. He's a backroads kindred spirit for sure who has taken a lot of neat videos from this bike, along some of Iowa's prettiest highways. We were glad to have him along for the ride down to Winterset – I'm wondering if he got rained on as he headed back to Des Moines!
We left Winterset along Clark Tower Road (P71), and took that til it ended in gravel – at which point we did a U-turn and backtracked a couple hundred yards so we could cut over to Highway 169 and continue on south down to Highway 34.
All along, again the tease/threat of rain pursued us – at one point we were riding south directly under the edge of a gray rain cloud that was moving east, but somehow we missed all but a few sprinkles. And, once we turned to the west on 34, the only thing we caught was some wet pavement – we had once again missed a good downpour by only a few minutes. And yes, I had the words of Shirley's brother-in-law Chuck ringing in my ears: "Janet is the luckiest broad I know."
We rolled into Creston around 12:30 and easily located the restored train depot. WOW, what an impressive building, and with AMTRAK and BSNF service going through the area daily, we were excited to step into the building and be surrounded by visitors, workers and a bit of railroad history. Unfortunately, we were met instead with the ghost of John Candy: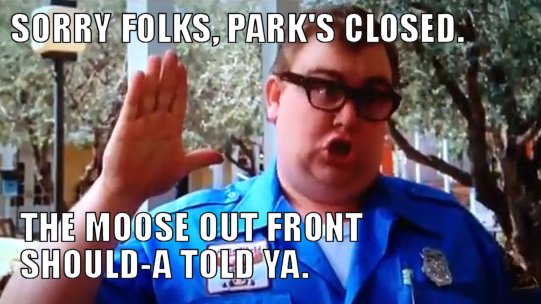 Only there was no "moose out front." There was only a series of locked doors on every side of the building, and the sound of Sad Trombone, mocking us with its wah-wah-wahhhhh. I'll be honest: I was foot-stomping, lower-lip-quivering, pouting-like-a-three-year-old MAD. What kind of historic attraction is closed on the day normal working people can come and see it?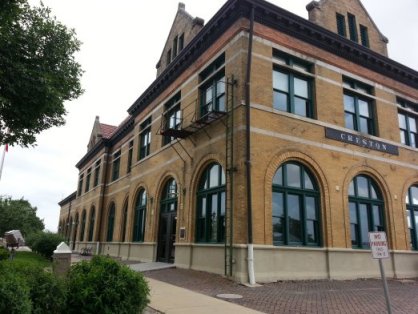 I did manage, begrudgingly, to take a few pictures of the historic building that would not let me in. I even peeped through the windows and got a couple decent pictures of the first floor interior. It looks really neat – lots of shiny subway tile and old wooden benches – and yes there is a model railroad set up inside which is probably ALSO pretty neat to see when the building's open, and yes that is a rack of tourism brochures on the countertop but of course I DIDN'T GET ANY OF THOSE EITHER.
Anyway, time for lunch and at this point the sun was out and it was really humid (meaning, we were wilting a bit)… so we cruised around the old business district and saw some pretty neat old buildings – in particular the Iowana, a former hotel that is now an apartment building… and a rather imposing US Post Office, both located on Elm Street to the north of the depot. Lots of grand old homes in town, too, many of which appear to be in desperate need of restoration before the Great Wandering Wrecking Ball catches sight of them.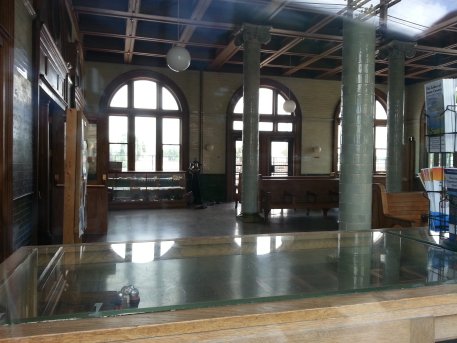 Out on Highway 34, we chose the Creston Family Restaurant for lunch, and glad we did… wide selection, good service and good food… and a friendly resident who told us that the restoration of the depot had been quite the controversy at one time, and that it was now used primarily for municipal offices. (This would have explained why it wasn't open on Saturday, were it not for the restored passenger area on the first floor that is sure to attract history AND train buffs alike. On Saturdays.) This guy is the only person I've ever met who owns a separate motorcycle just to get him from his rural home to the garage "in town" where he keeps a gleaming Honda Gold Wing trike in a friend's garage that he rides all around the area. (Yep, he needs a separate bike to take him to his bike.)
After lunch we cruised a quarter-mile up the highway to see the restored Phillips 66 gas station – a little 1931 building that looks like a brick cottage and has the old visible gas pumps out front. As it turns out, Phillips 66 founder Frank Phillips grew up near Creston in Taylor County, Iowa, so this was one of the original stations he built when he founded his oil company after pursuing first a career as a barber and then as a banker. He was, obviously, far more successful as an oil man.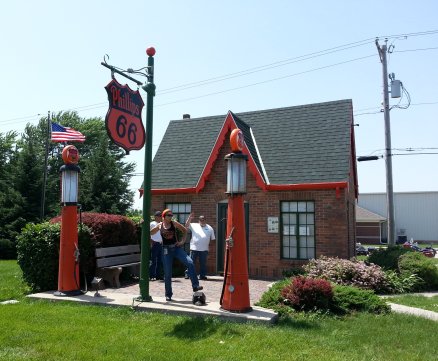 This building is said to be a "Visitors' Center," but alas, was also closed on Saturday when – it seems to me – a lot of visitors might be visiting. Our enthusiasm dulled at this point for historic Creston buildings, and having been admittedly somewhat placated by chocolate cake back at the restaurant, I wasn't quite as disappointed as I had been at the depot. And the little station is pretty cool even if we couldn't step inside. It was apparently moved to its present spot just so it could be preserved, and deserves the extra boost that a small parking area and a volunteer staff could bring to it.
From here we were ready to head home, so it was back along Highway 34 to 169, up 169 into Winterset where we stopped again at a convenience store for a water break, then east on Highway 92 through Patterson and Bevington, then north up Highway 28 through Martensdale, Prole, Norwalk and Lakewood.
We traveled about 150 miles and were home by around 5 pm – despite the closed attractions, a really nice day riding overall.
I've shared a few pictures here, but for the full album feel free to click through to my personal Facebook page. (And speaking of Facebook, Biker Chick News has its own page there – click here to "like," because I know you really, really like me. Maybe you even like-like me… capiche?)
On Sunday, we slept in and then discovered that the garage door won't open. I'm telling you, if it doesn't get fixed soon you might just see me out in my driveway, cutting a motorcycle-shaped hole in the overhead door with a Dremel tool.