Sturgis 2009, Days 7, 8 & 9: Let's wrap it up quickly, shall we?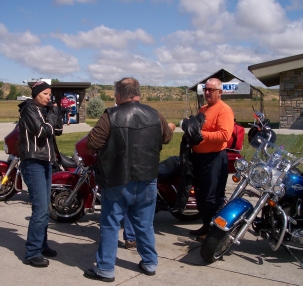 As a reward for your having suffered through the unreasonably long Day Six ride report, I've decided to keep things short and sweet when reporting on the rest of the trip. So here's the wrap-up:
Day 7 – Kristin took off for home in the wee hours of the morning, and rode safely through to Des Moines by herself, trouble-free. The boys took off mid-morning to attempt a repeat of our aborted canyon ride from the day before. I stayed at the motel and took our soaked clothes to the laundromat to tumble around in the dryer, and Shirley hung around with me by doing a load of wash. We hog-tied a small child who climbed onto her bike uninvited. The boys returned safely, having found Spearfish Canyon right where it was supposed to be, just around the bend from where I'd stopped in Lead by the school.
Day 8 – Rode from Belle Fourche to Mitchell in really strong cross-winds. It sucked, but we made up for it by having a nice steak dinner at Chef Louie in Mitchell that evening.
Day 9 – Rode in fog from Mitchell to Sioux Falls, then rode in between two bands of rain all the way down I-29 and never got wet. Comment from Chuck: "Janet is the luckiest broad I know!" A mean-looking thunderstorm chased us eastward all the way across Iowa; we arrived home around 5 p.m., and at 5:30 the skies opened up. Luckiest broad indeed!
With that, Sturgis 2009 is one for the history books. I've been gathering some stray bits-n-pieces that I'll share in a future post (or posts), and all our photos have been uploaded to two albums on Webshots.
In all I rode 2,021 miles; it rained every day – usually at about the same time – but we only got caught in it once; I can safely say I bonded with the new bike, but I can't say that its nickname has come to me yet. Time for the next adventure!