Return to the Iowa Arboretum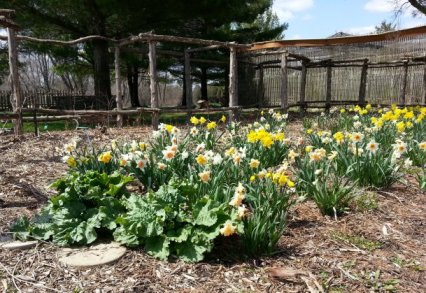 Our fledgling Chrome Divas chapter now has ten members, and it didn't take long to figure out that it's going to be REALLY hard to get all ten of us together for a ride if we try to hand-pick dates and accommodate everyone's incredibly busy schedules. So I like our solution: set a monthly "appointment date," and that's the ride, no matter what. So now, on the designated date each month, we know there's going to be a ride and whoever can attend shows up at the start time and we ride, whether there's two or ten.
We had our first ride on April 26 under the new "Monthlies" plan (ha – get it? monthlies, because we're women! Oh I crack me up…), and we had four ladies attend. Since we've had kind of a hanger-on of a winter, we didn't plan anything major, but Vicki, Susan, Kristin and I had a great day riding to Polk City and then to the Iowa Arboretum.
Our route was an easy one up the "back side" of Saylorville Lake and over the Mile Bridge. We parked on the square in Polk City and while taking off our gear we encountered a lovely older lady whose name we regrettably did not get, but she was awful cute riding around the Square on her mobility scooter. She had a license plate on the front that said "I  B OLD," and where the state name would be it said "State of Confusion." I told her I liked her license plate, and she turned out to be a "Maxine"-type gal who had all manner of snappy comebacks. She seemed to be having a great time just motoring around the Square, being social.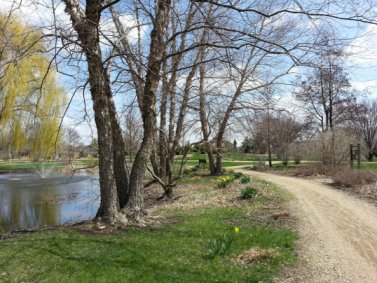 Enjoyed our lunch at Papa's Pizzeria – a nice casual little family place with a view of the square and likely a favorite spot for campers, boaters, and other lake-goers in the summer.
After lunch we continued on to the Iowa Arboretum located a few miles northwest of Madrid. I took a solo ride here a couple years ago in mid-summer, but it looks quite a bit different in Spring. We walked around just enjoying the fresh air. Most of the perennials were still barely peeking through the soil and mulch in the flower beds, but the evergreen garden was interesting. I know we didn't even scratch the surface of everything there is to see here – it's more than 350 acres of trees and plants.
After a brief browse through the gift shop we headed home through Sheldahl and back into Polk City, then back down the lake road and on into Des Moines. Next month we'll be doing a benefit poker run – hope the weather is just as beautiful!