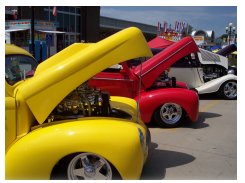 Wow, I'm not sure where the summer is going, but it's going fast! We just spent the past weekend sitting in our lawn chairs in 100-plus degree heat at the GoodGuys Rod & Custom Heartland Nationals here in Des Moines – here's a few pictures!I'm sorry to say I haven't ridden much in the past few weeks – we did get down to Indianola for June Bike Night, but I've been focused on a couple other projects that have been taking some non-work time. So aside from some short jaunts, we've had no major rides. We do have one with a fun group coming up on Sunday, so I'm definitely looking forward to that! And of course, the all-girl Estrogen Ride (with my HOG club gal-pals) is coming up at the end of this month. I'm also hoping Susan (Coyote) and I (Corn Dog) will be able to take another overnight trip yet this year.
One thing I did want to be sure to share here is that I am planning to move this website onto a blog platform. Over the past couple of months I've really learned a lot about using WordPress blog software as the basic "skeleton" of a frequently-updated website, and I've always known that there had to be an easier way to maintain this site other than editing the raw HTML. I finally decided to just bite the bullet and move the entire site onto a WordPress installation on my web-host. The biggest challenge will be adding back all the old content. I'm still working out how to do that efficiently since I can't generate the usual OPML file, but rest assured that down-time will be minimal and the site will be much easier to search, read and update! And, you'll be able to subscribe to my RSS feed so you can easily be notified whenever the site is updated! More on this coming soon.
And, more to come as July wraps up – I can't wait to get the bike back on the road! Thanks for reading!
First, a couple of old questions answered:
1. Scooter.
2. Rizzo on the shirt, Corn Dog elsewhere.
Next, a link: If you aren't yet a biker chick but you think you might want to become one, check out the "Garage Parties" held for women by many Harley Davidson dealerships across the country. There's a news release currently on PRnewswire that's available to be picked up in publications everywhere. Look for it perhaps in your local newspaper. Or save time and just read it here.
And finally, while researching a post for my other blog I came across a website for a swing dancing club in Des Moines (my home city). I read this post about the importance of practice, and realized how universal the advice in it really was. The Cliff Notes version is that practice doesn't necessarily make perfect, but it does make permanence. So it's important to practice things (i.e., new physical skills) correctly.
Here's a nice piece about women riders that ran this past week in my hometown daily, the The Des Moines Register:
Iowa Mamas Open Throttle
And, a great piece about an awesome biker chick in Appleton, WI:
Harley Rumble Lures Neenah Administrator
Here are a couple links I've been meaning to share, by or about biker chicks!
Many of us probably dream about quitting our jobs to take the motorcycle journey of a lifetime. Well today I found this article about a new book by a woman who did just that: Lois Pryce, who chronicles her 20,000-mile bike journey from Alaska to Argentina. The book is called Lois on the Loose
and I can't wait to read it! Also be sure to check out the Lois on the Loose website!
Women riders in the news at the Daytona Beach News Journal Online. Oh! And guess what: I GOT TO RIDE TODAY!! That's March 11, first ride of the year! It was upper 50's here today and I had intended to just get the bike out of the garage and clean 'er up/inspect, because we still have a patch of frozen gunk at the end of our driveway. Then my neighbor came out, got on her bike and rode away, and I thought, hell's bells, I'm goin' ridin'! I just took a ride around town on the main streets (too much sand still on the side streets), ran out of gas and had to switch to reserve and then fill up… but hey, I was so freakin' HAPPY to be out on the road. I feel SO much better!
Women riders in the news at the San Diego CityBeat.
Sometimes, shit happens that just leaves you shaking your head. An Iowa Appeals court declined to overturn an OWI conviction this week for an individual in Black Hawk County who, in 2003, crashed his motorcycle into a semi-truck causing injuries to his passenger. He was found to have a blood alcohol level of .14 at the scene of the accident, but he pled not-guilty on the grounds that he had only begun to drink after the accident, while sitting on the curb apparently waiting for help to arrive. He noted in his testimony that he kept a bottle of vodka strapped with bungee cords to his fender for just such an emergency.
Thinking that this story qualified for "news of the weird," I mentioned it to my boss whose husband is a county attorney. She assured me this strategy was nothing new. "Marty had a case where a guy was found drunk at the scene with his bike in a ditch, but insisted he'd only started drinking while waiting for a ride home," she reported, noting that cops actually found him first. Ultimately the charges were dropped because there was no evidence to suggest he'd been drunk while on the bike. All the beer cans were there at the scene with him, and the officer had not thought to check the bike's engine to see if it was warm. Without concrete evidence, he was released.
Of course, the lesson we can all learn from this is that if you're going to drink on a bike, it's best to take the containers with you in case you need to stage an alibi later. But there's an additional, more important lesson here, and that is that bungee cords are an effective way to secure a bottle of vodka to a motorcycle fender. (I mean, just how long did that guy ride around like that, waiting for an accident to happen so he could take a nip?)
Had a nice weekend on the bikes; Friday night traveled about 20 miles down to Indianola Bike Night… this is a once-a-month event that usually draws about 2,000 bikes. Food, music and BIKES on the square in a small Iowa town… very nice! Saturday went up to the dealership to sit on bikes (I'm thinking about a Dyna or Softail), then went on a nice 60-mile-or-so ride, including some quality time on the Interstate, which I *hate*. But, we are planning to ride to Sturgis in August so I need to get used to it. On Sunday we rode to breakfast and put some new highway pegs on Steve's Heritage.Speaking of Sturgis, Steve has a story he likes to tell about a previous trip he'd made out to Rapid City, on which he and his then-wife actually got so low on gas… with no stations in sight… that they had to ask at a nearby farmhouse if they could siphon some gas. Turns out no one was home, so they took the gas, and left some money and a note. Along those lines, a friend of ours who trailered their bikes to Sturgis last year cautioned us to always top off the gas, because there were stretches out there where no gas was available. So I got to thinking… there's a publication I've seen that truckers use that gives information about all the various Interstate exits on I-80, which runs across Iowa. I wondered if there might be a similar pub about I-90 that runs across South Dakota, so I went to Google and found a page that gave me the info I wanted. So now on my atlas, all the exits that have gas stations available are highlighted in yellow, and I was able to figure the mileage between each to pre-select our gas stops so we wouldn't have any problems. I feel SO organized!
The 2005 riding season is coming to a close here in the Midwest, at least for this "fair weather rider."
I'm sure all the usual sources will be providing their "year in review" articles in the very near future (I sure miss the ones Dave Barry used to do!), so I thought I'd get a jump on them by providing you with my 2nd Annual "Season in a Nutshell." Here are some of the stats and highlights of 2005: 
Stats:
Miles logged: 2,180
Most miles in a day: 365 on 7/23
Hottest Day: 7/23/05, 101 F
Coldest Day: 3/6/05, 45 F
Drops: 0
Other 'rolling blunders': 1
$ spent on HD clothing & bike accessories: 1175
Highest gas price paid: 3.01 per gallon
Most Improved Skills
Using head and eyes to "look where you want to go."
Overall awareness of traffic, surroundings, & potential hazards
Best mod or accessory added to bike:
Buckhorn handlebars for improved riding position
Willie & Max saddlebags for carrying STUFF
Bonehead Move of the Year:
Tangling with the gate arm in the parking garage at work (don't ask)
Milestones reached:
Purchased first HD
First overnight trip in July
First girls-only trip in July
Most miles in a day, ever – 365 on July 23
Most hours on the bike in a day, ever – 12 on July 23
Best Day Riding:
Saturday, July 23 – awesome day!
Worst Day Riding:
No major mishaps this year… worst "day" was the whole month of September when I didn't ride even ONCE til the 30th, for no good reason!
Prettiest new vista:
Hiway 6 & County Road F45 from Altoona to Newton through Colfax.
Locations visited:
Albert Lea, MN
Boone & Scenic Valley RR – Boone, IA
Clear Lake, IA
Livonia, MO
Newton, IA
Pella, IA (Cordova State Park Observation Park)