A quick update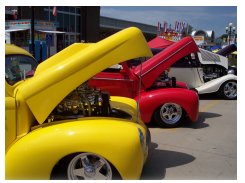 Wow, I'm not sure where the summer is going, but it's going fast! We just spent the past weekend sitting in our lawn chairs in 100-plus degree heat at the GoodGuys Rod & Custom Heartland Nationals here in Des Moines – here's a few pictures!I'm sorry to say I haven't ridden much in the past few weeks – we did get down to Indianola for June Bike Night, but I've been focused on a couple other projects that have been taking some non-work time. So aside from some short jaunts, we've had no major rides. We do have one with a fun group coming up on Sunday, so I'm definitely looking forward to that! And of course, the all-girl Estrogen Ride (with my HOG club gal-pals) is coming up at the end of this month. I'm also hoping Susan (Coyote) and I (Corn Dog) will be able to take another overnight trip yet this year.
One thing I did want to be sure to share here is that I am planning to move this website onto a blog platform. Over the past couple of months I've really learned a lot about using WordPress blog software as the basic "skeleton" of a frequently-updated website, and I've always known that there had to be an easier way to maintain this site other than editing the raw HTML. I finally decided to just bite the bullet and move the entire site onto a WordPress installation on my web-host. The biggest challenge will be adding back all the old content. I'm still working out how to do that efficiently since I can't generate the usual OPML file, but rest assured that down-time will be minimal and the site will be much easier to search, read and update! And, you'll be able to subscribe to my RSS feed so you can easily be notified whenever the site is updated! More on this coming soon.
And, more to come as July wraps up – I can't wait to get the bike back on the road! Thanks for reading!