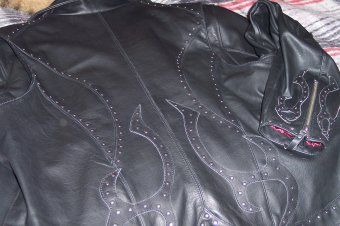 One thing I love – in addition to my new handlebars (and the guy who bought them for me)? My new HD leather jacket! Yep, Zylstra had a great sale on leather gear this weekend, and Steve called me over to the sale tent to show me a really beautiful jacket that he knew was my size. Now I've written before about the lack of nice gear in women's plus-sizes, and the merchandise manager at our local dealership has been assuring me that more plus-sizes are coming. (And, she's been right! There are more of the really pretty women's tops in the 1W-3W HD sizes in stock since the new Fall stuff came in, and I've been rewarding this as often as I can given my budget! LOL) Because most leather tends to run small, I was fully expecting that the HD 3W size would still be too snug for me – but, this jacket fit so-o-o-o perfectly, so we bought it. Now I no longer have to wear my Walgreens leather (yes – Walgreens!) – although I'll admit, it has lasted several years and looked more stylin' as soon as I added a cool HD patch to the back.
Here are a few recent links of interest to women who ride.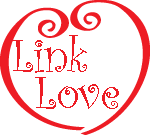 Leah wrote this piece about how she got started riding her own motorcycle. If you read a little more of her blog, you will be stunned to read about the accident and fire in her ex-husband's truck that nearly took his life as well as that of their Down Syndrome daughter. Truly a miracle that they lived. I can't even imagine what they all must be going through, but my prayers certainly include them all this week.  
The Canadian Prime Minister's wife, Laureen Harper, loves to ride the muddy trails.
Sue Pollard and 50 friends take off on a mission from Kittery, Maine.
What?? You mean WOMEN can be bad bikers too??
And finally, Froggi's off and running… hopping?? … RV'ing in the new rolling Lily Pad!
Here are a few news stories from around the US and Canada that I've found in the past few days. Just interesting reading!
This piece from the Vancouver Sun talks about the effect of the Baby Boom generation on the bike market.
Here's an article about the 2007 Wisconsin State HOG rally, held in Racine.
And this article about the 100th anniversary of the Oakland Motorcycle Club (the club Sonny Barger rejected for being too family-friendly) is making the rounds in papers throughout California.
I've started a video channel just for women who ride!

A cool new video service called Magnify.net lets me search the web (YouTube, Google, Yahoo, etc.) for bike-related videos, filtering out the "bikini bike wash" -style videos and leaving just neat stuff of interest to women who ride, and then put them all on a "Biker Chick News Video" channel.
I have about 30-some videos loaded in at present… the first group I loaded in was woman-oriented… the second group was Sturgis-oriented… and I can't seem to find a way to mix them up a bit. They're displayed in newest-first order, so all the Sturgis videos are on the front page. (Oh, and my cool little photo slideshow from Sturgis 2006 is first in line!)
Now here's the thing: I'd love to add lots more videos to the "Biker Chick News" channel. If you have a ride video from a bike-mounted camera, or have made a cool photo-slideshow-with-music, or have any bike-related video you'd like to share, please upload it to YouTube and then send me a link so I can add it to the channel. I'll be searching a couple times a week for new videos, too, so hopefully new stuff will be added frequently.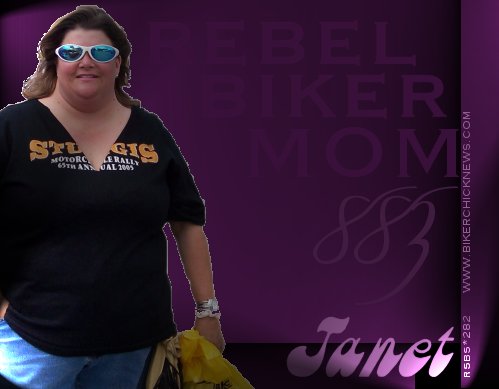 The ol' blog was lookin' pretty text-heavy up top today so thought I'd share the latest "sig pic" I made for use over on the Delphi "Women Who Ride" forum. (I'm no "pro" with Paint Shop Pro but I have some fun with it.) By the way, if you want to chat it up with other biker chicks and women who ride, this particular Delphi forum is a wonderful place. Delphi has hundreds of forums on hundreds of topics and requires you to sign up for a free account to participate. (And for a small fee you can get the version without all the ads.)  It's well worth it – lots of support and encouragement!
It's Friday – time to RIDE!! (Or depending on your weather, time to READ! LOL)
I'm not sure this post really counts as "Link Love" since these are all articles instead of blog posts, but here are a few links I found this week that I just had to share. Enjoy!
Great article about why she loves to ride by biker chick Karen DeCoster (best line: she's talking about getting her Harley Sportster 1200 in 2004: "Well imagine trying to hide that from Mom and Dad at my age. I had to…")
Here's a brief item from the Milford, NH Cabinet about Biker Chick Essentials, a neat new business in the area, just for women who ride!
Over in the UK, there's a charity run for Amazon Heart and Helen Rollason Heal Cancer Charity. What makes it special is that all the riders are breast cancer survivors.
Updated to add:
And speaking of the UK, visor tip to Rippin-Kitten for the link to Lady Biker Magazine, a UK-based magazine for… wait for it… LADY BIKERS!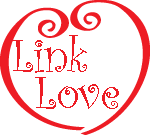 A li'l more link love goin' out to those writing about biker chicks and women who ride!
This piece from the Rapid City Journal chats up some gals – some new riders, some experienced – who've come to Sturgis.
Shirley at Delaware Curmudgeon writes about a friend she's glad to see back in his chaps.
Donna's been tryin' to keep her clothes on while her house is for sale, but that's harder than it looks.
Okay so he's not a biker chick. But remember Evel Knievel? He's not doing so well, health-wise, these days. I remember Evel's Snake River Canyon jump well… and I remember a toy my brother owned: a device that "launched" a plastic motorcycle across the room, complete with an 11-inch Evel doll that used to date my Barbies. I'm not making light… this is a sad story. I wish Evel all the best, and I thank him for providing such great entertainment.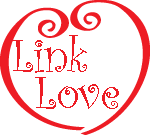 Here's some good reading about women and motorcycles from around the Web.
Neat article about the popularity of sport bike clubs in North Carolina, including women who ride these fast bikes! 
Great come-back to the "organ-donor" remark bikers often hear. 
The Sheboygan Journal looks at "the new American biker". 
A blog post from last week about H-D's woman-focused marketing. 
This article is an interesting read, too – it includes this rather bold statement: "The point is that women are becoming increasingly important to a sport that desperately needs new blood."
And finally, from July 11: a neat article about a women rider's group in Florida.
In the "Just an FYI" department, here's a link to a neat story about bikers doing something they do really well: support others in their time of need.
And another cool story about a growing group of women riders who take an annual trip beginning in Manitowoc.