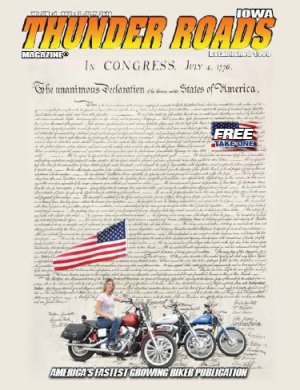 One of the neat things going on in the motorcycle world in Iowa right now is that there are several magazines of interest specifically to Iowa bikers. I've been fortunate to write for a couple of them, and wanted to introduce them to you in case you haven't discovered them yet!
First up is the Iowa edition of Thunder Roads. This is a national publication that publishes several state and regional editions. The Iowa edition is, as of May 2010, owned by Tina ("TT") and Vernon Schwarte of Kimballton.
Tina and Vernon are both healthcare professionals and volunteer firefighters as well as Harley riders – normally they ride around Iowa as much as possible and try to take a couple of extended trips each year. Over this past winter they were invited to write an article for Thunder Roads Iowa about the Hawgstock rally, and following that were invited to keep writing and taking photos for the magazine. Not too long afterwards they had the opportunity to take over production and publication of the magazine, and published their first issue in June.
Thunder Roads Iowa is a monthly publication producing 12 issues per year, each with a minimum of 40 pages per month – no small feat!
"Our focus is to promote the sport of motorcycling, no matter what brand you ride. We have the utmost respect for anyone that is on two wheels," Vernon says.
He notes they'll be doing a few recurring features, including articles from the female perspective, profiles of Iowa military riders, and features about each county in Iowa.
"A couple of years ago we traveled through every county in Iowa," Tina says, "and the people, sights, food, and hospitality cannot be beat. We started then writing about our travels and always thought there was something to this and just did not have the outlet until this opportunity presented itself. Now you can read each month about a county in the 99 County Tour article."
To suggest story ideas for Thunder Roads Iowa, or to become an advertiser, contact Tina or Vernon at tt@thunderroadsiowa.com or Vernon@thunderroadsiowa.com. Visit Thunder Roads Iowa on the web at www.thunderroadsiowa.com.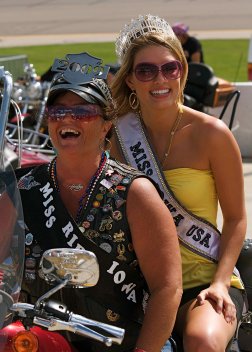 The 2010 Ride Iowa event benefiting the March of Dimes will be held July 31 at the Boone County Fairgrounds. Registration begins at 9 a.m. The event includes a 70 mile ride beginning and ending at the Fairgrounds, with lunch, live music, vendors and a car show also part of the festivities. Registration is $20 in advance or $25 at the gate.
In addition, Miss Iowa 2010 and Miss Ride Iowa 2009 will be on hand to crown the new Miss Ride Iowa 2010.
Zylstra Harley Davidson of Ames has donated a 2010 Sportster to be given away in a raffle drawing.
Farmers Insurance Group and 95 KGGO radio are also sponsors of the event.
The RIDE IOWA Foundation is a local nonprofit organization dedicated to improving the health of babies by preventing birth defects and infant mortality in the local community and nationwide.
For complete information and a 2010 registration form, visit the Ride Iowa website at www.rideiowa.net.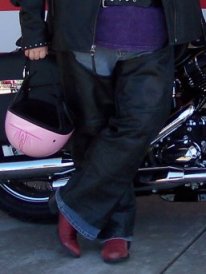 I love chaps. Actually I should amend that to say, I love chaps on other people. On normal people, chaps contribute to that long and lean, bad-ass biker look that kinda turns me on. Plus, of course, they have wonderful protective qualities that will quite literally save your skin if you go down. On me, however, because I am so short and round, they generally look like someone has put chaps on the Michelin Man. (I sure love them on me for warmth – and those protective qualities – regardless of how silly they look!)
A few years ago I did a short piece on the blog about the history of chaps. Then recently I connected via email with a biker leather shop in western Iowa called Leather & Hawgs, and thought that perhaps they would be good folks to offer up some tips on how to properly fit a pair of chaps.
Owner Greg "Leatherman" Crook was kind enough to provide me with the following tips for fitting and buying the "shotgun style" most commonly worn by bikers:
When you purchase your chaps the most important thing is to get a chap which fits very snug on your thighs, because over time they will stretch. Once you have the chaps on, you can put your hand between your jeans and the chaps; this is about how much the chaps will stretch once they are broken in.
If you have a larger waist, it's tempting to get bigger chaps; unfortunately, if you do this you may find that the legs are much too big even before they stretch out. Buy the chaps that fit snug around your thighs; expand the waist if need be by using an extender, and overlap the grommets on the back of the chaps if you are small-waisted and need to bring the waist in.
When measuring the length you should have on the boots you wear on your bike. To get the proper length, stand up straight and look ahead, and have someone measure the length to the bottom of your heel, plus half an inch to allow for the chaps to pull up when you are sitting on the bike.
Oh, and just in case it's not clear, the above represent POORLY-fitted chaps. They're mine, and I bought them, before I learned these tips, to fit my waist rather than my thighs. They're also too short, even for me.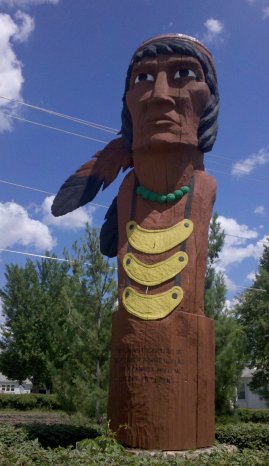 Saturday we decided to "ride to eat" down to Osceola, where not coincidentally there is also a Harley dealership I hadn't visited yet. Garry, Shirley, and Dave R. (who rides a sweet flat-black HD Crossbones) met us at our house, and we took off around 10:30 heading south down Highway 28.
At Highway 92 we jogged left a quarter-mile to county road R45 which takes us to New Virginia. It was my intention to take this road all the way to the point where it junctions with US 69 just outside of Osceola, and although it's a very straight shot to New Virginia we haven't had the normal intense heat of an Iowa summer yet so everything is still very green and lovely to look at even if there aren't many curves.
Coming into New Virginia, we noticed that they were having their annual "old settler days" and that the main street was closed off for the festivities. Not wanting to inadvertently get mixed up in a parade (or otherwise make a spectacle of ourselves in front of the townfolk), I took us on a detour just to the east of Main Street. I think that R45 actually picks up again on the far side of town and heads straight down to Osceola, but I wasn't sure how much of the road was closed off so instead I thought, well we can just head over to 69 from here. I was thinking it was only a couple of miles.
Turns out it's actually EIGHT miles, so I admit that after a few of them I felt kind of silly – I was only doing this because I wasn't familiar with the streets of New Virginia and didn't know exactly how I could pick up R45 on the south end of town (when in reality it was probably a matter of just cutting back over to the west at the other end of the barricaded area), and here we were going 20 miles out of our way just to avoid a few old settlers.
Ah well, I thought, this is the way we roll – east when we want to go south, 20 extra miles to avoid even the possibility of hitting a short stretch of gravel. We finally caught 69 at the tiny town of Medora and headed back to the southwest. This was a very pretty stretch of road, and eases straight into the northeast end of Osceola. We stopped for a quick potty break, where to my relief everyone confirmed that the detour had made for a nice ride. We then continued a few more blocks south past the square to pick up Highway 34 going west, and arrived at Chipp's Harley Davidson on the west end of town.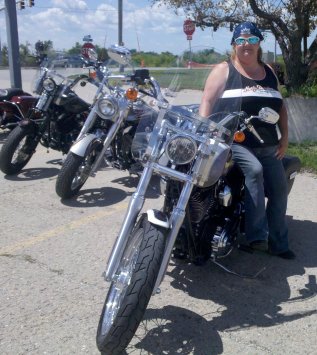 We shopped for do-rags (you'll recognize Steve on the road now because he new 'rag has smiley faces all over it!) and I picked up a few copies of the new Throttler magazine, which has one of my articles in it. I was so excited to see my name in print in a biker magazine that I hustled over to the rest of my group and pointed it out; a salesman for the dealership overheard me and asked me to autograph a copy for him – that was a first for me, and it gave me a huge chuckle.
Finally we were ready for lunch and as we were getting ready to leave out in the parking lot, a very nice guy named Larry came up and asked me if I was "Biker Chick." I laughed and said yes, and he mentioned to me that he reads and enjoys the blog. I'm always surprised when this happens, and I'm delighted any time someone takes a moment to introduce themselves as a reader. Thanks, Larry – it was great to meet you and very nice of you to say hello!
We back-tracked up the road a half-mile to have a leisurely lunch at the Family Table restaurant – another of those locally owned Iowa diners that brings you more food than you can possibly eat for a very reasonable price – and then headed home the same way we had come in.
Stopped long enough to snap a couple photos of the Osceola statue on this end of town – a large carved totem by artist Jesse Kuhs, honoring the Seminole Indian leader for whom the town is named.
We traveled home northward along Highway 69, stopped again for a final break at Route 65 HD in Indianola, and took R63 back into Des Moines.
I am enjoying these shorter rides, but I think I am going to have to actually get off my duff and plan ahead a little bit – I'd still love to get around to visiting the Grotto of the Redemption and the Villisca Murder House this year, but that's not going to happen if we don't get out the driveway before 10:30 a.m.!
Neat stuff happening, just a few links to share. My friend Steph (IowaHarleyGirl!) alerted me that my review of Sonny Barger's book was quoted on none other than Sonny Barger's website! I had seen that Motor Sports Newswire had done this also, but was tickled to see the link back to BCN from the Barger website too. I'm glad they all found something snappy and quotable! (And by the way, Steph's review of Barger's book was also quoted – neat!)
I have two articles in regional biker publications out now – if you are in the area, hope you will pick up a print copy of each of these. You can also read them online at the links below!
Throttler Magazine published a piece I wrote about Tina Anders-Grover, Alligator Bob Martin, and Jan Wilen – all artists who create custom motorcycle seats using leather tooling techniques.
And, Thunder Roads Iowa – now under new ownership – ran my article about why I love to ride in Iowa. Thanks to both of these awesome publications for the opportunity to appear in print!
And finally, my friend Sarah was in a bike accident this week – my thoughts and prayers are with her and I ask again that EVERYONE please, make sure the way is clear before you pull into traffic. The life you save by looking TWICE could be that of someone you love!
More soon!!
Last Sunday I took a solo ride with Kitten – I was really wanting to ride, but Steve had something on the lathe he wanted to work on, so I decided to head out in search of an Iowa attraction he didn't have much interest in anyway: the Iowa Arboretum.
The arboretum is a park-like facility northwest of Des Moines that showcases hundreds of native and non-native trees and plants. There are perennial beds, landscaped viewing areas, trees and shrubs – and since one of my other interests in life is gardening, I've always wanted to go there and simply have never taken time.
One of the rides we've taken occasionally when we want to go but don't have all day to travel is a loop that takes us past Saylorville Lake, past Big Creek State Park, and up to Madrid and back again. The arboretum is just a bit farther north than Madrid, so adding it to the loop was a snap: heading west on Highway 210 out of Madrid, just past the "alien structures" (which don't look so alien anymore, now that there seems to be a walking path up on top of them), is a turn-off onto a county road that takes you to the Boy Scouts' Camp Mitigwa.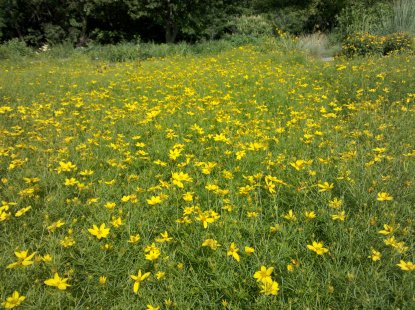 That road becomes R26, which is one of those Iowa gems: easy, sweeping curves, a hillcrest (clearly marked with a yellow sign reading "HILL," just in case you weren't sure) offering a really pretty view of the valley at the bottom, lush green Iowa meadows and hard-working homesteads on both sides of the road. R26 comes to a T at E57, and the arboretum is at the end of a turn-off just back to the east of the T.
This is the type of place where I could easily spend an entire afternoon – it's just over 375 acres, and I didn't even scratch the surface of exploration since I only stayed about 30 minutes. I did manage to take some neat pictures of the small portion I walked through.
Back on the bike, I continued east on E57. Looking for Highway 17, I discovered that it's poorly marked: I came to a two-way stop and since this was approximately where I was expecting to find 17, I took a chance and turned to the south. A few hundred yards down the road, there was my "State 17" sign. Would've been helpful to have a "Junction" sign back on E57, but at least I was on the right road.
This took me back through Madrid, where I stopped for a potty break and then headed home on the same roads I had taken on my way up: past Big Creek, through Polk City, and past Saylorville.
Notable things I passed:
A woman riding alone – she had a red touring bike and was wearing a bright red leather jacket with fringed sleeves. She waved enthusiastically as we passed each other, and I did likewise.
Several areas where recent heavy rains have gully-washed gravel and debris onto the road.
Extremely high water levels of the Des Moines River: I'll be really surprised if it doesn't flood this year.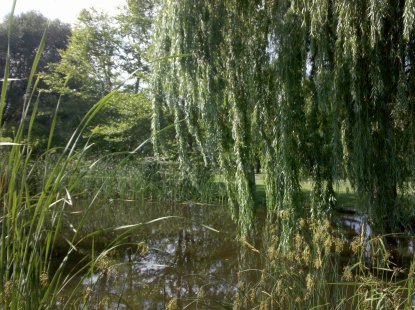 And one thing I managed to avoid: I was riding at one point about a hundred yards behind an SUV towing a boat, and the fabric cover on the boat suddenly ballooned up and blew off. I slowed way down, but it floated like a giant purple parachute off to the side of the road. Since the driver kept going, I'm not sure he even knew what had happened!
In all a really nice ride, and a little outside the norm since I don't ride alone all that often. There are a few more photos over on Webshots.
I am still job-hunting these days but I will admit that the one thing I like about being unemployed is that I don't have to wait for the weekend to take a day trip! Last week we were invited by new pals Janet & Gerry to take a ride on Friday the 25th in search of some of the towns in our local HOG chapter's "scavenger hunt" series.
In the scavenger hunt, the idea is to ride to a list of towns and take pictures of yourself and your bike next to something that identifies the town – a welcome sign, post office, etc. – and turn in your photos to compete for prizes. Janet had mapped out a loop that would take us to three of the towns: Swan, Columbia, and Derby, and back up to Indianola for a visit to Route 65 Harley Davidson.
We couldn't have had a more perfect day for a ride – sunny and hot, but not too humid. Steve had decided he wanted to reminisce about "the old days" and try riding without his windshield, which he had removed the day before while cleaning his bike. "I'll just try it 'au naturale,'" he said.
We took off from Big Barn HD around 9:30 a.m. and headed south through Des Moines, past the state fairgrounds and then along Vandalia Road – which, once you get past the industrial "arm pit" portion, is a very pretty ride to the southeast.
We turned south on Highway 316 and took that to Swan, a tiny town of about 120 and at least one very friendly old, fat yellow lab who greeted us as we parked in front of the town hall. We snapped our photos and remarked on all the water we'd seen – the Des Moines River is out of its banks again, and it looks like we could easily be in for another "hundred-year flood."
We left Swan and picked up Highway 5 heading southeast, then turned south at Highway 14. Our next stop was supposed to be Columbia. We soon came upon a nice junction-type intersection that I was sure would be our turn – only it wasn't. Kept going, and shortly came up over a hillcrest and suddenly our turn was on the left – not marked with a regular green highway directional sign, but the only indication being a white sign on the left bearing some sort of commercial message along with the name of the town and an arrow.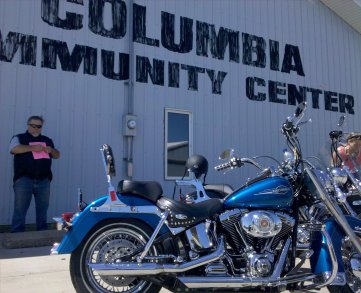 I managed to get slowed enough (down from 55) to safely make the left-hand turn, as did Gerry and Steve – but Janet, who was directly behind me, did not. She was forced to make a nasty U-turn in the middle of the highway, with that stupid hillcrest preventing a really safe judgment as to oncoming traffic. She safely made the turn-around and joined us on the road into Columbia – a town so small its population is not even noted on my state map.
We paused for more pictures in front of the Columbia Community Center and I think that between the guy running the tire shop, the guy driving back and forth (why?) hauling a long horse trailer, and the older man sitting on his porch next to the park, we saw all the permanent residents of the town.
We headed back out toward the highway and watched Janet almost get skewered by a guy driving a large industrial forklift – for some reason (maybe because I was in the lead and displaying too much blindingly pale cleavage, but I can't be sure) he wasn't paying full attention, and turned VERY wide out onto the road into our lane – I zipped past him okay but Janet had to scoot wayyy over to the right, all the while staring down the barrel of one of two giant "tines" on his forklift.
Needless to say, we were glad to leave Columbia behind and continued south down Highway 14. (This is as good a time as any to caution you: if you are a motorcyclist in Iowa, Highway 14 hates you and wants to kill you by rubbing you painfully over its washboard road surface.)
South of Chariton, we picked up H50 and headed west over to Derby, our third stop. Once there, we pulled in front of the Post Office ("US Vehicle parking only" – hey, we are from the US so we parked there – plus, the postmaster had clearly marked the front door "out to lunch."), and immediately noticed that the PO was the only building in the short little strip that was presently occupied by anything other than possibly animals – everything else, though in the past they must have been businesses, appeared to be empty.
I think it was here that Steve made the off-hand statement that he'd be putting his windshield back on when he got home. I'd thought about him back there, every time a large bug would hit my windshield, and knew he had to be taking at least as many direct hits. He had had enough of 'au naturale.'
We picked up Highway 65 to the north just outside of Derby – a section of highway obviously in cahoots with Highway 14 – and rode north into Indianola. A visit to Route 65 HD and lunch at the One Stop completed our trip – from there it was a straight shot along Highway 65/69 into Des Moines, where we waved good-byes to Janet & Gerry as they continued north.
It was a beautiful day, and the good news is my cleavage is now getting tan so I won't be blinding any forklift drivers for the rest of the summer. And, bonus for Steve: without the windshield he was afraid he would lose his favorite hat so he rode without that, too, and later found that his, um, thinning hair… had caused his scalp to be vulnerable to the sun's rays. Needless to say, a top-of-the-head sunburn makes hair brushing a little painful.