You ride what?? Setting up a Sportster for long-distance rides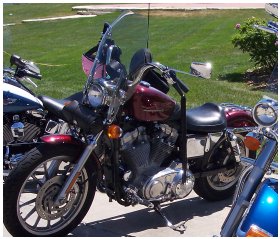 I was talking about the Estrogen Ride at work the other day and one of the guys asked me "how in the world" do I have any fun traveling long-distance on a Sportster? It's true that the Sporty is not really intended to be a touring bike, but mine has been set up with several Harley Davidson parts that make it a whole lot better for road trips than the stock machine. I was fortunate that most of these were already on the bike when I bought it, but they are all things I would have added myself anyway.
Here's a list of the stuff on the bike that specifically contribute to its long-distance capabilities, at least for me:
Forward controls kit
Detachable SuperSport Windshield
Buckhorn handlebar kit (including longer cables)
Chrome Luggage rack
With all of these Harley parts and the other stuff I've added to the bike, it rides as well as any pre-2004 (non-rubber mount) Sporty can ride. Of course, I love to shop so I have a few Harley accessories on the bike as well that don't affect it's touring suitability – but they sure do add to my enjoyment of the bike:
Leather tank bra
Live to Ride primary cover
Chrome oil tank cover
Straight pipes
Finally, I've got a few other HD items still on my wishlist (hey, birthday's comin' up – a girl can dream, right??):
Chrome engine guards with highway pegs
Color matched hard bags
Two-up Reach seat with passenger backrest
Chrome master cylinder cover
Chrome hand levers'
Chrome belt guard
"Buckshot" air cleaner cover
And, I want to try mini-ape handlebars instead of the buckhorns (what can I say, I love the look!)
Of course, none of this would be necessary if I would just buckle and trade the Sporty in for a Low Rider, but that's a whole 'nother can-o-worms!