I'm stoked!! Or pumped… or whatever it is the cool kids say these days when they mean, "I'm excited!" I invited Vicki Gray of Motoress to have a chat about her latest project, National Female Ride Day, coming up THIS FRIDAY, MAY 4, and she responded with some great insights not only into the inspiration for and purpose of the event, but also into the phenomenon of women in motorcycling.
BIKER CHICK NEWS EXCLUSIVE!
Interview with Vicki Gray, organizer of National Female Ride Day!
Racing professional Vicki Gray of Toronto, Ontario, Canada is organizing National Female Ride Day (NFRD) on Friday, May 4, 2007 to encourage and salute all women who ride motorcycles! An experienced organizer throughout nearly 25 years of riding and racing motorcycles, Vicki has ridden and enjoys all types of motorcycles. She has taught motorcycling to beginning riders, and taught advanced skills to members of the law enforcement community. Here is Vicki's complete bio.
Back at the beginning of April, I asked Vicki if she would provide some information for Biker Chick News readers about National Female Ride Day. She was kind enough to respond to my emailed questions, and I've provided the interview here so you can see what NFRD is all about.
My heartfelt thanks to Vicki for her willingness to contribute to Biker Chick News!
What spurred the idea for National Female Ride Day?
Always wanted to initiate the day, just timing and busyness prevented it from being realised—not failing the past 6 years of my road racing demands in Europe (busy). Now that I'm not officially racing and with the relocation and launch of MOTORESS, the timing was right. There are many activities for women, fundraisers, and clubs yet not once has there been a day to simply celebrate female riders—shine a light on women who ride. In addition, the whole idea behind MOTORESS and my former brand RACEGIRL MOTORSPORT in Europe was to spotlight and encourage female riders. This is an awareness campaign full of encouragement by the many examples of female riders out there.
How do you go about promoting something that you want to be a national event? How has your strategy worked?
Fortunately, the MOTORESS website and my RaceGirl Motorsport website in Europe enjoy many visitors, so this is one way to spread the word and inform. Additionally, without sounding bold, perhaps my prior reputation—I do have a bit of a background ;-) Europe is a very serious motorcycling and motorsport community. I was intensively active and involved there. Strategy step one was to ensure every dealership in Canada had a poster and a tip sheet in order to support the day. The manufacturer's were very pleased to get involved, I think particularly as the brand and image of NFRD is rather modern, edgy and reflects confidence. It's wonderful to see all brands working together. Then there are people like you Janet, supportive, enthusiastic and interested. The entire goal is International Female Ride Day — each year at a time, an additional country. 
The number of women riders is growing. Why do you think that's happening?
Well, this is interesting; I think its just plain old human development; modern advancements of our culture. Women have been riding, racing and breaking distance records since early late 1800's. I think today's woman is more versatile—you might also say why are more women owning cars, houses, vacation properties? The borders within our definitions of being female have expanded and evolved just as everything else in our culture. Plus I think we are no longer standing around waiting for our lives to be defined by a man, as was pretty much the case in the past (50's). Again, this is simply the advancement of our times/culture. 
Do you think there are still any real barriers to women becoming riders? If so, what are they?
The only barrier I can see is that we are still raised under traditional female expectations — meaning the conditioning of being female, what we are suppose to be doing and not. This all starts at birth. We need to be more exposed to things like motorcycling and shown that it is something a girl can do. Not something dangerous, more of a curiosity, something to explore rather than to be intimidated or frightened of. Often we are our own barriers, not our fault. How many females, non-riders I approach and invite them to try motorcycling. I usually hear—it's frightening, I might get hurt, going around a corner makes me anxious, its so big, scary, etc. Certainly, things have changed, yet we'd only be fooling ourselves to deny it.
Additionally how do we juggle everything in life? Job, partner, career, family/children, pastimes, motorcycling. In my women studies, much is revealed simply in our nature, which can put an activity such as motorcycling at low priority. The motorcycle remains something masculine, not female.
What do you hope NFRD accomplishes, in terms of number of riders, or messaging, or whatever measure you are interested in?
I hope NFRD demonstrates to our culture(s) just how many women are riding—there are many, and more importantly, there have been many. All ages, all styles (scooter, sport bike, cruiser) and that this day will bring all the diversities together. Shine a spotlight on females, create awareness and encourage others to take it up. It's not a new idea for women. Bring together, just for one day, the various clubs, groups, types realising we are pretty much doing this for the same reasons—whether you decide to wear fringed leathers and get a tattoo or fly high in the air on your motocross bike, speed down the road in pink on your Sportbike, or tour on your Gold Wing. Not sure what to expect regarding numbers—I know its already exceeding more than I imagined just by the emails and newsletter sign-ups MOTORESS is getting each day! I'm worried about having enough budget to mail the souvenir memento!
 
Why is motorcycling so appealing to you personally, and do you think that's a common reason why other women ride?
Its appealing to me because it's demanding both mentally and in the ability/skills and it is something that fits with my lifestyle/personality. It's also an edgy activity, well, the way I tackle it—I've always been a thrill seeker and as you are aware by now, have enjoyed much racing. Not all women have this thrill need and in fact there are few willing to venture to the real edge (I underline the real edge), but this is what it is for me. If there is one common reason, women ride being that motorcycling is so individual and we all have our unique reasons, it might be that it expresses and represents a non-limit. Something big, we demonstrate to others, and ourselves we can do. In addition, its such an outlet from everything else considered typical in our female day.
 
What kind of bike/s do you own and ride?
Right now I have a new Ducati 1098S. I'm partnered with Ducati North America and I've been racing Ducati's and riding for some years now. I also have a 150cc KYMCO scooter—I think everyone should have one (it'll go 120km an hour)—it's a very logical first step for a young female learning to ride. Many seem to laugh when I say I have a scooter—to me, anything on wheels is a blast. Just one year ago before relocating to Toronto, I had a Ducati 900SSC for the street, a Ten Kate Honda CBR600RR for my racing /track, and a Husqvarna 250 two stroke for off roading. Two of these bikes were kept in my kitchen (guess that tells you what kind of a cook I am!).
Visit the homepage of Vicki's new business and personal venture, Motoress, for more inspiration and a true celebration of women who ride!
Have comments about NFRD, or have your own take on one of the questions I asked Vicki? Let's hear 'em!

Just wanted to give you a heads-up about a special feature coming up here on Biker Chick News: next week, I'll be sharing my recent Q&A with Vicki Gray, the organizer of National Female Ride Day!
Had a nice weekend on the bikes… Friday night we rode down to Indianola for their first bike night of the season. This just continues to be one of the best summertime events in our area – great weather, live music, hundreds of awesome bikes to oggle and drool over. On Saturday, we rode up to our HD dealership for the annual "blessing of the bikes." This is a season kick-off event where bikers gather for a non-denominational group blessing, followed by individual prayers for those who want them. We spent a couple hours enjoying the beautiful day, the live music (you gotta love a Christian band that plays "Family Tradition" by Hank Williams, Jr.!) and the fellowship, as well as the all-you-can-eat chili served in the HOG club-house afterward. Later that afternoon we took a two-hour ride with the neighbors – Kristin has a new Sportster 1200 Custom – before calling it a day. It was windy (again) but probably will be until June so we can't really avoid it.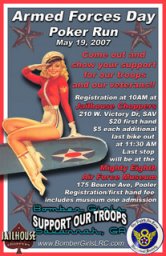 The Bomber Girls will be having their first run on May 19th, Armed Forces Day. The Girls are a group of riders working to benefit the USO, in support of U.S. military troops all over the world. Their May 19 run takes place in Savannah, Georgia, where they'll have servicemen working the stops along with the riders, so head on in to Savannah and support our troops and veterans – tell one thank you!Registration begins at 10 AM at Jailhouse Choppers' new location at the corner of Victory and Barnard in Savannah. (Thanks guys!!! www.MySpace.com/JailhouseChoppersINC), last bike out at 11:30 A.M.
The run will end up at the Mighty 8th Air Force Museum, and the $20 first hand/registration fee includes one admission to the museum.
Come out and help The Bomber Girls make this first run a success!!!
In the Hey, We Could've Told You That Department, here's a syndicated article making the rounds of internet news sites. Here are some interesting demographics, then a link to the full article: "…women make up nearly 10 percent of motorcycle owners — a 36-percent jump in the number of overall owners since the council's previous survey in 1998. The median age for female motorcyclists is 42 — 60 percent are married, 28 percent have a college or post-graduate degree and 35 percent are in a technical or professional career."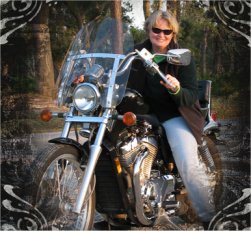 WileyGrl aka JuJu, in the Florida panhandle, took the MSF course and got her 1994 Suzuki 800 Intruder near the end of 2006 and did her first group ride on St. Patrick's Day, 2007. Now that she knows she can handle it, she's looking forward to many more group rides and her first rally: Thunder Beach at Panama City, Florida in early May. Wiley calls her bike Raven or Coyote—both names of tricksters from Native American folklore. She likes thinking of her bike as clever, tricky, and existing outside the realm of ordinary life. Read about her rides with Coyote and her other adventures on her blog, Works in Progress: http://wksinprogress.blogspot.com/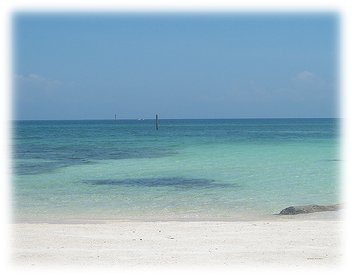 Well the weather here is awful – AGAIN! It's been below 40 degrees every day for the past four or five days, with overnight temps below freezing, and it has cold-snapped all the tender plants and just about assured we'll have no flowering trees or any other spring flowers. It sucks!! So, I'm glad to see that folks in warmer parts of the country are still getting out to ride. I found this news item today that's just one of those "feel-good" stories that makes you wish you were part of the big column of bikes. Riders in southwest Florida, including the Chrome Divas, spent their Easter Sunday taking stuffed animals to kids in local hospitals and indeed, making sure the hospitals had plenty of toys for kids all year round. Here's the scoop from the Fort Myers News-Press!

Brycie had just returned to NW Indiana from the Chick's Run in Wyoming, when she turned 'round and headed out with a couple of gal pals for the AMA Women's Conference in Athens, GA. They rode the Tail of the Dragon twice on that trip!
Really wanted to share this link with you about Jocelyn Dorsey, an Atlanta television station executive who is riding her Harley from Alaska to Florida this year. You can read about her background as a motrocyclist and her initial thoughts about getting the trip underway in the online edition of the Atlanta Daily World, with more installments to come as the trip unfolds. Here's Jocelyn's story!
And just in case these types of stories inspire you as much as they inspire me, here are a couple others you'll want to read:
Six women, three countries, 31 days, 31 states… it's Old Bags On Bikes!
One woman, 48 states, 1 year… Donna Y. honors the legacy of her husband by riding across the US on an amazing solo tour.
Got a story to share about the "journey of a lifetime"? Send me the link or the info so those of us who are still dreaming can dream a little bigger!