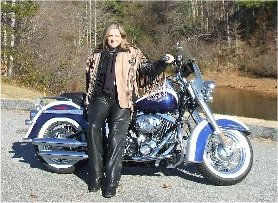 Here's Jean with her 2007 Harley Softail Deluxe – 96 cubic inch engine, six-speed transmission… and SWEET Deep Cobalt Pearl and White Gold Pearl paint scheme. Jean's photo was taken at Lake Keowee off Hwy 11 in South Carolina.
What Bike Should I Get? – This question has a zillion possible correct answers, depending on your comfort-level with riding at the time you're ready to shop, the type of bike you want to own (sport bike? cruiser?), your budget, your personal tastes, brand appeal, etc. For simplicity's sake, though, I'll take a stab and answer the question directly assuming you want a cruiser that's similar to what you used in your MSF course. The three major manufacturer bikes I would recommend for absolute beginners are:
The Yamaha Virago 250 – a great-looking, easy to handle V-twin.
The Honda Rebel 250 – classic-styled, chain-driven 250
The Kawasaki 125 – single-cylinder five-speed, air-cooled commuter bike
If you're confident in your abilities but not ready for the heavyweight cruisers, there are a few more choices. These are my favorites, in no particular order:
The Yamaha VStar 650 – Classic, custom, or Silverado styling; an awesome middleweight cruiser you may never outgrow.
The Honda VLX or VLX Deluxe – Low to the ground, four-speed 600.
The Honda 750's: Aero & Spirit – five-speed bikes with forward controls
Harley Davidson Sportster 883, Standard or Low – If your heart's set on Harley, the 883 has the HD looks, sound and agility. Of the majors, only the Honda Aero has a lower seat height.
Kawasaki Vulcan – sizes range from 500 to the 900 Classic.
Suzuki Boulevard C50 and S50 bikes – five speeds, forward controls, higher seat height
For a more thorough comparison of these and other bikes, try the BikerChickNews Short Rider Spreadsheet. Although it was intended to be a round-up of cruiser models for shorter riders, it also serves well as a guide to mid-weight bikes from various manufacturers. It's by no means complete, but it might be a good place to start.
Women riders in the news at the Daytona Beach News Journal Online. Oh! And guess what: I GOT TO RIDE TODAY!! That's March 11, first ride of the year! It was upper 50's here today and I had intended to just get the bike out of the garage and clean 'er up/inspect, because we still have a patch of frozen gunk at the end of our driveway. Then my neighbor came out, got on her bike and rode away, and I thought, hell's bells, I'm goin' ridin'! I just took a ride around town on the main streets (too much sand still on the side streets), ran out of gas and had to switch to reserve and then fill up… but hey, I was so freakin' HAPPY to be out on the road. I feel SO much better!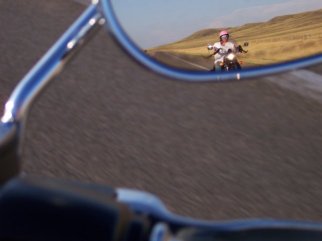 I've said it before: women learn differently than men. My personal feeling is that we're more cautious, more studious, and less "just do it." We're also pretty supportive of each other in general, but when serious questions arise about how, exactly, one gets started riding motorcycles, that can lead to inadvertant sugar-coating and very vague answers given in such a round-about way as to be completely meaningless. So here is an attempt to bust through all the nicey-nice… you can still get that elsewhere… and just answer some questions directly. We'll take it in small chunks because, well, it's just easier to write it that way. The first question for a new rider always comes from that place in the woman's heart that wants to be practical, yet take a risk, yet not have any nasty surprises as she's getting started down a new road. The question is, "What do I need to get started?"
It's tempting to try to pass this question off with something really vague and diplomatic like, "That's different for every person." But since this isn't the nicey-nice Beginner's Guide, I'll take a stand and say you can actually boil it down to a short list of five things you need to get started riding. Here they are:
You need a practice bike. Borrow or buy a small-cc brike from someone who can show you the proper start-up procedure for that bike. (They're not going to teach you to ride, but it would be helpful if they could show you how to start the bike.) Don't forget insurance.
You need some safety gear. A DOT-approved helmet, leather or armored textile jacket, and sturdy riding boots that cover your ankles and have solid gripping soles are necessities. Some type of gloves, at least the fingerless style that cover your palms, are also a good idea.
You need instruction. You can learn from a trusted, experienced friend or spouse, but you run the risk of picking up bad riding habits. The Motorcycle Safety Foundation (MSF) offers courses at venues across the country, and some insurance companies offer a discount if you train with MSF.
You need a practice area. Just because you pass your MSF doesn't mean you'll feel comfortable enough to cruise out on the highway immediately. A large parking lot, preferably empty, is ideal.
Finally, you need support, or at least encouragement, preferably from an experienced rider. Tackling a new skill is always easier if you have someone to cheer you on or even help you learn and practice. At a minimum, you need a person who will speak encouraging words and who won't constantly berate you for trying or blather on about the horrible accident their friend's cousin was in.
So that's it, the bare necessities if you want to learn to ride. Don't skimp on 'em, they're important. Experienced riders, anything you want to add? Just send me an email!Part Two of the No-B.S. Beginner's Guide will cover the most burning question new riders face: "What Bike Should I Get?"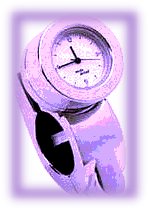 I am a shopper. In fact, shopping for bike accessories is one of my favorite past-times. There is, however, a disturbing trend I've noticed recently.
Timepieces for motorcycles.
I first encountered this a couple years ago while shopping online. One of the neatest "new products" was a clockface that could easily be mounted to my handlebars. It was simple, sleek, attractive, and inexpensive. And my first reaction was, "How clever! How useful! I must have one!" I had my finger on the "submit order" button when the tiniest speck of doubt crept in. It wasn't a fully formed opinion, it was just a nagging feeling. But it was enough to make me abandon my virtual shopping cart.
A few months later, I was in my local Harley Davidson showroom. The first of the '07's were finally on the sales floor, in all their 96-cubic inch glory. My favorite sales rep, who was always so friendly even though he'd been trained to know I wasn't in buying mode just yet, immediately pulled me over to the new Sportster 1200, flipped on the ignition, and announced, "You're going to love this – look: a built-in clock, built into the speedo!"
I took a reactive, involuntary step away from the bike. Uttered some non-committal things simply as a way to extricate myself. And went to hide among the HD pet-wear so I could ponder in relative peace: why is everyone pushing timepieces for motorcycles? And why do I instinctively, almost primordally, resist??
The answer's really kind of a no-brainer. Like that handlebar clock, it's beautiful in its simplicity. I don't want to know what time it is when I'm on the bike. Keeping time is synonymous with schedules. Pressure. Real life. And I use the bike to escape all of that.
One of the best moments in "Wild Hogs" occurs at the end when Peter Fonda, in his cameo role as the wise old biker dude, advises our heroes to ditch their wrist watches. So I'm confident I'm in very good company on this one. And I'm still searching for that next simple, sleek, attractive, and inexpensive chromey bit to put on my bike. Something that doesn't remind me of the world I'm trying to leave behind.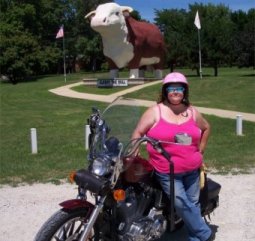 Remember my brave proclamation back in November? Well, I give up. I have officially crossed the line from understanding, tolerating, and barely holding on through winter… and am officially over-the-edge. A biker chick can only take so much, and I admit: I'm overcome by cabin fever. Crazy. SICK of winter! I know, I know… I said was gonna chat, and shop, and plot road trips, and all that other crap, to keep from going nuts. And it worked… for awhile. So what happened? Well it wasn't a slow descent, I can tell you that. It was a distinct *SNAP.* What happened was the culmination of the events of the past week. Here's the list: we got our latest edition of "Hog Tales" in the mail. Mother Nature dumped the second snow-and-ice storm on us in a two-week period. And "Wild Hogs" debuted and we braved the weather to go and see it on opening day. So I've been reading all about other people's biking adventures, and how much their bikes mean to them, and all the great destinations that await… and I've been trudging through hard-packed/drifted snow with an inch-thick ice underlay just to get to my car… and I watched Travolta & crew travel cross-country, braving the locusts and the accidental fires and confrontations with the Del Fuegos (but they were on BIKES, so that hardly counts as strife!)… and now I'm officially in bad-weather-complaint mode. So just for the record, WINTER SUCKS!! I'm ready to ride.
If you've ever been accused of being a RUB ("rich urban biker"), you'll love the new Touchstone comedy "Wild Hogs." The movie stars John Travolta, Tim Allen, Martin Lawrence and William H. Macy as middle-aged friends who decide to kick their weekend riding up a notch and take a cross-country road trip on their Harleys. The trip is frought with comedic peril as the guys encounter swarms of locusts, gay cops, infrequent gas stops, and a burly gang of "real bikers" led by Ray Liotta. Their various motivations for taking the trip all collide in a final showdown with the biker gang, and in the end it takes Peter Fonda to set it all straight. The epilogue that rolls during the closing credits gives us a peek at how the guys are able to have the last word with the bad-ass bikers. A few of the gags in the movie seemed to occur without much setup, so at times it felt a little dis-jointed… but, I had a great time with the guys' journey and their various mishaps. I'm not too familiar with Macy, but he gave a lot of depth to the nerdy computer programmer Dudley, who tried real hard to be a bad-ass by getting a "tat" and who needed a little more practice on his Sportster. Tim Allen was absolutely loveable as Doug the Dentist, tiring of his cholesterol-conscious diet and facing the notion of growing older. Martin Lawrence – for once out of a gender-altering "Big Mama"-style costume – was delightful if hen-pecked; and Travolta's growing sense of panic as Liotta's gang pursues them was hilarious. Early cameos by the Teutels and supporting appearances by Marisa Tomeii and Jill Hennessey were amusing and charming. We had a great time with this movie – sure it was a little predictable, but much of it was laugh-out-loud funny and there were moments that were purely unexpected that made it a blast. Enjoy!
Women riders in the news at the San Diego CityBeat.