"Lose the Watches…"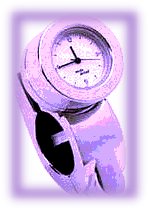 I am a shopper. In fact, shopping for bike accessories is one of my favorite past-times. There is, however, a disturbing trend I've noticed recently.
Timepieces for motorcycles.
I first encountered this a couple years ago while shopping online. One of the neatest "new products" was a clockface that could easily be mounted to my handlebars. It was simple, sleek, attractive, and inexpensive. And my first reaction was, "How clever! How useful! I must have one!" I had my finger on the "submit order" button when the tiniest speck of doubt crept in. It wasn't a fully formed opinion, it was just a nagging feeling. But it was enough to make me abandon my virtual shopping cart.
A few months later, I was in my local Harley Davidson showroom. The first of the '07's were finally on the sales floor, in all their 96-cubic inch glory. My favorite sales rep, who was always so friendly even though he'd been trained to know I wasn't in buying mode just yet, immediately pulled me over to the new Sportster 1200, flipped on the ignition, and announced, "You're going to love this – look: a built-in clock, built into the speedo!"
I took a reactive, involuntary step away from the bike. Uttered some non-committal things simply as a way to extricate myself. And went to hide among the HD pet-wear so I could ponder in relative peace: why is everyone pushing timepieces for motorcycles? And why do I instinctively, almost primordally, resist??
The answer's really kind of a no-brainer. Like that handlebar clock, it's beautiful in its simplicity. I don't want to know what time it is when I'm on the bike. Keeping time is synonymous with schedules. Pressure. Real life. And I use the bike to escape all of that.
One of the best moments in "Wild Hogs" occurs at the end when Peter Fonda, in his cameo role as the wise old biker dude, advises our heroes to ditch their wrist watches. So I'm confident I'm in very good company on this one. And I'm still searching for that next simple, sleek, attractive, and inexpensive chromey bit to put on my bike. Something that doesn't remind me of the world I'm trying to leave behind.