The No-B.S. Beginner's Guide to Learning How to Ride A Motorcycle – Part 1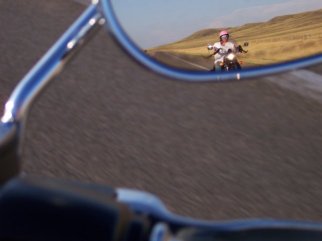 I've said it before: women learn differently than men. My personal feeling is that we're more cautious, more studious, and less "just do it." We're also pretty supportive of each other in general, but when serious questions arise about how, exactly, one gets started riding motorcycles, that can lead to inadvertant sugar-coating and very vague answers given in such a round-about way as to be completely meaningless. So here is an attempt to bust through all the nicey-nice… you can still get that elsewhere… and just answer some questions directly. We'll take it in small chunks because, well, it's just easier to write it that way. The first question for a new rider always comes from that place in the woman's heart that wants to be practical, yet take a risk, yet not have any nasty surprises as she's getting started down a new road. The question is, "What do I need to get started?"
It's tempting to try to pass this question off with something really vague and diplomatic like, "That's different for every person." But since this isn't the nicey-nice Beginner's Guide, I'll take a stand and say you can actually boil it down to a short list of five things you need to get started riding. Here they are:
You need a practice bike. Borrow or buy a small-cc brike from someone who can show you the proper start-up procedure for that bike. (They're not going to teach you to ride, but it would be helpful if they could show you how to start the bike.) Don't forget insurance.
You need some safety gear. A DOT-approved helmet, leather or armored textile jacket, and sturdy riding boots that cover your ankles and have solid gripping soles are necessities. Some type of gloves, at least the fingerless style that cover your palms, are also a good idea.
You need instruction. You can learn from a trusted, experienced friend or spouse, but you run the risk of picking up bad riding habits. The Motorcycle Safety Foundation (MSF) offers courses at venues across the country, and some insurance companies offer a discount if you train with MSF.
You need a practice area. Just because you pass your MSF doesn't mean you'll feel comfortable enough to cruise out on the highway immediately. A large parking lot, preferably empty, is ideal.
Finally, you need support, or at least encouragement, preferably from an experienced rider. Tackling a new skill is always easier if you have someone to cheer you on or even help you learn and practice. At a minimum, you need a person who will speak encouraging words and who won't constantly berate you for trying or blather on about the horrible accident their friend's cousin was in.
So that's it, the bare necessities if you want to learn to ride. Don't skimp on 'em, they're important. Experienced riders, anything you want to add? Just send me an email!Part Two of the No-B.S. Beginner's Guide will cover the most burning question new riders face: "What Bike Should I Get?"