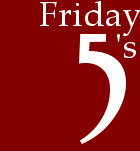 In celebration of Women Riders Month and Biker Chick News's fifth birthday, I thought I would invite a fellow biker-chick blogger to write the companion to last week's "Friday Fives." So, while I provided my "5 reasons to ride your own," here is Stephanie (aka Iowa Harley Girl) to take the flipside with "5 Reasons to Ride Pillion."
A big thanks to Janet at Biker Chick News for asking me to write 5 Reasons to Ride Pillion/Passenger!
1)  When you ride your own motorcycle you are unable to see all of the scenery going by because you have to pay so much attention to the road and the crazy people driving cages around you.  Being a passenger you get to see it all.  Plus you may also see hazards that the person you are riding with hasn't noticed and can alert them of them.  One of my favorite memories being a passenger were the beautiful sunflower fields I saw on one of my trips home from Sturgis Bike Week.
2)  If you are afraid to ride your own motorcycle you can still experience a freedom like you have never experienced before even on the pillion seat.  Being on two wheels even as a passenger is such a spiritual experience and you have someone to hold on to if you need that extra sense of security.
3)  Maybe you are unable to afford your own bike so riding as a passenger is the next best thing to riding your own.  This is the reason I don't ride my own.  I can't afford a motorcycle right now.  Riding with my husband fulfills the passion that I have for motorcycles and the open road.  And we have such great memories of our travels that it makes up for me not having a motorcycle right now.  I can't imagine not riding just because I don't have my own.
4)  You may enjoy the thought of the risk factor involved in riding on two wheels but you don't want to be responsible for piloting the motorcycle down the road.  It's like skydiving with a partner except you are on a motorcycle.
5)  Riding Pillion usually stops you from getting hit with rocks or getting bombed by bugs because you have someone in front of you shielding you from all the hazards of the road.  The one hazard that you might have to put up with is being whacked in the head with an antenna if there is a radio on the motorcycle you are a passenger on.  Make sure you get the person that you ride with to change that because it really does hurt getting whacked with that when you are going 65 – 70 mph.