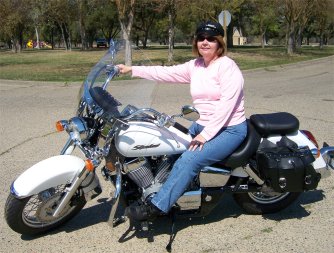 Ronda of Clovis, CA began her riding journey in December, 2006, when she learned to ride at age 55. She passed the MSF course in March, 2007 and had purchased this '07 Honda Aero 750 just prior to taking the class. The bike "just felt right," she reports. This photo shows Ronda on her first long trip after getting her license. She notes that California offers tremendous geographic diversity for riding adventures, including desert, mountains, valley and oceanside highways. Congratulations on your achievement and on the Honda purchase!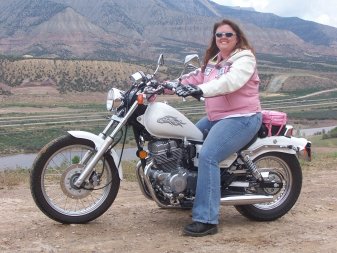 Ramy A. of Battlement Mesa, Colorado is an April 22 graduate of the Colorado Motorcycle Operator safety Training (MOST) program. She's shown here with her Honda Rebel. Way to go, Ramy!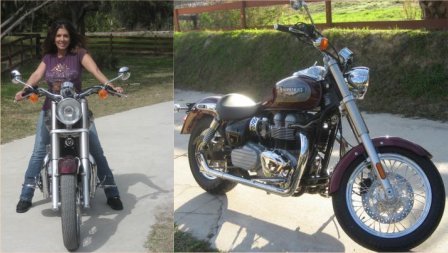 Donna, a.k.a. PaintedLady, of Florida passed her safety course on January 27, 2007 and rides this awesome Triumph America.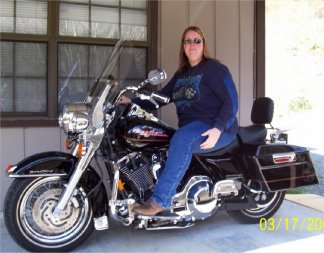 Renee M. bought this beautiful Harley Davidson Road King in early March, and passed her MSF course the following week. At age 40, she says, "I can't believe I waited this long to do this!" Well they do say life begins at 40, Renee – congratulations!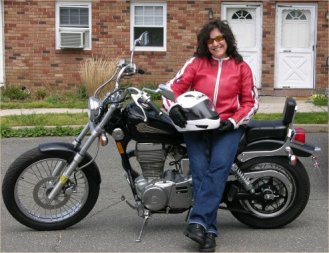 Here's Maria G. and her awesome 1998 Suzuki Savage. "'Squeaky' and I, along with my boyfriend, have been making ever-widening circles around Long Island since I passed the MSF on March 25, 2007!" Great work, Maria!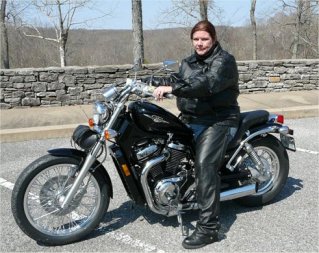 Rachelle of Tennessee just bought her Suzuki Boulevard 800 in mid-March. She's a returning rider and originally started out on a Yamaha Virago. Although weather has been a factor, she's already got 150 miles on the bike and looks forward to many more. Congrats on the beautiful bike, Chelle! Wishing you many happy miles!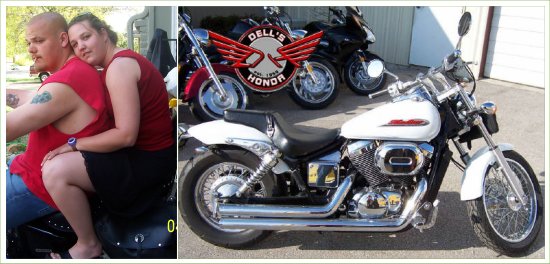 Patricia of Overland Park, KS (riding pillion at left) now has this awesome white Honda Shadow AND a newly-minted motorcycle endorsement on her license as of April 15! Pat says she loved being on the bike with her hubby, but on a trip to Nebraska she decided the view from the front might be more to her liking. She has already been back to Nebraska on her own bike. Congratulations, Pat!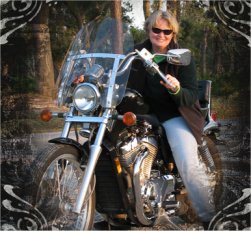 WileyGrl aka JuJu, in the Florida panhandle, took the MSF course and got her 1994 Suzuki 800 Intruder near the end of 2006 and did her first group ride on St. Patrick's Day, 2007. Now that she knows she can handle it, she's looking forward to many more group rides and her first rally: Thunder Beach at Panama City, Florida in early May. Wiley calls her bike Raven or Coyote—both names of tricksters from Native American folklore. She likes thinking of her bike as clever, tricky, and existing outside the realm of ordinary life. Read about her rides with Coyote and her other adventures on her blog, Works in Progress: http://wksinprogress.blogspot.com/

Brycie had just returned to NW Indiana from the Chick's Run in Wyoming, when she turned 'round and headed out with a couple of gal pals for the AMA Women's Conference in Athens, GA. They rode the Tail of the Dragon twice on that trip!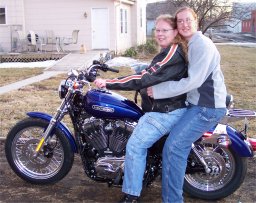 Kristin in Des Moines, Iowa (left) bought this brand new Sportster 1200L in February – and has had one – count 'em, ONE – opportunity to take it for a spin in the four weeks she's owned it. Hang in there, Kris, it WILL get warmer. That's her friend Hollie riding pillion… 'spect we'll see another new bike in that family soon! (Did I mention that Kristin & Hollie are my next-door neighbors? Congrats, ladies – let's ride!!