Friday Fives: Five things bikers do in traffic that annoy cagers and are probably illegal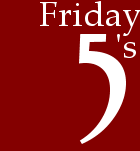 I wrote recently about things car drivers do that annoy and endanger bikers, but I know in all fairness that the reverse is probably also true: sometimes, bikers do things in traffic that annoy drivers, things that are dangerous and/or illegal. Here are a few that come to mind.
1. Block traffic when riding in a group. I'll admit, this practice makes me very uneasy. When there is a large group ride, sometimes a rider or two up front will pull out into an intersection and stop, blocking the oncoming traffic from one or both directions so that the entire group can pass through the intersection en masse. I've been in the midst of it, and certainly it's beneficial to the bikers… but I imagine highly annoying to the drivers who have their own business to attend to and don't care about keeping your group together. I don't think the police are terribly fond of this practice either.
2. Hot-dog in traffic. It scares the holy hell out of me – and pisses me off – when I see a rider doing a wheelie (or any stunt) in traffic. I mean seriously – it might give the biker their jollies but if they crash they will be creating needless trauma for any motorist who sees them hit the pavement and/or runs over them because they couldn't stop in time, not to mention endangering their own life and the lives of others. Completely irresponsible, as are excessive speeding and attempting a rolling human pyramid.
3. Ride without regard for their passenger's safety. Now add to the above, a passenger on the back of an irresponsible rider's bike and you have – an asshole. An asshole who puts another human being at risk of losing their life just so the rider can show off a bit. Of course, you don't have to be a stunt-riding jerk to be guilty of disregarding your passenger. Another example of this is when I see someone with a child on a motorcycle that is too small to reach the footpegs, riding on the gas tank, not wearing a helmet, etc. etc. Seriously, I can think of no likely circumstance where any of this is acceptable. And don't try to tell me about your four-year-old dirt bike prodigy. If he's on YOUR bike and he can't reach the pegs, he should not ride on it. If you are going to ride like a hot-dogging jerk, or even if you are just an idiot in general, do not subject a passenger of any age to your dumb-shittery and poor decision-making.
4. Lane-splitting. Although this practice is legal in California, I am not sure I'd ever have the balls to do it. (Well maybe if I lived in California where it takes 9 years to get across town…) I read a piece via Twitter recently, on the website RideApart, which referred to lane splitting as "… the most natural act of the motorcyclist." (Really? Because I can think of at least five other things that are more natural for a motorcyclist than trying to thread their bike through the "needle eye" gauntlet of pissed-off stop-and-go traffic.) While the article does state that this practice can have "dire consequences," the writer nonetheless encourages riders to practice this skill:
Find a long red light in town where cars tend to back up in two lanes or more, then try and approach it just after it turns red. Carefully pick your way to the front of the queue, quickly calculate the time remaining on the red and, if there's enough, squarely plant yourself in front of one of the lines of cars, claiming your rightful territory.
Um — rightful territory? I'm pretty sure your "rightful territory" is back there in line, behind everyone else who got there ahead of you. But apparently not in California, nor in Sao Paulo, Brazil.
5. Park selfishly in a busy parking lot. This one's relatively minor as far as infractions go, but I'm sure road rage has been waged over much less. Still, it's one of those acts of courtesy you can perform to show the general public that bikers are not all hot-dogging dumb shits. What's parking selfishly for a motorcycle? Arguably, one bike per space when open spaces are at a premium is one example. It should be noted that you are absolutely entitled to one whole space of your very own. You do not HAVE to park two to a space. So it truly is a courtesy if you and your pal park together, assuming you can do so safely. Cagers should thank you for this. But chances are they won't, so perform this random act of kindness like you would any other – without expectation of reward. Other bike parking sins: parking over the line so your bike takes up two spaces… parking in the diagonally-lined space next to a handicapped spot… blocking someone in… unless it's this person. You can block this person in: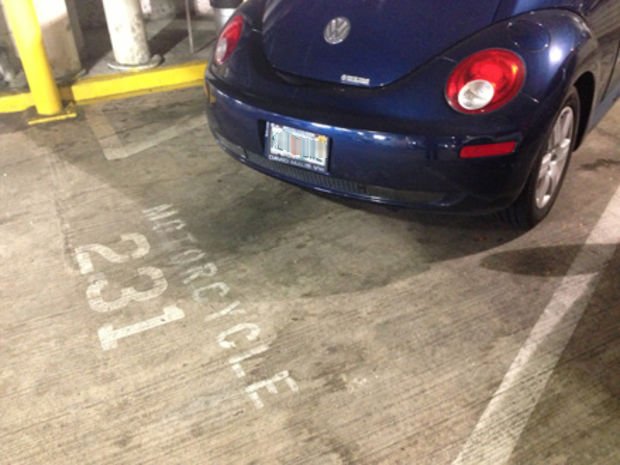 BONUS ITEM 6. Mouth off/instigate road rage. As a motorcyclist, it's pretty hard to bite your tongue when some jerk cuts you off in traffic, refuses to give you room, or any number of sins. And I'd say it's probably well-understood that if one person mouths off in traffic, the other one will probably respond in kind. Cagers need to understand that motorcyclists are vulnerable, so it takes less to piss us off and we are perhaps more vocal about it when it does happen. But bikers also need to sometimes just take a breath, be grateful they are still "shiny side up," and move on. Or do like I did: once when a woman turned left in front of me, I went to give her a piece of my mind by pressing my horn button with special emphasis, and hit the turn signal instead. I'm sure the blink-blink-blink of my left-turn light really let her know that I was furious!
What are other things bikers do that give us all a bad name?