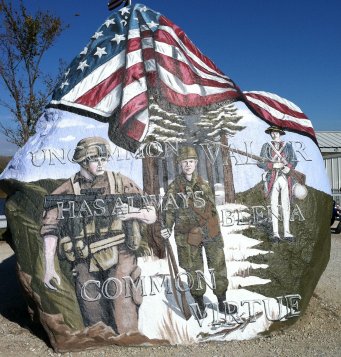 Our warm-weather days are numbered here in central Iowa, but October has been a really beautiful month for end-of-season riding. We noted today at brunch that we hadn't yet visited the Freedom Rock this year, so we decided to head over to Greenfield to take a look at the 2011 mural painted by Ray "Bubba" Sorensen. (Fun side note: stopped for gas at – where else, a Casey's General Store – and ran into faithful blog reader Tim, who was just getting out to enjoy a ride too. Always nice to see you Tim!)
I wrote a bit more about the Rock's history previously, so this year I'll try to share a few more pictures. The theme of the mural this year is "Uncommon Valor." The scenes and tributes depicted include a quotation about valor, a portrait of Iowa native Jackie DeHart who was killed in Viet Nam in 1969, the US Navy SEALS storming Bin Laden's compound, and a portrait of Iowa native Salvatore Giunta who received the Medal of Honor for his actions in Afghanistan in 2007.
Suffice to say the Freedom Rock has become a "must-stop" for veterans (and bikers) from all over Iowa and even around the country.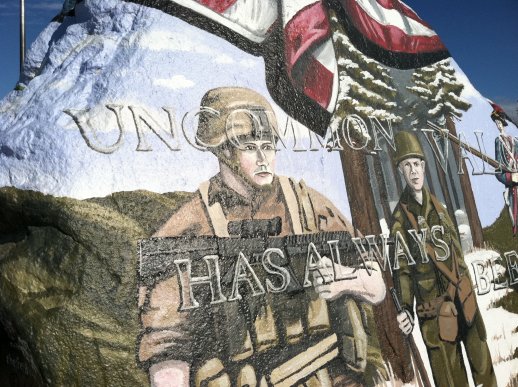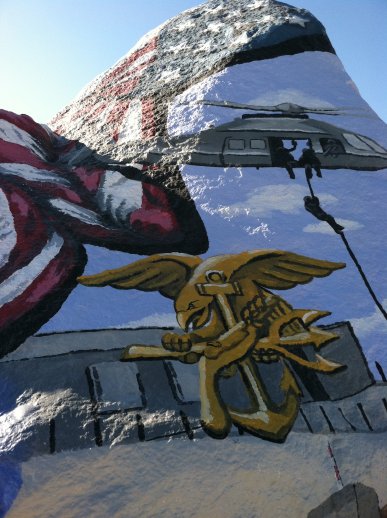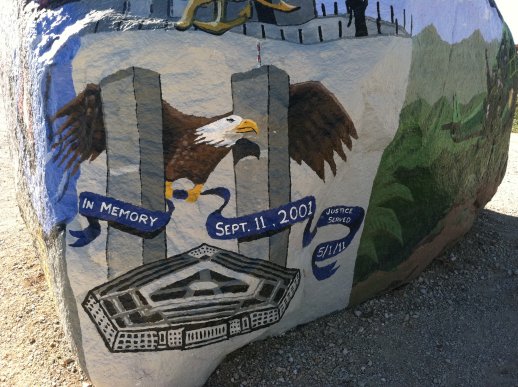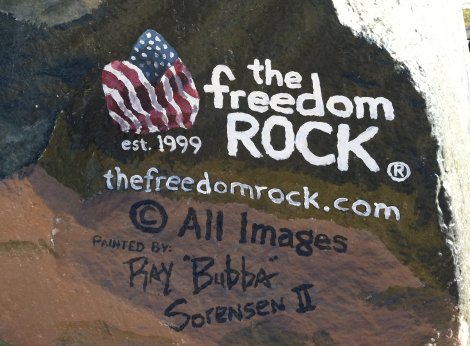 I do have a couple of really neat rides to report on… more on those soon, but first a little horn-tooting if I may.
I was recently offered the opportunity to write a guest post for the Allstate GoodHands Community website. They invited me to submit several topics for consideration, centered around motorcycling from a female perspective. My best thought – and I'm glad they picked this one – was to round up a little info on some of the community organizations that female riders support through rides and bike-centered activities.
Here's the post, which specifically mentions a few of the efforts I'm familiar with. If you're a woman who rides and you are involved in supporting a community organization or cause that speaks to your heart, I encourage you to leave a comment on the Allstate site mentioning your event or cause. I would love to make it an even bigger "round-up" of ideas, and I really do thank Allstate for the opportunity to contribute to their site!
Disclaimer: In exchange for researching and writing the article linked above, Allstate compensated me via cash payment. Groups and causes mentioned in my article did not pay to be included; they were included solely at my discretion.