A penny for your (riding) thoughts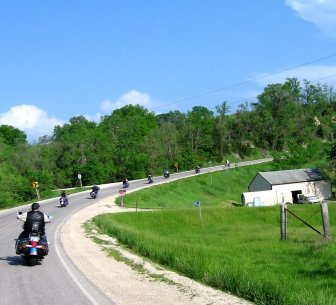 Somewhere around the Internets the other day, the question popped up as to what one thinks about while riding. I think that for beginning riders, this is a tricky question – you are most likely thinking about the safe and proper operation of your bike, as well as simply trying not to panic. (Maybe that was just me…)
For me, now that I have almost ten years of riding under my belt (!), I can honestly say that I primarily think about three things: hazards, scenery, and my own cool factor.
I'm totally serious. The thing I think about most often is still identifying potential obstacles or hazards and how to compensate for them. When riding in traffic I'm dodging potholes, looking for that guy backing out or turning left, and watching that green light that I KNOW is gonna turn yellow just when I reach the point of having to make a snap decision on whether to stop or go.  When riding on the highway I'm looking for upcoming curves, road damage, and animals both alive and (as a TV reporter here once actually said) "others not so alive."
Second most-commonly, I try to grab appreciative glimpses of the scenery around me. This is tough to do given how aware I try to be of the road and potential hazards, but every once in awhile I find myself going, "Wow, that's pretty!" as I come around a curve or crest a hill. There's also a point in South Dakota, just outside of Rapid City, where you can suddenly smell the pine very distinctively. And in Iowa, at this time of year, you can easily catch whiffs of lilacs and other flowering plants out on the two-lane highways. I try to have as many of these "awareness moments" as I can every time I ride.
The third most-common thing I think about is just how hotsy-totsy I really am. I definitely think it's cool that I ride a bike… that I ride this bike… that I faced some riding challenges and overcame them… that I have friends who are happy to accompany me on my little adventures, or to invite me along for theirs. It's a great feeling to have conquered the new-rider jitters, and to realize that at that moment I'm very lucky to be doing something I absolutely love to do.
So how about you – what do you think about most often while riding?