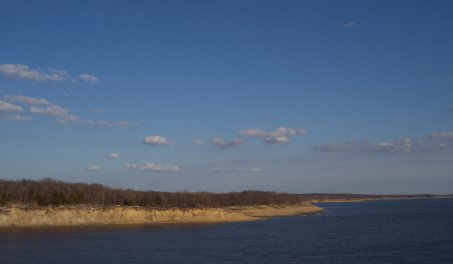 Normally I wouldn't bother to mention "just another ride up around the lake," but for some reason our evening ride this week was especially relaxing. We took off shortly after 5, right after work, and decided to head up to Big Barn to shop and socialize. After about an hour, we were ready to leave but not quite ready to head home so thought we'd do our usual loop around Saylorville Lake to the north.
The weather was just starting to cool down after a day that hit 71 (not bad for mid-March!), and because it's finally daylight savings time we knew we had about an hour of daylight left.
The first part of this loop is a really nice road, lots of curves and nice homes to gawk at, with a 45 mph speed limit most of the way.
At the end of this first leg, we turned right and crossed the "mile bridge"over Saylorville Lake – the colors, even though it's very early Spring and nothing has greened up yet, were beautiful: the lake appeared as a rich sapphire blue and there were large floating chunks of flat ice, creating a "caked earth"-type of texture to the surface. The shoreline is still brown but in the setting sunlight it looked golden – stunning next to the blue appearance of the water.
The next leg of the loop is highway 415, not as pretty, and faster-paced, but still some good sweeper curves. Normall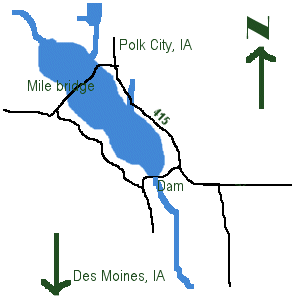 y we'd turn off and head down to check out the lake level and spillway, but by the time we got close we knew we only had about 30 minutes of daylight left so decided to just head home. Northwest Sixth Drive is the most scenic of the homeward routes, so we took that down from the Lake area, through the Craftsman-style Oak Park and Highland Park neighborhoods, through downtown and then home. 
It was just an interesting combination of light traffic, evening light and barely-warm weather that made for a really nice ride – the kind where you're reminded why you enjoy riding so much in the first place.
I was bumming today because I put my daughter on a charter bus bound for NYC – missed her before they even left the parking lot, but of course am so glad she has the opportunity to go and do some sight-seeing. Went to breakfast, came home and did some yard work, then decided as the temp climbed above 50 that we'd take the first ride of the season. I'd been out to the garage a couple weeks ago and started the bike, so knew the battery was good and she was ready to go.
We decided to keep it simple, just a jaunt down to Carlisle to see Garry and Shirley (and their new dog, Buddy). That's a much shorter ride now that we are on the south side of town! It was wonderful to be out, had a great visit (CUTE dog!) and then took a slightly more scenic route home where we skipped the highway and instead wound our way around the Easter Lake area. VERY pretty, slower speeds, less traffic. Seemed like it only took 15 minutes tops to get home, but by then it was cooling off already so good enough.
Heard Kristin, Hollie & Howard were out for a bit today,too – sorry we missed you guys! Where'd ya go?? :)