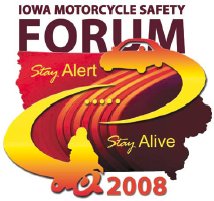 The Iowa Motorcycle Safety Forum takes place on Friday, March 14 from 7:30 a.m. – 4 p.m. at the Sheraton West Hotel in West Des Moines. Participants will have an opportunity to ride the Impairment Simulator, get a legislative update from the American Motorcycle Association, visit a variety of vendor booths and see the Orange County Choppers E-85 Farm Bureau Chopper. Pat Hahn, author of Ride Hard, Ride Smart
and How to Ride a Motorcycle: A Rider's Guide, will also give a presentation.  You can register for the event at the Iowa Motorcycle Safety Network website.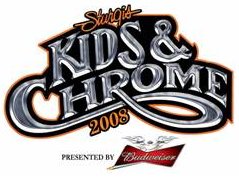 Tom Binyon of BaggerWorks Custom Touring Motorcycles in Wichita, Kansas has announced he'll reveal his charity bike, "The Dakota," on Saturday, February 2, at 9:30 a.m. at the Duke Energy Center during the V-Twin Expo in Cincinnati, Ohio.  If you are in that area, I really hope you will go and see Tom's creation, which benefits the Children's Home Society of the Black Hills Region as well as the Sturgis Motorcycle Museum and Hall of Fame.
"The Dakota" will be the featured auction item during the Kids & Chrome 2008 benefit dinner and auction on Wednesday, August 6, in Spearfish, South Dakota at the Spearfish Holiday Inn and Convention Center.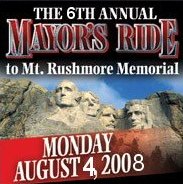 If you are making plans for this summer's Sturgis Rally, the Mayor's Ride is now signing up participants. This year's ride includes Vanocker Canyon, Mt. Rushmore and Custer State Park. There are several commemorative goodies included and proceeds benefit the Sturgis Volunteer Fire Department. Registration is limited to 250 participants. Here's the Sturgis Mayor's Ride website for complete info!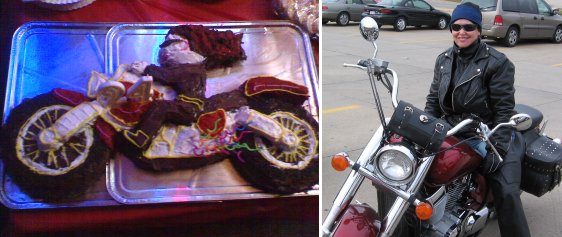 Just thought you would like to see the wonderful birthday cake Brenda had this past week as she celebrated a birthday numbering somewhere between 20 and 45… her sweetie Howard made this awesome confection, complete with Brenda look-alike riding the frosted bike! The colored squigglies are the candles – sure brought real meaning to the phrase "light 'em up!" Brenda's a true biker chick from right here in Des Moines – she's been riding an older bike nicknamed Lumpy (an '84 Honda 700) for a couple years… then this summer she got this beautiful '05 Honda Aero 750. Happy Birthday, Brenda – we sure had fun celebrating with you!
Yes, yes, I admit it, I'm ready for riding season to start. Well, who isn't with this @#$ crazy weather?? So I've been online doing a little Googling, and came up with a few ride, rally and event dates to share. This info will be handy if you are the "go-to gal" (or guy!) for your li'l group of riding buddies. You know – the one they always turn to and say, "Hey, when is _____?" Well, now you'll know!
Capital City Custom Cycle Show & Swap Meet  – February 9-10 at the Iowa State Fairgrounds.
Daytona Bike Week – February 29-March 9 in Daytona, Florida.
Blessing of the Bikes – April 19 at Big Barn Harley Davidson, 81 NW 49th Place, Des Moines.
Indianola Bike Night ("Bike Down to I Town") – April 18, May 16, June 20, July 18, August 15 and September 19 on The Square in Indianola!
Honda Hoot – June 17-21 in Knoxville, Tennessee
Iowa State HOG (Harley Owners Group) Rally – June 20, 21 in Bettendorf, Iowa.
ABATE Iowa Freedom Rally – July 3-5 near Algona, Iowa.
Sturgis Bike Week – August 4-9 in and around Sturgis, South Dakota.
Hawgstock Rally – August 21-24 near Winterset, Iowa.
ABATE Toys for Tots Toy Run – October 12 at the State Capital in Des Moines.
Biketoberfest – October 16-19 in Daytona Beach, Florida.
If you have an event that's either held in Iowa or is a major event of interest nationwide, let me know!
Whenever we are out on the bikes, my husband likes to ride sweep – which means he likes to be the last rider in the line-up. (Here's what happened when I tried riding sweep last summer.) He has said he does this because he wants to keep idiot cagers at bay – you know, the ones who insist on driving so close to the vehicle in front of them that they couldn't possibly stop in time to avoid a rear-end collision.
I was thinking about this the other day while driving to my dad's, and noticing one of those really huge pickup trucks that was so close on my bumper I couldn't see his headlights in my rear-view mirror. The whole thing made me wonder what I would do if, in fact, I had someone tailgating me on the bike.
It seems to me there are a few options:
1). Tap my brakes and hope they get the hint before they actually rear-end me.
2). Give a wave or other appropriate gesture which says, "You are too close and should back off."
3). Ride with a .38 Special tucked visibly into the back of my waistband. Good only if no cops happen to come up behind me.
4). When safe, pull off to the side and let them pass.
5). Pull up to a stoplight, shut off the bike, put the kickstand down, and walk back to the offender and ask them just what the hell they think they are doing.
Another one I've heard bikers talk about is to throw small objects from your pocket at the vehicle. Of course, you don't throw your housekeys or other personal effects – you carry something specifically for this purpose. Examples might include small ball-bearings, chunks of busted ceramic material from old spark plugs, small pebbles, glass marbles, frozen peas, or even Skittles. While I can relate to the sense of glee one must get from exacting revenge in this way, it seems to me that these days you might only be provoking someone's sense of righteous road rage.
What I usually do in the car is slow way down so I'm at least 5 mph under the speed limit, and wait for them to get impatient and go around me. I've never had that not work, so that's probably what I'd do on the bike – followed by hand gestures if necessary. Or maybe even if not necessary. 
How about you – what's your best strategy for discouraging tailgaters?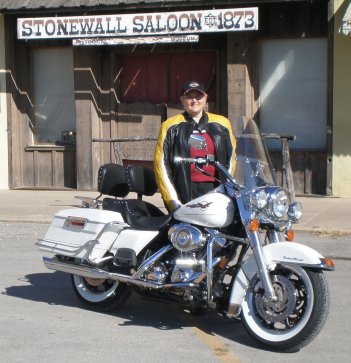 This is Angie T. of Texas, a.k.a. Smart Blonde. She was kind enough to send me this photo of her new baby, a 2007 Harley Road King. About her motorcycling journey, she says: "About two years ago we pulled up to a stop sign and my hubby about dropped the bike when I whispered in his ear 'Baby, I think I'm ready for my own bike.' I took the MSF Course on Mother's Day and the rest is history. I started out on an 05′ VStar 1100 Classic which I really enjoyed. I recently upgraded to an 07′ Road King! I absolutely Love the King! I never thought I'd end up on a Harley but have definitely been converted to the dark side! There are a lot of great bikes so find the one that fits you and just go for it! Why not! Life is too short not to enjoy it, the beautiful scenery, the fellowship of good friends and the quaint little restaurants you find on the journey. This season of my life is wonderful and I'm truly enjoying every moment! Lots of traveling on the horizon for the King and Me! My motto – Live Well, Love Much, & Laugh Often!"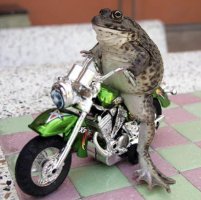 Just a few newsy notes to share this week – here we go:
If you join our HOG chapter…
I will gladly introduce you to the group! Had a great time at the HOG meeting this past Wednesday, it was my first as New Member Ambassador. I had a blast introducing eleven new members to the group, even received word that one of the couples I introduced had thought I did a great job – that was neat to hear! Went back up to the Big Barn on Saturday for the "zero run" and chili feed – a few bikes showed up to ride one mile for each degree of temperature. I think it was 28 or so, I know it was spitting snow… then over a hundred members enjoyed chili and fixin's.
If you "appear" between 18-28…
Received an email from a guy named "Peter Beer" recently – now I'm not sayin' that's his real name, I'm just sayin' he sent me an email. (He did greet me by saying "Hey Corn Dog" – so he's at least reading the blog instead of harvesting emails!) Pete says he's a producer for "Gigantic Productions" in New York, and that he is producing an episode of the MTV "True Life" series about going to Bike Week. He's looking for "…people who appear between 18-28, to participate in the show…"
Now by 18-28 I assume he means age-wise, which lets me out because while I like to think of myself as being perpetually 26 years old, I most definitely do not "appear between" 18-28. I'm not about to post Peter's… er, "attachment"… lest it be found to contain a virus that may unleash itself in my email. But, he did leave this contact info so you can get in touch if you're interested in the project: casting@gigantic.tv or call 212-343-2674. And yes, I'd definitely love to hear from you if you contact him and you find out he's either a). full of shit, or b). on the up-and-up.
If you think your bike is giving off dangerous radiation…
The UK has granted a patent to a Canadian inventor for his 'electromagnetic shielding motorcycle seat'. The invention is designed to protect the rider's vital organs from the electromagnetic field created by the rumbly parts of the bike. The release states:
"'Various types of extremely low frequency (ELF) electromagnetic field (EMF) radiations have been linked to health disorders including cancer. Many motorcycles generate excessive ELF EMF radiation up through the seat penetrating directly into the rider's groin and torso. The prostate is of major concern as it is one of the closest delicate glands invaded by the radiation. The colon and neighboring organs are also at risk,' adds (inventor Randall) Chipkar."
Now again, I've done absolutely no research to explore the scientific validity of the claim that a bike's electromagnetic field radiates anything harmful. You are welcome to start the vetting process at the inventor's website, http://www.motorcyclecancer.com.
If your pet frog is disobedient…
… give him a motorcycle! Little Nong Oui of Thailand seemed content to drop the live food he was carrying around when tempted with this hot green chopper (what frog wouldn't be??), and even predicted a couple of lottery numbers. He was pop-pop-popular until his predictions came out wrong; now all he's got is his bike and his cruising/boozing frog-friends. Is it his fault those crazy Thai villagers were trying to find numbers in his spots?? NO, I say… ride on, Nong Oui!

If you're feeling out of date…
… then you probably are! "The biker-chick look is so over," proclaims the stylist for that show on TLC where the princess and the clothes horse tell dumpy women that their clothes are horrible and they should start thinking twice about what they put on in the morning. She's instead encouraging these same dumpy women to go for something called "The Safari Look." Seems to me that the only people for whom the 'biker chick look' is over… are those who weren't really biker chicks in the first place! Yeah, that's what happens when you try to be somethin' you're not.

In addition to being listed with FindingDulcinea.com as a "website that matters," BikerChickNews also received another nice recognition recently: Liz (aka Rippin Kitten) gave me the Community Blogger Award for creating a website that not only contributes to the community of bikers and bloggers (and biker-bloggers!), but also recognizes the importance of blog readers – like, oh you know… you!!
I really appreciated Liz taking note of the great group of readers/commenters that frequent these parts, and as always, I thank YOU for continuing to stop by and take part in the conversation here.
In the spirit of the award, though, I didn't just want to accept it – I wanted to share it with other biker chick bloggers who also entertain us with their writing, welcome comments from readers, and/or share the joy of being a biker through blogging.
So, here are my choices for the next round of the Community Blogger Award, and rest assured these are three FOUR (!) blogs you won't want to miss!
Froggi Donna
The Delaware Curmudgeon
Shanon/Bloody Wench
Iowa Harley Girl
Keep up the blogging and riding, girls, I hope to see you on the road!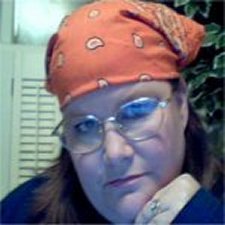 Okay fellow winter-state bikers, are you going absolutely BONKERS yet, waiting for spring?? Seems we have had our usual January weather all throughout December – so I'm hoping we'll get a break here one of these days.
A few quick thoughts to pass along:
I wanted to be sure to share a link I found recently – the photo at left probably shows that I haven't really learned the proper technique, but the link is a humorous and instructional article about the best way to tie a doo-rag out of a bandana. The photo also shows that I look better with glasses than without, unlike most people.
As predicted, I'm hearing more rumblings that suggest our state legislature will be pursuing a mandatory helmet law this year. It frankly pisses me off considerably – I am simply trusting that ABATE will fend off the nannies for us again.
This site was recently included in a list of motorcycle-related blogs in an article at FindingDulcinea.com, an internet-based library of resources on a wide variety of topics. A happy little blurb about BCN suggested that it's "regularly updated," which prompted me to get in here and write an update.  
Late last year I had a lot of trouble with the files that create the color scheme and layout of this site, and I lost the file that contained links to other biker chick blogs. I'm working now on rebuilding that list, and happily found a new blog to add to it. Please take some time to check out Karen's Riders on Adventure site, and look for the full list of biker chick bloggers coming back very soon! (Update: I've restored the Biker Chick Blogroll and have added several new sites! Check them out below right!)
Finally, here's a cool story about a 70-year-old woman in Florida who's embarking on a four-month motorcycle tour to promote awareness about breast-cancer screenings.  The self-proclaimed "Vagabond Granny" will travel 8,000 miles across the United States on her 1996 Yamaha Royal Star. Her trip is sponsored by the United Breast Cancer Foundation in New York.