Frogs on choppers, your toxic bike and poor fashion choices, and new HOG members…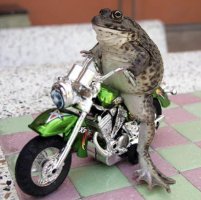 Just a few newsy notes to share this week – here we go:
If you join our HOG chapter…
I will gladly introduce you to the group! Had a great time at the HOG meeting this past Wednesday, it was my first as New Member Ambassador. I had a blast introducing eleven new members to the group, even received word that one of the couples I introduced had thought I did a great job – that was neat to hear! Went back up to the Big Barn on Saturday for the "zero run" and chili feed – a few bikes showed up to ride one mile for each degree of temperature. I think it was 28 or so, I know it was spitting snow… then over a hundred members enjoyed chili and fixin's.
If you "appear" between 18-28…
Received an email from a guy named "Peter Beer" recently – now I'm not sayin' that's his real name, I'm just sayin' he sent me an email. (He did greet me by saying "Hey Corn Dog" – so he's at least reading the blog instead of harvesting emails!) Pete says he's a producer for "Gigantic Productions" in New York, and that he is producing an episode of the MTV "True Life" series about going to Bike Week. He's looking for "…people who appear between 18-28, to participate in the show…"
Now by 18-28 I assume he means age-wise, which lets me out because while I like to think of myself as being perpetually 26 years old, I most definitely do not "appear between" 18-28. I'm not about to post Peter's… er, "attachment"… lest it be found to contain a virus that may unleash itself in my email. But, he did leave this contact info so you can get in touch if you're interested in the project: casting@gigantic.tv or call 212-343-2674. And yes, I'd definitely love to hear from you if you contact him and you find out he's either a). full of shit, or b). on the up-and-up.
If you think your bike is giving off dangerous radiation…
The UK has granted a patent to a Canadian inventor for his 'electromagnetic shielding motorcycle seat'. The invention is designed to protect the rider's vital organs from the electromagnetic field created by the rumbly parts of the bike. The release states:
"'Various types of extremely low frequency (ELF) electromagnetic field (EMF) radiations have been linked to health disorders including cancer. Many motorcycles generate excessive ELF EMF radiation up through the seat penetrating directly into the rider's groin and torso. The prostate is of major concern as it is one of the closest delicate glands invaded by the radiation. The colon and neighboring organs are also at risk,' adds (inventor Randall) Chipkar."
Now again, I've done absolutely no research to explore the scientific validity of the claim that a bike's electromagnetic field radiates anything harmful. You are welcome to start the vetting process at the inventor's website, http://www.motorcyclecancer.com.
If your pet frog is disobedient…
… give him a motorcycle! Little Nong Oui of Thailand seemed content to drop the live food he was carrying around when tempted with this hot green chopper (what frog wouldn't be??), and even predicted a couple of lottery numbers. He was pop-pop-popular until his predictions came out wrong; now all he's got is his bike and his cruising/boozing frog-friends. Is it his fault those crazy Thai villagers were trying to find numbers in his spots?? NO, I say… ride on, Nong Oui!

If you're feeling out of date…
… then you probably are! "The biker-chick look is so over," proclaims the stylist for that show on TLC where the princess and the clothes horse tell dumpy women that their clothes are horrible and they should start thinking twice about what they put on in the morning. She's instead encouraging these same dumpy women to go for something called "The Safari Look." Seems to me that the only people for whom the 'biker chick look' is over… are those who weren't really biker chicks in the first place! Yeah, that's what happens when you try to be somethin' you're not.